Destruction All Stars, the preview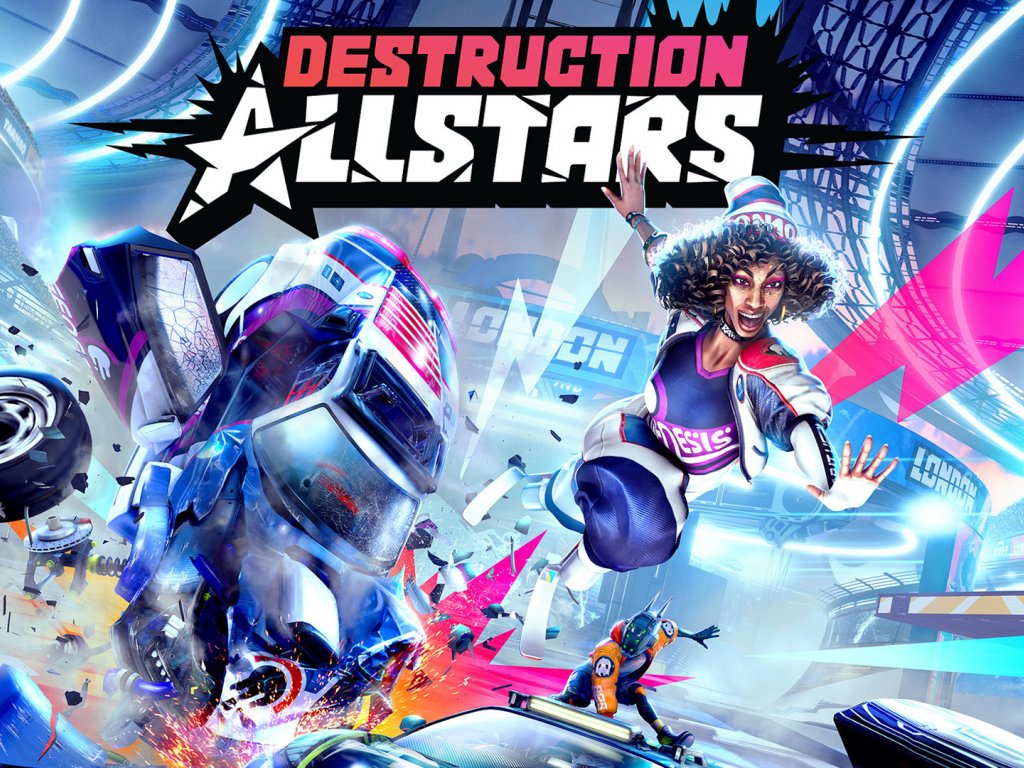 If there is a game still somewhat in the shadows at
Sony
, it is undoubtedly Destruction AllStars: bizarre, considering that there is a month to go until launch and so far not even a gameplay trailer has been released. The crazy arcade developed by Lucid Games and Wushu Studios catapults us into an arena where a spectacular sport for extreme drivers is played, in which racing, investing and dabbing are the three golden rules in a destructive cacophony that on paper promises to be fun . Difficult to go too far with the predictions, without having seen it in action, but if that vague reminiscence of Twisted Metal can be a clue there is the possibility of finding yourself in front of a pleasant surprise, with a touch of extravagance that in these cases does not faulty.
It would be nice to
be able to
analyze a video other than the presentation one, even if only to dispel (or maybe not) that aura of distrust that wants it compared to titles like Fortnite, especially by virtue of its characters, with all prejudices whatsoever. Unfortunately, at least for now,
Sony does not
seem to intend to reveal any paper on the matter and we must be content with general observations. Maybe with a pinch of leaks that have emerged very recently just to try and figure out a possible picture of what awaits us soon.
On foot or on four wheels
The little information from the trailer, namely that it is a competition between sixteen celebrities (in the game world, of course, a futuristic London) aimed at the destruction and entertainment of the crowd, aboard the most disparate vehicles in high-adrenaline arenas, have been a little fleshed out by the
PlayStation
Blog which gave us a slightly clearer picture of the situation. In Destruction AllStars the vehicles are undoubtedly at the center of the action but, unlike for example the aforementioned Twisted Metal, its nature of extreme sport allows this competition to extend its importance also to the drivers: if the vehicle were to be destroyed , we will still have the opportunity to turn the game in our favor by continuing to use our character. We will move on to a different style of play, certainly more dangerous and difficult to manage in this crazy carousel, where the knowledge of his skills will prove essential to resist the time needed to steal another's vehicle, if we really are not satisfied with those more simple scattered in the arena.
The only rule, in Destruction AllStars, is that there are no rules and therefore every trick is valid to get back on track. Obviously, the diversity of the characters opens up to as many styles of play, which will become even more stratified when we choose what to "borrow"; just like the drivers, in fact, they too enjoy unique peculiarities and ideally it is just to see how the characters will adapt to vehicles other than their own. It is not clear whether the respective abilities of the driver and the vehicle will be distinct and therefore usable only when walking or driving, but if this were not the case it would be fun to explore the different possibilities to find the most suitable style for us. - once our vehicle has been destroyed. And precisely the destruction, as can be understood from the title, and the goal of a gameplay aimed at not leaving even a moment of breath: in this sense, we must admit that the game is very beautiful to look at, with satisfactory results due to the more violent and extreme collisions. Between vehicles that overturn, lose pieces or explode in direct motion, the promise of dynamic
4k and 60
fps could make the experience a little gem for those who can't wait to start the engines and participate in this madness on wheels. >
Of course, Destruction AllStars also boasts a single player mode that will see us compete with artificial intelligence, accompanied by videos that will investigate the individual characters and their motivations behind participating in this event , but it is very clear that the game lends itself to online challenges and we are almost certain that it will capitalize more there. However, if the developers are able to create a noteworthy solitary experience, in terms of complexity and possible difficulty that can be set, or why not by providing different accessibility options to better calibrate the game, the game could also open to those who want. just enjoy it for the destructive chaos that is without necessarily competing. In this sense, to give a generic example, the introduction of daily challenges that do not oblige to participate in the competition could be an additional incentive, even more so considering the presence of "AllStars Coins" - the in-game currency to buy cosmetic items.
David Jaffe and leaks on the game
Finally, the part to be taken more with a grain of salt: leaks. The source is not directly David Jaffe, who fans of Twisted Metal but also of the original
God of War
will remember, in the sense that the information is not his but he contributed to give a voice to a person who would have been called to test the game last year. This is a real call that you can see on its official channel during which some further details emerge. Notwithstanding that we are talking about a hypothetical proved of 2019, the fact that this information has reached Jaffe, the father of that Twisted Metal to which Destruction AllStars is closest on a conceptual level, makes us think but we remain well anchored in our skepticism . Details are not yet confirmed.
The supposed beta tester talks about two modes, both played as an experience against artificial intelligence in spite of the presence of more people: each therefore tried for her own business without interacting with the games of the others. The first is called "Destruction Derby" and is a timed challenge between two teams within an arena where there is also a deadly zone, which causes an instant killing to anyone who is unfortunately in the middle: the goal it would be to score more points than the opponents however, in spite of the general fun in terms of gameplay, the tester did not find the AI ​​that left very little room for the challenge very satisfactory (and here we could return to the discussion of both difficulty and accessibility to adjust the experience). At the time there was still no talk of multiplayer but its presence has been confirmed so it is not so unlikely to be able to play this mode even in competitive. The only way to score points, he explains, is to eliminate the driver regardless of how you do it - destroying the vehicle isn't enough. He then focuses on the abilities, both of the characters and of the vehicles, adding to what we already know that in relation to the latter there should be three classes or "sizes" (small, medium, large) and that each has a skill along with a so called ultimate. Referring to the post on the PlayStation Blog, some vehicles are mentioned and only one skill is explained, so things may have changed from last year to today or not everything has been revealed about it.
The second mode, the one considered more fun is generically defined "point scoring mode" and does not include a map with a single level but different areas within it. Here you have to capture an undefined sphere and bring it back to your checkpoint to get the point: a continuous attack and defend, depending on the situation, which not only turned out to be very engaging despite being against artificial intelligence but also longer than it seems . In comparison of Jaffe with Rocket League, the tester explains that the map is much larger and to score a point as cleanly as possible, so taking and returning the ball without making any detours, took fifty seconds - all going. also at maximum speed and taking shortcuts wherever possible. No other details have been added and so we have moved on to the question that we are all asking ourselves: four weeks after launch, day plus day less, how is it possible that we still don't have more detailed information on the matter? Are there any development problems?
The tester doesn't think twice about saying that if, at the first contact with the game, his thoughts are was that of a launch product but free with the PlayStation Plus and possibly with a future expenditure of ten / fifteen dollars for those wishing to join the existing player base: in short, a hands down victory. Then knowing the actual price of the game, those famous eighty euros that still make people talk, he was surprised because he sees no reason to pay so much: it's true, he played it a year ago when there was not even mention of multiplayer but he was well aware the addition of new modes, the implementation of online (without which the game could not even exist, according to him) and all those additional features, such as the single-player campaign mode, and despite everything he does not consider it worthy of this figure. When asked directly what he thinks an ideal price might be, he cannot answer precisely, since he did not have at the time and still does not (like us) have information on the monetization system. However, he compares it once again to Rocket League by saying that it must follow that model, since it is part of the same market and does not see why Destruction AllStars should cost much more.
We then move on to performance but , taking into account that almost a year has passed during which many improvements have undoubtedly been made, it cannot be considered much. Especially since the tester played on PC and with a DualShock, so all that information related to using the recently shared DualSense features hasn't been tested by hand. Instead, he insists that the excessive price, coupled with the lack of information so shortly after release, will lead the game to be a potential slip-up and not that marketing operation, that Rocket League successor, that it could have been. It is impossible to create a solid base of players with these premises and we do not deny that it is also our doubt: regarding the potential of the game we can only rely on this testimony, taking it for
what it is
, and on the very limited official details shared up to now, but we are clearly facing a huge leap in the dark.
Destruction AllStars could be a fun game with great potential, if only we knew more than promises on paper. Not wanting to consider the latest leaks, we have a game sold at full price of which, however, four weeks after its launch, there is no gameplay video or detailed information. If, on the other hand, we wanted to take into consideration what David Jaffe reported, we are talking about a very fun game (at least in one mode) but in any case crazy to offer for eighty euros, especially if it aims to enter the same market as Rocket League. It is not easy to get ideas about it but there is no doubt that the act of faith required of the players, the same ones who should go to create the player base useful to get him started with determination, exceeds the offer: we are faced with an unknown factor really too big to judge its value.
CERTAINTY
Destructive and adrenaline pumping A potential successor to Rocket League Conceptual references to Twisted Metal are liked DOUBTS So little since launch, so much more information is needed Selling it at full price risks crippling it from the start