Monster Hunter Rise: new information released by Capcom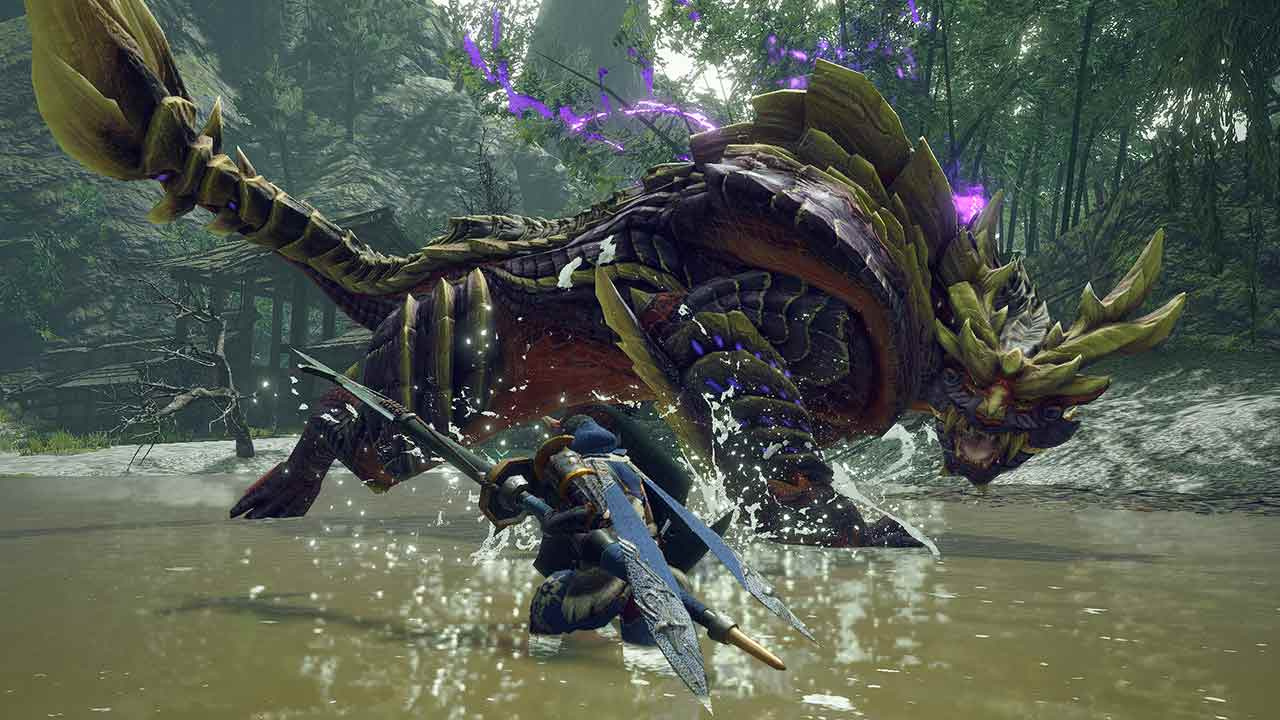 After his announcement and his gameplay presentation at TGS last month,
Monster Hunter Rise
is talking about him again with the publication of interviews in several media (IGN, Eurogamer ...). Producer Ryozo Tsujimoto and Director Yasunori Ichinose say a little more about this
Nintendo
Switch opus.
In development for almost four years
We first learn that the Development of Monster Hunter Rise began about four years ago, shortly after the release of Monster Hunter Generations on 3DS, and before the release of Monster Hunter World (January 2018). The game is based on Capcom's proprietary engine, the RE Engine, first used on Nintendo Switch. Yasunori Ichinose concedes that running this engine on the console was not easy, but the developers are happy with the result and aim for 30 frames per second while achieving the best possible graphics level. The old-fashioned level design with fragmented areas is definitely abandoned; here, players operate in open areas with no load times.
Separation between single player and multiplayer quests
Compared to Monster Hunter World, which was designed to play for hours in front of his TV, Monster Hunter Rise is thought to
be able to
do thirty minute sessions "and get something out of it". The title "Rise" refers to the verticality of the gameplay with the filoptera, a new tool in the form of a kind of gr
apple
-insect. It not only allows you to hover around and easily reach heights, but also to use new sequences of shots with each of the fourteen categories of weapons. A new type of weapon is not on the program.
Regarding the structure of the game,
there will be
on one side the village quests to be completed in solo, and on the other a hub dedicated to multiplayer quests, as in the pre-Monster Hunter World games. The difficulty in multiplayer will adapt to the number of players. Note that your solo progress will not affect your ability to play multiplayer quests, and vice versa.
No voice chat
To communicate in multiplayer, you will have to be content with written messages, stamps and gestures. Monster Hunter Rise does not integrate voice chat and
will not be
compatible with the Nintendo Switch Online app. It will be possible to play up to four players online, but also locally wirelessly each on his console. In solo, you can count on the help of your Palico, specialized in support, and your Chumsky, more offensive and which can serve as a mount to avoid consuming stamina. In multi, you will have to choose one of the two.
The game will of course be followed up with updates and event quests, but an expansion similar to Monster Hunter World Iceborne is not being considered at this time. In bulk, let us note finally that the Amiibo of other games will be compatible (to win objects thanks to a daily lottery), that Capcom hopes to set up a collaboration with the movie Monster Hunter, that the cutscenes can be passed and that the mode Miaroudeur de Generations (allowing to play as a Palico) will not be in the game.
Monster Hunter Rise
will be released
on March 26, 2021
for Nintendo Switch
. The official site presents the four new monsters currently unveiled (Magnamalo, Aknosom, Grand Izuchi, Tetranadon) which are inspired by youkai, these supernatural creatures of Japanese folklore. You can find 43 minutes of gameplay in our previous article.
Sources: Eurogamer, Gematsu, IGN
Monster Hunter Rise: the hunt is back on Switch!
Loading the video Monster Hunter Rise trailer