GameStopZing: Halo Infinite, Dragon Ball or Nerf Fortnite statues are coming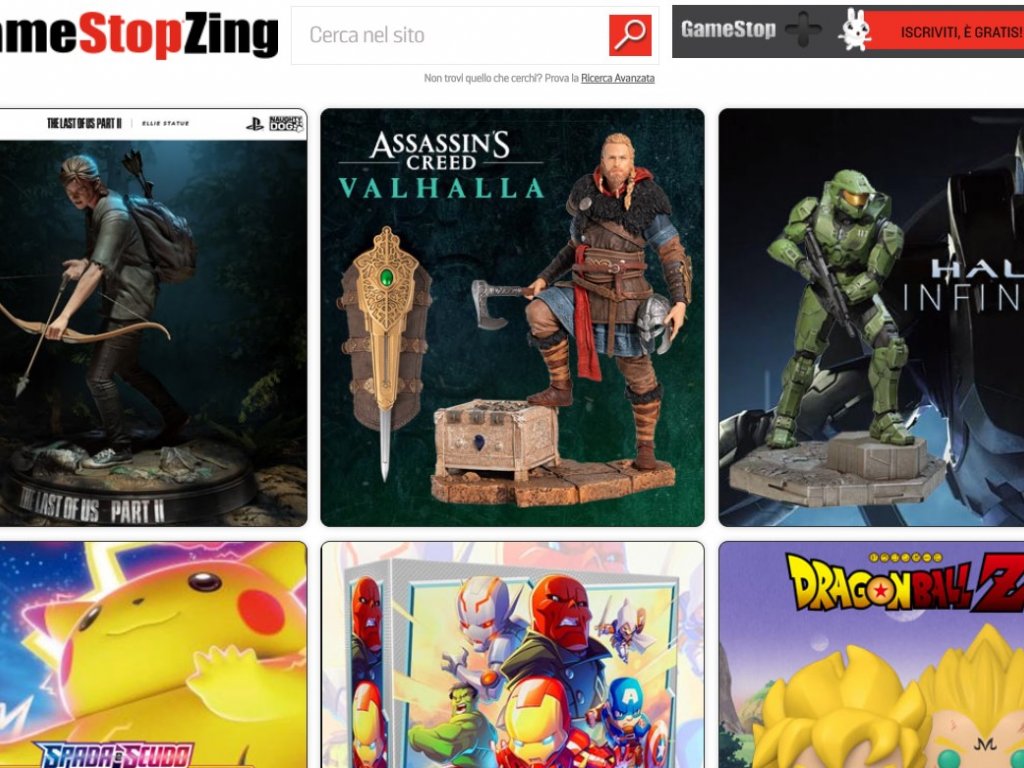 GameStopZing autumn will be very rich, but not only in video games. In these hours we are thinking about
PS5
or
Xbox Series X
and S, but in the coming weeks there will also be many collectibles that will surely appeal to fans. Let's talk about a beautiful Halo Infinite Action Figures, many statues of Gogeta and the other heroes of Dragon Ball or the set of Nerf guns dedicated to Fortnite.
Let's start, for example, from the Halo Infinite Figure of Master Chief in GameStop exclusive. It is one of the valuable pieces that should have come in conjunction with Halo Infinite. The game, for the moment, is dispersed in space, this 26cm action figure will arrive punctually on November 10, 2020. At this address you can find all the information.
Another great game coming this autumn is Assassin's Creed Valhalla. From GameStopZing will arrive on November 10 the statue Eivor Bite of Wolf, a 25cm figure from the Ubicollectibles collection. At this address you can find out all the details, such as the fact that it unlocks a series of tautages in the video game.
It's not a new release, but
The Last of Us
2 will run better on PS5. On November 6th, The Last
Of Us Part II
collector statue called Ellie Con Arco will arrive from GameStopZing. It is a 20cm statue born from the collaboration of
Naughty Dog
and Dark Horse. This stunning figure was sculpted by Naughty Dog artists and made and painted by Gentle Giant Studios. You can find it at this address.
By completely changing the genre, from GameStopZing you can also find the Nerf gun set dedicated to Fortnite. On the dedicated page you can find the Nerf Fortnite - Sniper Basr-L, the Nerf Fortnite - AR-L and finally the Nerf Fortnite - Blaster GL. In this way you can replicate the battles and emotions of the Epic Games game in complete safety even at home.
Dragon Ball Z is one of the most popular series, no matter if you are a gamer or not. At GameStopZing you can find many Ichibansho Dragon Ball Rising Fighters statues 18cm high. Our favorite is the figure Dragon Ball - Super Saiyan Gogeta, visible at this address, but there are also Majin Buu, Broly Super Saiyan and of course Goku.
Last, but not least, you will find the Pokémon Trading Cards. In addition to a large assortment of old and new sets, the Sword and Shield Elite Trainer Set: Blazing Voltage will arrive from GameStopZing starting November 13. This is a special edition that contains:
8 Pokémon TCG: Sword & Shield - Blazing Voltage expansion booster packs 65 Pokémon TCG card sleeves with Pikachu in its Gigamax form 45 Pokémon TCG Energy cards 1 player guide to l Sword & Shield Expansion - Blazing Voltage 1 Pokémon TCG rulebook 6 damage counter dice 1 coin flip die valid for competitions 2 Plexiglas special conditions markers 1 collector's box with four dividers to store and organize all contents 1 card code for the Pokémon Trading Card Game Online
At this address you can find all the necessary information, while this is the address to discover all the other sets coming in the coming weeks.
Obviously the news does not end here. At this address you can find all the new arrivals of GameStopZing, from video games to merchandise.