Tetris Effect: Connected, the tried and tested for Xbox Series X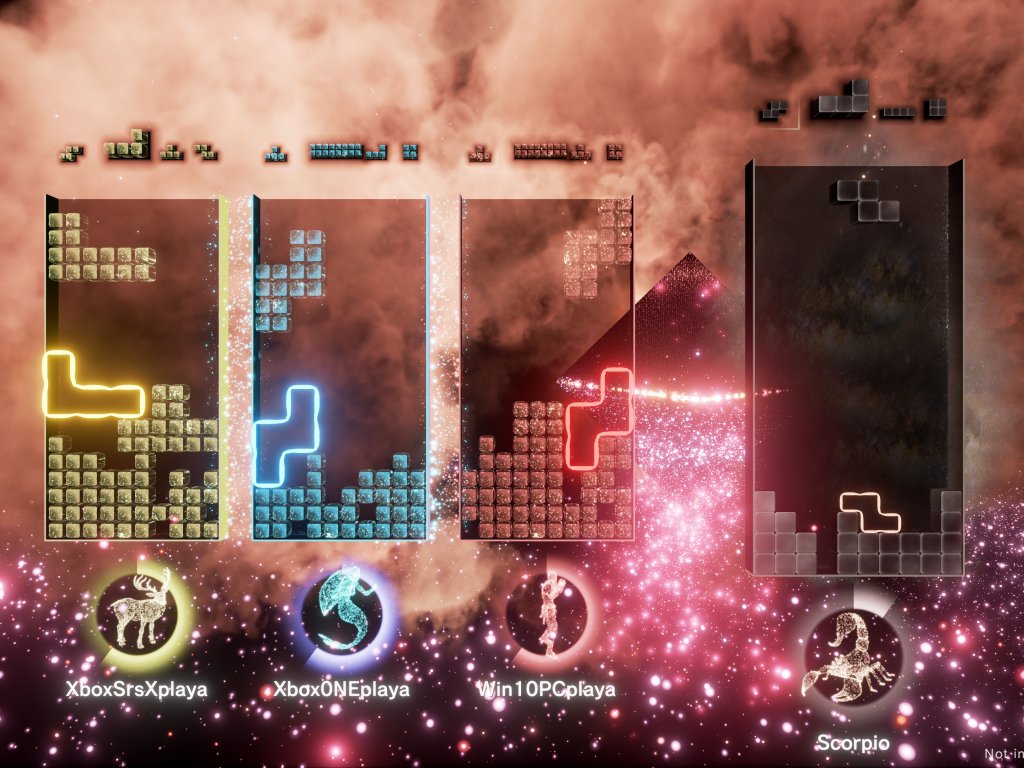 The best Tetris in a thousand years is back, and this time his intent is to unite all the fans thanks to new, diabolical, multiplayer modes. Having delighted millions of users in the latest hardware generation, the development team prepares for the next evolutionary leap. We welcome Tetris Effect: Connected.
Impossible not to love Tetsuya Mizuguchi, this ex enfant prodige of video games, now forty-five, has given us from 1994 to today a long series of extraordinary games, first in
Sega
and then through two different independent software houses, Q Entertainment and Enhance Games, which he founded. Mizuguchi has closely followed the development of the two of the most profitable coin-ops in history, those of Sega Rally Championship and Sega Rally 2, he has been the producer of that great cool Manx TT Superbike that brought to mind with his cabin cruiser the glories of Yu Suzuki's Super Hang-On. Still in Sega, during the Dreamcast period, he began to combine his two passions which are music and video games in experiences that have entered into history, such as Space Channel 5 and the mystical / artistic masterpiece Rez which recently found new life thanks to VR. After Sega, through his Q Entertainment, he gave light to the unfortunate but no less futuristic Child of Eden, as well as two masterpieces such as Meteos for Nintendo DS (a Tetris in reverse) and Lumines for PlayStation Vita (A Tetris for dancing).
Hypnotizing Tetramini
The concept of Tetris, already reinvented twice to make room for its now inimitable style, could only lead to the most difficult challenge of all, to put your hand to the original, that Mizuguchi collects in 2017 creating the beautiful Tetris Effect as producer once again. The game comes out in 2018 on PlayStation 4 and the following year on PC; both versions support virtual reality to further accentuate that state of mind on which the title of the project is based. In fact, the Tetris Effect really exists: it is a particular state of mind that involves all the players of the timeless masterpiece conceived and developed by Alexey Pajitnov in 1984, which leads them to think of the tetramini that fit together even when far from the screen and from the game. A psychological transfer that also manifests itself in other forms of entertainment and puzzles, such as Rubick's Cube, or in particularly repetitive activities such as the march of soldiers. This is not an unpleasant effect, far from it, and it is precisely what many of Tetsuya Mizuguchi's games with a musical background are based on, often also linked to phenomena such as synaesthesia. Tetris Effect, constantly working on colors, with the sounds reproduced in time from the inputs inserted through the pad as well as through its enveloping and dynamic music, involves like no other Tetris before it.
Connected by passion
Tetris Effect: Connected is the new version of the game, designed to allow all fans of the puzzle game to "connect" their passion to win intense multiplayer challenges, both online and elbow to elbow in front of it. screen. There are several modes added, some focused on cooperation, an end in itself or against particularly difficult bosses managed by the CPU, and others that allow you to clash with the last tetramino to decree once and for all who is the strongest Tetris player in circulation. Among these we find the most classic Zone Battle, a 1vs1 with all the rules of Tetris Effect, and the most revolutionary Connected Mode, where a maximum of three users will play the same game until they combine the three respective playing fields in one big one. area. A Tetris that then returns to unite, exactly as the coin-op version originally did in the arcades of the past, or the more iconic portable version that made the same tireless Game Boy pass through a hundred hands.
Tetris Pass
We had the chance to experience Tetris Effect: Connected on our Xbox X Series editorial; it was very easy to mix the new pad included with the console with the two of the Xbox One that we already had available. Although our experience at the moment is limited to local multiplayer only, since during the test the servers were not yet active, we can already tell you now that the new modes have all the numbers to give hours and hours of fun together. The game
will allow you to
compete online both through friendly matches and in ranked matches, while progress will be managed through a system of levels and access to increasingly rare avatars. Tetris Effect: Connected naturally also includes all the contents of the previous version:
more than thirty
different "stages" and ten modes to satisfy the appetite of all types of players. Tetris Effect: Connected will be released on November 10, then at the launch of the
Xbox Series X
and Xbox Series S, for the new
Microsoft
consoles as well as for Xbox One S and Xbox One X, as well as on PC. The game will be sold either at a price of 39.99 euros and available immediately on Game Pass. As you can see, this is an exclusive, but only temporary: we do not yet know when, but the game will be released on Ps4 and
Ps5
through a free update for all owners of the version released in 2018.
Tetris Effect has already proved to be a great remake of the classic Tetris, and with the Connected version it will only be able to reaffirm its undisputed quality, as long as the multiplayer works properly. The presence on Game Pass should also guarantee full servers and maximum satisfaction ... we hope.
CERTAINTY
Relaxing! Hypnotic! From company! DOUBTS The Xbox version is the only one without VR mode. A few more versus modes wouldn't have hurt