LevlUp, the future of energy drinks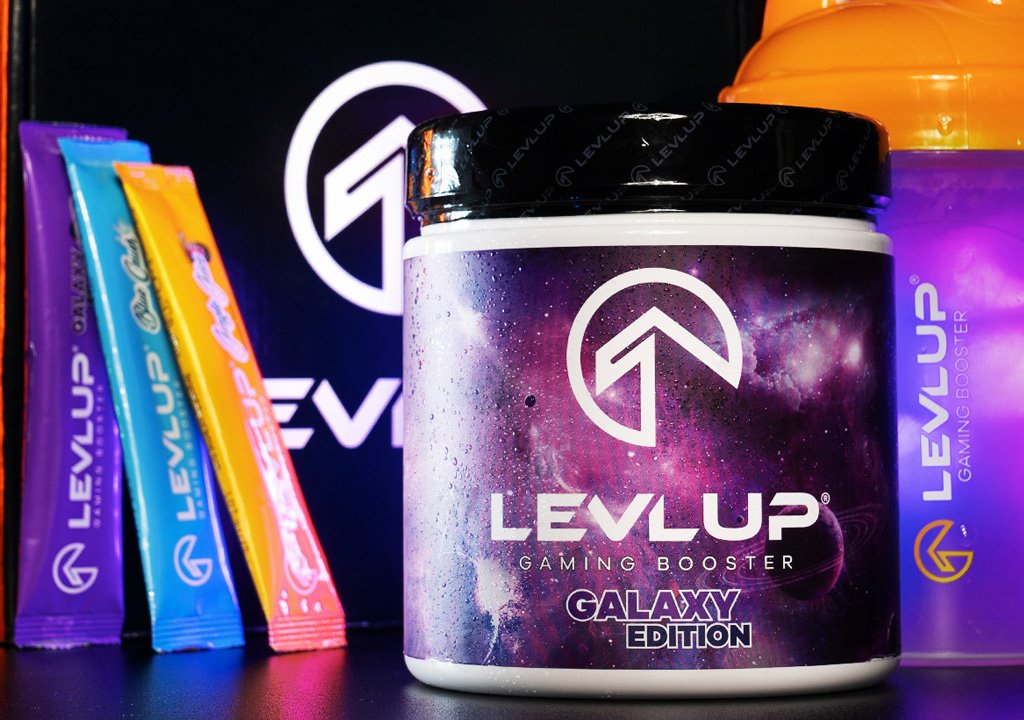 LevlUp, the prodigious energy drink designed for progamers and fans of competitive games, finally makes its debut in Italy, indicating on this occasion what really seems to be the future of energy drinks.
Let's talk about a product substantially innovative, born in Germany two years ago but able to quickly conquer various European countries, selling over 20 million pieces thanks to its undoubted qualities, targeted ingredients and a much more accessible formula than normal energy drinks.
Coming back from a long day of study or work, you return home very tired and so it often happens to resort to an energy drink to be able to join friends in titles such as
League of Legends
, Fortnite or
Call of Duty
.
These products, however, often contain large amounts of sugar, and so the initial invigorating effect is followed by a feeling of drowsiness. Well, LevlUp changes everything: the company has set itself the goal of creating a better energy drink, truly capable of helping players to bring out the best, and it seems to have succeeded.
LevlUp: what is it?
LevlUp is a drink made specifically to meet the needs of competitive gamers: thanks to a formulation developed in collaboration with various professionals in the sector, which includes 250 milligrams of caffeine per dose, it improves in the reflexes and the ability to concentrate are evident.
LevlUp also adopts a revolutionary approach in terms of composition and packaging. In fact, it is not a ready-to-drink drink, but an extremely convenient powder product, which with its 320 grams per pack allows you to create 40 portions, for a total of 20 liters of shake. Considering a price of 39.99 euros per package, you therefore spend less than 1 euro for each drink!
How does it work?
To use LevlUp just put an 8 gram dose of product in 500 ml of water, shake for a few seconds using a shaker and be impressed by the goodness of its many flavors .
There are over fifteen different ones, for example the Galaxy Edition with blueberry, pomegranate and acai flavor; or the Blue Crush with blue raspberries, fruity and refreshing; or the Pink Crush, juicy and sweet.
Each serving of LevlUp has only 26.6 Kcal, and the ingredients include 250 milligrams of caffeine, 500 milligrams of taurine, and L-theanine: a wonderful mix for increase the responsiveness of reflexes and concentration.
With gamers, for gamers
Born in 2018, LevlUp has quickly become an integral part of the gaming community, playing the role of official sponsor of the first European TwitchCon in 2019. The same year the company was present at Gamescom with a space of 300 square meters and an extremely engaging program for users between minigames and influencers.
On the
eSports
front, LevlUp has proceeded to organize Fortnite tournaments and was the main sponsor of the German Fortnite WM-Casts, also supporting several eSports teams such as Atlantis. With over thirty influencers among its collaborators, the company can count on the help of figures such as Haptic, Elotrix, Lennyficate and TisiSchubech.
In conclusion
LevlUp is a possible game changer in the field of energy drinks: the formulation designed specifically for gamers, the many flavors available and the extraordinary convenience of the powder format make this product really, really interesting.
If you were looking for an energy drink capable of to recharge, boost your reflexes and help you overcome the challenge of a particularly demanding competitive game session, LevlUp is certainly the one for you.
Take a look at the official website: there are special offers, bundles and accessories not to be missed!