Smart YouSafe Mask, the intelligent CRI mask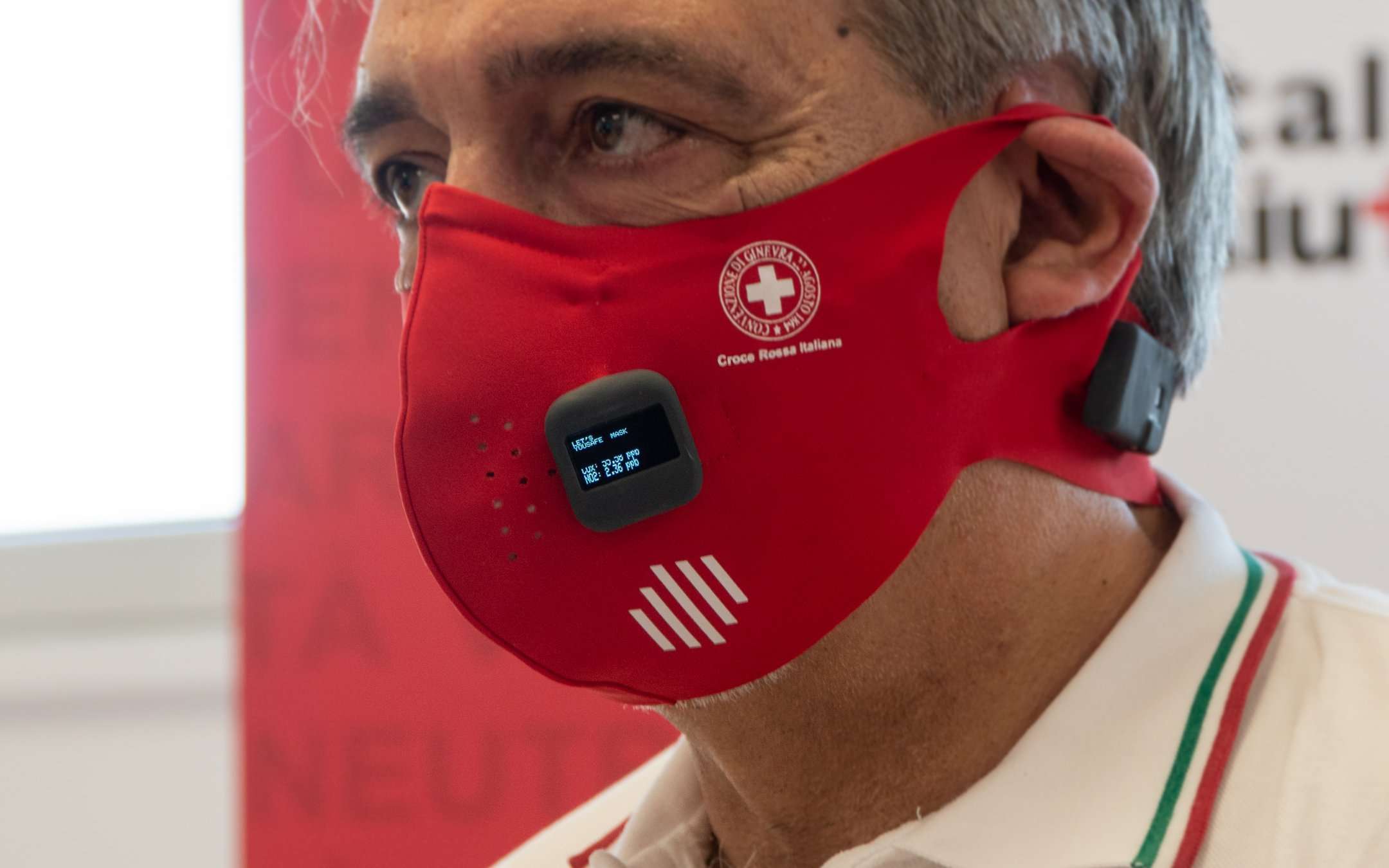 The Italian Red Cross has presented, in collaboration with AccYouRate Group, a new intelligent mask that, equipped with special sensors, is able to offer important information with a view to containing the infections. The explanation comes directly from the words of the Red Cross during the presentation of the project:
Certified II / R (UNI-EN-14683), Smart YouSafe Mask combines the high level of protection, comfort and skin tolerability, the ability to detect body temperature, air quality and, soon, the physical distance between people, generating an alert in case of exceeding the wearer's threshold values.
The logic of wearable technology, first applied to the YouRate t-shirt, is therefore now applied to a mask: it is the simple sum of two elements: a wraparound mask that performs its duties of isolation of the droplet for the purposes of individual and other protection, seasoned with an instrument positioned on the front to measure and express the values ​​that you intend to measure.
The Smart YouSafe Mask, as well as the sensorized T-Shirt are the clear demonstration of the added value that partnerships, such as that between AccYouRate and the Italian Red Cross, can produce by pooling the ability of CRI to collect data, results and useful information with the high level of technical skills of AccYouRate Group for the development of innovative products for the protection of human health
Marco Lombardi, CEO of Accyourate Corporate Solutions
Smart YouSafe Mask represents a natural evolution and the logic of facing completely new challenges: in this case, is the ingenuity to give shape to products that didn't exist before because the free market, but now – faced with the challenge of
Covid
, are potentially crucial in some contexts.
For the Red Cross are obvious, and from here was born the partnership with all the future directions that will
be able to
undertake:
Among the new targets of a new range of wearable products usa&throws low cost, through the use of technologies for large-scale production with the characteristics of the full eco-sustainability. The aim is to expand the user base, by offering new tools and solutions to improve the quality of life of the most vulnerable, not only in Italy but in all of the areas in which the Red Cross intervenes in the world.
the Challenges of this type can return a lot to the companies who put in the game to fight this challenge: where lurks a problem, hides also an opportunity. The technology already exists: it should be only applied, in a way that is useful and creative, to become the solution. The utility in the scope of the company is clear and obvious: if the pandemic were to return to put pressure on the world of work, tools of this type will make the difference between a closure and a work environment that is monitored, supervised, controlled (and therefore safe).
Source: Italian Red Cross