PlayStation Store: Cuphead and Destroy All Humans!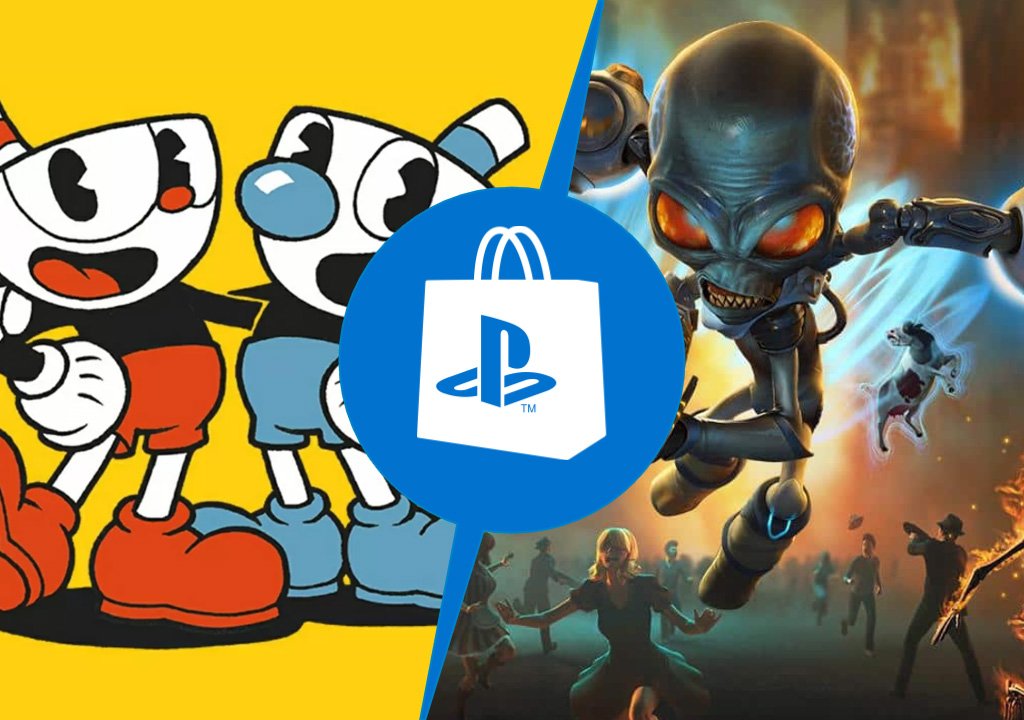 Index
Cuphead Destroy All Humans! Mobile Suit Gundam:
Extreme VS Maxiboost
On The other games coming out
PlayStation
Store is going through a very interesting week, with the arrival of a lot of
new PS4 games
and some surprises, such as the unexpected launch of Cuphead, which together to Destroy All Humans! is the highlight of the latest update.
However, there are also several other titles of some relevance: from the frenetic shooter Mobile Suit Gundam: Extreme VS. Maxiboost On to Hellpoint's fascinating mix of soulslike and survival horror, passing through the various Fairy Tail, Skater XL and Buried Stars: a rather abundant selection, if we consider the period.
Also keep an eye on the Marvel's Avengers beta , which will start in a few days for users who have booked the game on PlayStation 4.
Cuphead
The run & gun-style jewel of Studio MDHR suddenly arrives also on PlayStation 4, offering the owners of the
Sony
console its peculiar graphic style, inspired by vintage cartoons, together with a frenetic, solid and certainly challenging gameplay, which will keep you glued to the screen in an attempt to overcome the umpteenth boss.
The Cuphead campaign (€ 19.99) can be tackled alone or in cooperative multiplayer thanks to a convenient drop-in / drop-out system that allows the second player to enter and exit the game at any time moment, too and only to help us defeat a particularly tough enemy. The end result is a visually striking title, original and capable of giving you a hard time.
Destroy All Humans!
Real return of a cult classic originally released in 2005 Destroy All Humans! ( 39,99 euro ) puts us in command of the alien invader Crypto-137 , which has the task to conquer the Earth in a 1950 alternative in which extraterrestrials are really arrived on our planet. Equipped with weapons and special abilities, we will have to eliminate any obstacle, and destroy the city while flying with a jetpack from one side to the other of the scenario.
Compared to the first version, this remake can count on a redesigned graphics in high-definition, effects, improved, small filings to mechanical and a series of changes that in some cases soften a bit the experience, cutting some batting irreverent that maybe today would discuss.
Mobile Suit Gundam: Extreme VS Maxiboost On
Mobile Suit Gundam: Extreme VS. Maxiboost On ( 59,99€) is the last exponent of a genre that has been a great success in the games rooms, the japanese, not surprisingly we talk about the conversion of an arcade game produced by Bandai Namco . Set in the universe of the series, the Sunrise, the game involves us in frantic team battles, two against two, on the basis of a roster consisting of more than 180 mobile suit.
Among the peculiarities of this tie-in is undoubtedly the gameplay , that behind a facade very instant a hidden unsuspected complexity strategic, capable of increasing the thickness of the experience as we complete the match, becoming familiar with the dynamics and the controls of the title.
other games you play
Hellpoint ( 34,99 euro ), a fascinating mix between soulslike and survival horror, set on an enormous space station where we will have to deal with creatures dark and powerful. Fairy Tail ( 69,99 euro ), the tie-in series of the same which draws us into an RPG experience from the narrative arc of the island of Tenrou up to the saga of Tartaros. Buried Stars ( 49,99 euro ), an intriguing visual novel in which you will have to investigate on a murder happened in the middle of a live tv broadcast. Who is to blame? Skater XL ( 39,99 euro ), an accurate simulation of skateboarding, which includes the most famous international stars and a series of environments in the form of a cry. Ty the Tasmanian Tiger HD ( 26,99€), remaster of the famous action-platformer Krome Studios originally released in 2002 on the PlayStation 2. Samurai Shodown NEOGEO Collection ( 39,99 euro ), a collection that includes all of the episodes of the excellent brawler meetings in the weapon branded SNK. Headsnatchers (€14.99 ), a fun party game for four players in which your objective will be to collect and use hundreds of heads different. Cubers: the Arena (€14.99 ), an action shooter with dual-analog stick in which we will have to survive in violent clashes in the arena at the command of fighters different from the usual. Othercide ( 39,99 euro ), a RPG with a visual style of noir, and of a setting post-apocalyptic disturbing: our group of fighters is the last hope for the world. The Maid of Sker ( 24,99 euro ), a survival first-person horror set in a hotel at the end of the 1800's and inspired by the story of Elisabeth Williams. Lost Wing ( 7,99 euro ), a space shooter in which, at the command of a powerful ship, we will have to face hordes of enemies in three different planets. Nicole ( 18,99 euro with the 20% discount for subscribers to PlayStation Plus, a dating simulator in which we follow the story of a girl struggling with four different suitors. 112th Seed ( 4.99 euros ), a platformer in retro style with more than seventy levels full of action and environmental puzzles to solve. The Telltale Batman Shadows Edition ( 29,99 euros ), the collection of all the episodes of adventure by Telltale Games starring the Dark Knight. Pistol Whip ( 28,49 euro ), a fast-paced shooter with a mechanical rhythm in virtual reality, inspired by movies like John Wick and Equilibrium . Fantasy General II: Invasion ( 32,99 euros ), a spectacular, turn-based strategy weblog Slitherine , which provides us with over seventy-five unit in fantasy different to get involved in large-scale battles. Nowhere Prophet ( 21,99 euro ), an interesting card battler set in a devastated landscape from the wars: in command of a group of marginalized, we will have to survive the pitfalls of an unforgiving world. Naught ( 19,99 euro ), an adventure-based platform is very special, where we will
be able to
move the protagonist only by turning the environment that surrounds it. Evan's Remains ( 7,49 euro ), a platformer with puzzle elements in retro style in which we will have to go in search of a lost boy, Evan, exactly. Family Mysteries: Poisonous Promises ( 14,99 euros ), an adventure thriller full of puzzles, hidden objects and clues to collect.