Xbox: xCloud beats Xbox One performance and load times in a video comparison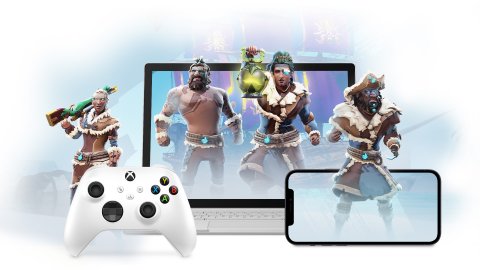 Xbox
The YouTube channel ElAnalistaDeBits has published a video that compares various titles on
Xbox
One, Xbox Cloud Gaming (on One) and
Xbox Series S
. The results are particularly interesting as they show that xCloud is able to guarantee better performance than Xbox One and similar loading times to Xbox Series S.
The games examined are Gears 5, Forza Horizon 4, Hellblade, The Medium,
Psychonauts 2 and
Battlefield V. In the movie we can see how the games on the cloud service games from
Microsoft
have significantly lower loading times than Xbox One, as well as higher framerates or resolutions. For example, Forza Horizon 4, Psychonauts 2 and Gears 5 are stably at 60fps, while on Xbox One they only run at 30fps.
In the case of Hellblade, however, on xCloud it is possible to choose whether to play at 1080p and 60fps or block the framerate at 30fps, activating however the Ray Tracing, while on One it runs at 900p and 30fps. xCloud doesn't fare badly even when compared to the Xbox Series S when it comes to loading times.
Obviously it must be taken into account that a lot also depends on the quality of the connection available and the input lag factor. ElAnalistaDeBits claims to have noticed variable input lag between the various games tested, but that usually Microsoft's first party titles seem to have a lower than average delay.
We remind you that in the near future xCloud will be usable by all users Xbox One, while it is currently being tested with the insider program.
Staying on topic,
Xbox Series X
| S stocks will increase over the holiday season according to an insider.
Have you noticed any errors?
---
Xbox Series X/S Will Reportedly Have Better Availability In Time For Christmas
While the current-gen consoles, namely the PS5 and Xbox Series X/S, are almost a year old at this point now, availability for the machines has been a constant issue for many. Sony is taking steps to produce more consoles in an effort to meet its projected sales targets, and according to GamesIndustry.biz's Christopher Dring, Microsoft is doing the same too. 
In a post on Twitter, the journalist reported that Microsoft's supply for Xbox Series X consoles will increase by a significant margin towards the end of the year. Microsoft wants to make availability an advantage over its competitors, alongside highly-anticipated releases such as Halo Infinite and Forza Horizon 5– and, of course, Xbox Game Pass. 
While it's still too early to say anything on the matter, Microsoft might just have an ace up its sleeve if the reporting is in fact true. With supply shortages potentially being a thing for as long as until 2023, Xbox Series X/S could definitely gain an edge with a healthy supply chain.