Gran Turismo 7: new behind the scenes video dedicated to drivers and Dualsense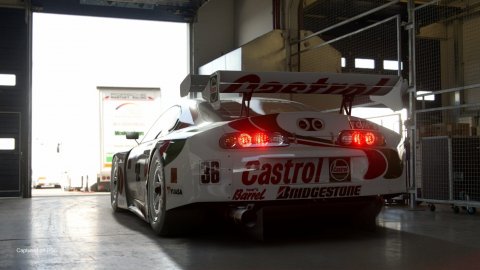 Gran Turismo 7
Polyphony Digital and
Sony
have released a new behind-the-scenes video with Kazunori Yamauchi. Today's episode focuses on the figure of the professional driver and the sensations he feels during a race. All accompanied by gameplay sequences taken from the
PS5
version and also a small hint of the features of the Dualsense.
In the video, Yamauchi explains that a driver does not race alone. He is in fact part of a large team that works hard to develop a vehicle that performs perfectly on the road. Yamauchi also explains the sensations that drivers experience during a race, from the noises of their own car and that of their opponents, to the vibrations felt when, for example, the front wheels slip. In this regard, the haptic feedback of the Dualsense will serve to return these sensations to the player.
Gran Turismo 7
will be available exclusively
for PS5 and
PS4
starting March 4, 2022. The pre-orders of the standard edition and the 25th Anniversary Edition have been available for a few weeks, complete with a pre-order bonus. The game will see
the return of
the legendary GT Simulation mode and will also feature FIA ​​championship competitions and Sport mode. In addition to collecting cars, players
will be able to
customize them and perfect their setup.
A few days ago another behind-the-scenes video was released, thanks to which the presence of over 400 cars in the game was revealed, including past, present and future of the automotive industry.
Have you noticed any errors?
---
Gran Turismo 7 To Feature More Than 400 Cars From The Past, Present, And Future
We've waited a long time for Gran Turismo 7 to become a reality and on March 4, 2022, it will roll out across PlayStation 4 and PlayStation 5. In the lead-up to the game's release, a new clip has been released in which game director Kazunori Yamauchi talks about some of the cars that will be featured.
Sony Interactive Entertainment has confirmed that Gran Turismo 7 will include more than 400 cars and in this trailer showcases some of these vehicles from the past, present, and future.
A number of iconic cars are previewed. These include the 1962 Ferrari 250 GTO, 1967 Toyota 2000GT, Mercedes-Benz CLK LM, Pontiac Trans Am, Honda NSX, Jaguar E-Type, and more modern concept cars such as the Lamborghini V12 Vision Gran Turismo and Mazda RX-Vision GT3 Concept.
Read More: Gran Turismo 7 To Be Released On March 4, 2022, Trailer Looks Exciting
Throughout the video, Yamauchi talks about how car collectors form an important part of car culture and says that "many of the most fascinating cars from motoring history are included."
It is not just the diversity of the cars available that should help to establish Gran Turismo 7 as the best driving simulator on the market. We also know that it will include a complex dynamic time and weather system that developers created with data sourced from NASA. In addition, heaps of different race tracks will be featured and gamers will have access to lots of cityscapes that they can use as backdrops for taking pictures.
Of course, Gran Turismo 7 isn't the only racing game that's just around the corner. On November 9, Forza Horizon 5 will be launched for the Xbox Series X, Xbox Series S, Xbox One, and Windows 10 and it too will have more than 400 cars.