Gran Turismo 7, exclusive interview with Kazunori Yamauchi!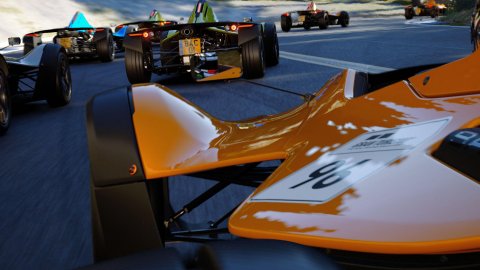 Gran Turismo 7
Nobody can get it out of our minds that if in 2015 they had presented a classic Gran Turismo instead of GT Sport, everyone would have complained about the lack of originality of the usual Polyphony Digital game.
The exact opposite of what happened with the first Gran Turismo 7 trailer, greeted by a real roar. It all depends on the time factor: almost ten years have passed since the last real chapter, numbered and all. It was the previous absences that gave this Gran Turismo an extra gear, allowing it to reach the market at the peak of interest. It should come as no surprise that all of a sudden the public seems to have discovered that they still have a crazy hunger for a Gran Turismo like they used to be, but better than they used to be, let alone a Gran Turismo that seems to combine past, present and future of the series.
Kazunori Yamauchi, president of Polyphony Digital and the largest Honda Prelude second-hand seller in the world, noticed it and
told us about
it during the Gran Turismo 7 interview, thanks to your support we have succeeded to interview exclusively for Italy: "Gran Turismo 7 is exactly like that, in the trailer we have put together all the ingredients of the Gran Turismo of the past, there is
PS5
which represents a new challenge and everything that was in GT Sport has also been inserted here ".
Much more than a game
Historic circuits such as Trial Mountain and High Speed ​​Ring will return in Gran Turismo 7 Anyone who talks about competition doesn't really know what they're saying. All the biggest racing games in the world can come out, but if a series has lasted for 24 years, selling millions of copies, it is only because people love the approach, the salient features, and are willing to give up in order to have more. After all, we all know the gaps in Gran Turismo, as we know that many of these could recur very well in the next chapter, but it is now clear that a certain user does not care about having what they can find in other games anyway. In this long wait that separates us from the Gran Turismo of dreams, at least we can have in exchange a racing game that has been much more than a game for some time.
Gran Turismo has marked unforgettable years for several generations and with its important partnerships, the massive organization on the eSport side, has been transformed along the way into a real institution recognized by the FIA ​​itself, which also certifies its championship. Like karts in real life, Gran Turismo allows you to get so high that you land in a real stable. It also happens in other much more simulation games, but Polyphony Digital has gone much further by creating a supply chain, a system, and this system revolves around Gran Turismo and its spectacular handling, which simplifies the reading of the vehicle but does not limit risks. , perfect center between arcade stature and simulative race reflexes. Yamauchi himself explains how all this
will improve in
Gran Turismo 7: "The physics of the car is better, the customization is deeper, then there are several less obvious elements that are not immediately noticed, such as the new performance calculation system. of the players; we have worked on many new features that are not so flashy, but that change the game, many new options also on the tuning side to have fun on. We will show you many of these aspects in the coming months ".
Key details
Kazunori Yamauchi, born in 1967. For Polyphony Digital, perfection is clearly an indispensable goal, an obsessive approach to the millimeter that naturally involves positive aspects, and equally negative ones. For example, the wait, given that for every Gran Turismo you always have to wait a long time, or certain choices from the past such as that of inserting cars from previous games without updating the graphic aspect, because the team would not have had time to reach the new ones. very high standards. A madness for any other software house, but not for Polyphony Digital which in addition to the game, the dream, the institutional partnerships, requires that every Gran Turismo is also a book of "living" photographs, a yearbook, a history lesson, the spark that lights the fuse of passion. And from this point of view there is none for anyone, indeed the gap is so clear that no one has ever even tried.
As its own soundtrack insinuates, suggests its driving model and certifies the replay of each race, Gran Turismo ends up functioning in its own symphony of exciting elegance, smelling of cigars and leather seats, black tires and brilliant dashboards.
Gran Turismo 7 will be like this.
We can do
ubt the presence of atmospheric effects, but not that every element inside it will be perfect, in short, nothing that cannot create new definitions for the concept of "car porn". Is it really worth it? For Yamauchi "it improves the whole game experience, I think it also affects the subconscious of the players, it makes them feel more satisfied. We have this way of working also because we feel the responsibility towards the car manufacturers, all those who work there and want to represent it at its best, in order to expand the culture of real motoring, to build its future. These details are very important to us "
The lighting of Gran Turismo is perhaps one of the most elaborate and realistic in the world
of video games
. Who knows when they will totally embrace ray tracing
what will happen
... The idea of ​​expanding the culture of motoring is a concept that comes back several times during the interview, like the idea that video games are the last great chance to create a connection between young people and the four-wheeler world: "I believe that attracting new generations is really very important. We will probably be, or are, the last media to be able to create new car enthusiasts". Kazunori Yamauchi's foreboding has statistical bases: an ACI study entitled "Self-portrait 2020" shows that in ten years the percentage of Italians under 25 who own a car has almost halved, with a monstrous decline of 41.3%. A trend that extends far beyond our borders and affects the entire Western world.
There are also fewer young people racing karts and racing is becoming more and more of a rich man's stuff. Moving forward, towards a world increasingly dominated by electric cars and designed for city travel, the Gran Turismo series could really turn into a scrapbook, the only place to play with grease and Allen screws, rather than with chips, processors and touch keys that have standardized the experience, taming the beast. What will the future of Gran Turismo look like? Yamauchi replies smoky: "we have many different types of approaches to the same formula to choose from, here I can't say anything more but ...". It is clear that that extra something was about to come out, only to realize that after having said it he should also have killed us. We sincerely thank you for the missed scoop, and for the murder perhaps only postponed.
Indeed it is still too early to look so far ahead, especially if the next game is in the pipeline. 'arrival: Gran Turismo 7 will debut in
PlayStation
4 and PlayStation 5 versions from March 4, 2022. In addition to a classic career that returns as a mode after almost a decade, the game will re-propose the multiplayer structure of GT Sport: "There is everything GT Sport in Gran Turismo 7, we have not cut anything, all the functions and modes will also be present. here, but improve ". From a recent post on the official PlayStation blog, we recently learned about the presence of a new simulation related to the variability of time and weather, "we have reproduced the spatial / chronological conditions of the day for the distribution and concentration of atmospheric particles on a global scale. , a procedure unique to the Gran Turismo series ". We talk about lighting and the state of the tread, but not about atmospheric phenomena and it is a detail to remember, perhaps useful in the future when the time of the review approaches.
In Gran Turismo 7 there will be a lot of space for the customization of the car and liveries and there will also be plenty of room for the processing, which among other things is one of the aspects that Yamauchi himself prefers: " When I play Gran Turismo I sway between two different mental states. In the first I try to play it in the third person, that is, I try to get inside the head of a new Gran Turismo player and guess what he would think. In this phase I try to understand if the accessibility is well calibrated, if all information is communicated appropriately. In the second I immerse myself in the race, I try to improve my times by jumping back and forth between races and tuning. " Yamauchi didn't fret when
we tried to
snatch some details of the PlayStation 5 version of Gran Turismo 7 from him: "PS5 is very easy to program, not like PlayStation 3 where it was much more difficult. With
PS4
we have already simplified the development process, but with PlayStation 5 we have taken a further step forward ".
What this new process will entail we do not yet know, but obviously we hope for greater speed in creating new content. Without even thinking about Gran Turismo 8 or GT Sport 2.
Test drives
Which car categories do you prefer to drive in Gran Turismo? That's all for now. We used this interview to honor the Gran Turismo phenomenon, it deserves it, and now we just have to wait for the first track tests and finally the inevitable review, where we will necessarily be forced to put aside our feelings in favor of a more formal and analytical. We close with the last question we asked Kazunori Yamauchi, extending it to all of you who follow Multiplayer:
If you were asked to develop a Gran Turismo containing cars from just one decade, which one would you choose?
1960, where cars like the Ferrari 330 and the Ford GT 1960 competed.
And which one would you choose?
Have you noticed any errors?