Fortnite - Update 18.10: the news for the Royal Battle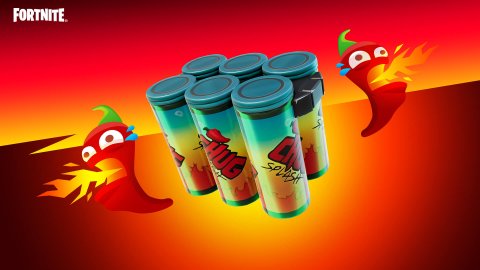 Fortnite - Update 18.10
Epic Games has unveiled the news coming to Fortnite Battaglia Reale thanks to the Update 18.10, among which the Curabomba al Chili drinks and the Super level styles stand out.
After the start of the scheduled maintenance of the game servers , a post on the official website offers an overview of what's new in the patch. The update 18.10 introduces the "Chilli Curabbomba" a new spicy variant that in addition to restoring health and shields activates an enhancement to the speed of movement. The effect applies to both the user and teammates in his vicinity. Curabombe can be traded for ingots from Brat or found in some piñata llamas.
In addition to the chili variant, the original Curabbomba is also back, which you can find in the normal loot. Speaking of returns, it is again possible to create a Hunter Cloak by combining pieces of meat (but it's not included in competitive playlists). Also according to what was reported in the post dedicated to the update, a "big hole appeared in Foschi Fumaioli. Was it an accident at work? Or did something ... escaped from underground?", So it will be good to investigate
In addition to the bonus styles for the costumes of Chapter 2 of Season 8 of Fortnite Battaglia Reale already available in the Battle Pass, the styles for the Super levels have been added. By exceeding level 140 during the course of the season it will be possible to unlock new runic costumes for Charlotte, Kor, Fabio Foltachioma, J.B. Schimapnski and Torin.
To get these rewards, as promised, Epic Games has made some improvements to obtaining XP, which are listed below:
XP earned on Daily Point Card Missions has been significantly increased. XP has been added to all shared assignments (but still gives ingot rewards). All new and upcoming Character Point Sheets have significantly higher XP rewards. The XP of the weekly score sheets has been slightly reduced, to reduce the disadvantage for
those who do not
complete them.
In addition, 20 new styles have been added to Cartonno inspired by some of Fortnite's most beloved characters. To get them it will be necessary to complete the themed assignments.
Fortnite, the Chilli Curabbomba The Fortnite Battle Royale 18.10 update finally includes some changes to the balance and fixes of various bugs and problems, which we report below.
Balance changes
Shockwaves will be disabled in the last circle of the Storm in the main playlists. Shockwaves will be disabled in Stage 5 of the Storm in Competitive Playlists. Drinking Cannons are no longer available from Loot Llamas. In place of the drinking cannons there are the very spicy Chilli Curabbombe. Viceversa anomalies will disappear sooner than expected in the competitive lists. The rail gun has been removed from the competitive lists.
Bug fixes
Fixed an issue with vehicles taking severe damage when colliding with Mothership wreck pieces. Fixed an issue with Donation Boards showing items in English even when another language was selected. Fixed an issue with voice chat
on Nintendo Switch
where it did not connect to party chat after the player left the party and then rejoined.
Source Have you noticed any errors?
---
Fortnite update 18.10 patch notes, server downtime schedule, Chug Splash, new POI, more
UPDATE: Fortnite update 18.10 is out now on consoles and PC.
As part of the new update, Epic Games has taken Fortnite offline for server maintenance. The downtime should last from 9am BST until around 11am.
'We're beginning to disable matchmaking in preparation for the v18.10 update, with server downtime beginning soon,' reads an Epic post.
'We'll let you all know when downtime has ended!'
ORIGINAL: Fortnite developer Epic Games is getting ready to release a brand new update on PS5, PS4, Xbox Series X, Xbox One, PC, Android and Nintendo Switch.
Fortnite update 18.10 has a September 28 release date and a 9am BST launch time.
Unfortunately, however, as a numbered update, version 18.10 will coincide with a period of server downtime.
Services will begin to be taken off at around 8.30am BST, before going offline in full at 9am. There's no official downtime schedule, although the game usually comes back online within a couple of hours.
According to the update 18.10 patch notes, the new download adds the Chug Splash recovery item. The new item heals 20 health, while also giving players a speed boost.
'Bring the heat,' reads an Epic post. 'The v18.10 update is scheduled for release on September 28. Downtime will begin at approx. 04:00 AM ET, with matchmaking being disabled approx. 30 minutes before.'
Interestingly, Epic has confirmed that the new update will be bigger on Xbox devices and Nintendo Switch.
Some fans believe the new update will add a new POI to the map, and perhaps another archived weapon for players to fund.
The remaining Fortnite update 18.10 patch notes can be seen below...
General Top Issues...
• Scrolling in the Discover UI
- We're investigating an issue when scrolling in the Discover UI that causes it to reset the players section position to the beginning of the row.
Battle Royale Top Issues...
• Crash site slip streams won't disable after hitting a certain storm circle phase
- We are aware the Crash site slip streams are not disabling after a certain storm circle.
• Vehicles take heavy damage when colliding with Mothership wreckage.
- Please be aware that vehicles may clip into and take heavy damage when colliding with Mothership wreckage pieces at crash sites, potentially causing you to be eliminated.
• Dark Jonesy Stage 2 quest 'Stoke a Campfire' doesn't progress during the match when it's obtained.
- Dark Jonesy Stage 2 quest 'Stoke a Campfire' doesn't progress during the match when it's obtained.
• Donation Boards do not display War Effort items in chosen language.
- Players with a non-English language selected will not see the name of the items available to donate to in the War Effort in their chosen language.
Creative Top Issues...
• Players are teleported when jumping into Barriers.
- When jumping into a Barrier Device, a player will be erratically teleported.
• Only allow respawn if Spawn Pads Found setting not working.
- We're investigating an issue that is causing spawn pad settings to work incorrectly.
• Player built structures cannot be placed adjacent to Barrier Device.
- The Barrier Device is preventing players from placing player-built structures near the device base.
Save the World Patch Notes...
• Unable to swap Hero Loadouts in the Lobby while using a controller.
- Players may be unable to swap loadouts in the Lobby while using a Controller on all platforms.
• Campfires above lv 130 are shown as 130
- Campfires higher that 130 are shown as 130. This is a UI bug, and the 130 or higher Campfires will still function as normal.
• Dungeon announcer 'Found all coins' audio loops
- Dungeon announcer repeats 'All Coins found' every time a player picks up a coin beyond the max
• Quests cannot be pinned from quest journal
- The option to pin quest in the quest journal is currently unavailable