New World: date and time, preorder bonuses and everything you need to know about the Amazon Games MMO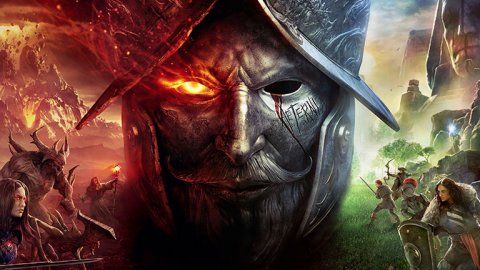 New World
In this introductory New World guide, we'll take an overview of the main features of the game and everything you need to know before it launches, such as launch date and time, available editions, pre-order bonuses and much more.
The debut of New World, the ambitious MMORPG that has intrigued players so much in recent years, is now very close. Thanks to the excellent responses received with the latest testing phases, the Amazon Games title has all the credentials to become one of the most interesting titles of 2021 and carve out a place in the Olympus of MMOs alongside sacred monsters such as World of Warcraft and
Final Fantasy X
IV.
What is New World?
New World, archers defend a strong New World is an MMO that mixes action and RPG elements made by Amazon Games, the division gaming of the e-shopping giant. The player takes on the role of an adventurer who, after a series of unfortunate circumstances, is shipwrecked in Aeternum, an imaginary supernatural island of the 17th century. This "new world" where it is possible to cheat death is full of mysteries to discover, areas to explore and enemies to face, whether they are led by artificial intelligence or real players. Although it is possible to play the game entirely as in PvE, New World indeed offers a rich PvP component for those seeking competition.
As the adventure progresses, players will join one of the human factions vying for the island , with socio-political balances changing in real time. The map is in fact divided into twelve territories and the control of these can pass from one side to another thanks to the actions of the players. In addition, companies, or guilds created by users, can govern the various settlements and manage their economy.
New World is a third-person view game with a real-time combat system devoted to action, which in some ways (distantly) resembles that of the souls-like. In addition to level and equipment, therefore, the player's ability to dodge and block attacks at the right time is important, and then hit where it hurts the most as soon as an opening is created. There is no real class system, with players having full control over the build of their virtual alter ego. To find out more, we recommend reading our p
review of New
World.
Factions and companies
New World, one of the many outposts scattered throughout the game world As mentioned above, at the center of the social side of New World are the factions, or organizations composed of like-minded players and NPCs, all with different motivations and plans for
the future of
the island. It is possible to switch sides, but only once every 120 days, so choose well who to ally with. In total there are three:
Marauders: living examples of the belief "will is power", the Marauders are a ruthless military force, aiming to establish a free nation in which anyone with the strength and determination to claim something can do it. Syndicates: Operating in the shadows and managing secrets: Syndicate members use their infinite shrewdness and intelligence in pursuit of forbidden knowledge. Confreres: divine defenders guided by passion and deep faith in the light of the Spark, the confreres fight with loyalty and justice for the souls of all living beings in difficulty.
The choice of side determines which of the players will be your ally and who will be an enemy in PvP matches and the advantages that you can obtain if your faction or company controls settlements and territories.
Within each faction, users can form or join groups called "Companies", ie guilds with up to 100 players. These clans can take part in large-scale PvP Wars and if they win, take over the settlements, where they can manage the economic side.
PvE and PvP modes
New World, like any self-respecting MMORPG it will be important to group with friends or other players. Although PvP plays a leading role in the playful formula of New World, you will not be forced to clash with other players at all. In fact, if you want, you can very well enjoy everything that the game world has to offer, such as taking down monsters, leveling up your character, crafting new equipment, taking part in public events together with other players, facing dangerous bosses and much more without having to. never engage in PvP.
Among the most interesting PvE activities undoubtedly stand out the Expeditions, or the New World version of the classic dungeons, in which parties of five players will explore the deepest bowels of Aeternum to face deadly enemies, solve puzzles and discover truth about the island. In the Invasions, on the other hand, groups of 50 users will have to defend the territories of their faction from monsters and armies diverted in large-scale PvE clashes. an opposing faction, which you can attack on sight, or challenge your teammate in a "one on one". The pinnacle of PvP, however, is reached with the "Wars", or large-scale clashes with teams of 50 players who battle to conquer or defend a territory. The outcomes of these clashes radically modify the balance of forces in New World.
Classes, weapons and progression system
New World, among the various weapons available obviously the bows could not be missing. previously mentioned in New World there are no predetermined classes carved in stone, with players having full freedom of choice on how to build their character and choose, for example, whether to focus on close combat or magic, whether to wear heavy or light armor .
Characters progress into three categories: Core Attributes, Skills, and Weapon Mastery. Each time your alter ego levels up, an Attribute point is awarded which you can spend to increase your favorite stat. For example, strength increases the damage dealt with melee weapons while intelligence enhances magical ones. The skills instead are skills related to the collection of resources, the processing of materials and the crafting of various objects. As you level up, you will become more and more efficient.
Weapon Mastery, on the other hand, increases thanks to the specific experience points obtained by killing a creature with a specific weapon. Each of them has two skill trees which are associated with a series of active skills, passive modifiers and exclusive bonuses. In New World you will be able to specialize in various types of weapons, including swords, axes, hammers, bows, rifles and enchanted staffs, and equip two at a time, which you can exchange during combat.
Date and launch time, available editions and pre-order bonuses
New World, the game world is full of mysteries and dangers New World will be available on PC from Tuesday 28th September. The European servers will open their doors starting at 08:00 Italian time. At the moment nothing has been announced regarding any console ports, such as
PS5 and Xbox
Series X | S.
Amazon New World Offer: Standard Edition € 39.99
View Offer
New World can be purchased in digital version both on Amazon.it, where you will get a key to redeem on Steam, or directly on the Valve store. The game is priced at € 39.99 for the standard version and € 49.99 for the Deluxe Edition, which includes the following exclusive content:
Lumberjack armor skin: Stand out from the crowd or camouflage yourself in the forest with the Lumberjack armor skin. "Lumberjack" Ax Skin: Complete the "Lumberjack" look with this versatile ax skin. Mastiff Pet: Feel at home with the mastiff pet. Access to housing unlocks at level 15 of the game. Chinese Morra emote set: The Chinese morra, a non-demanding game between friends or a tool for making difficult decisions. New World Digital Illustrations: A collection of fantastic images from the making of New World.
Offer Amazon New World: The Deluxe Edition € 49.99
View Offer
Those who pre-order the game will get Isabella's amulet, the "Punch against Punch" emote, a guild badge and the unique title "Expedition One" as a bonus.
New World will also offer exclusive free items for Prime Gaming subscribers, starting with the "Pirate Packages". The first will be available from the launch of the game and can be redeemed until November 1st. This pack includes an exclusive skin for a pirate character and the Pirate Pose emote, as well as 5000 Marks of Fortune, a special currency used to purchase cosmetic items in the in-game shop. The second Pirate Pack will be available starting October 12 and can be redeemed by Prime Gaming members until November 1. It will include new exclusive pirate-themed items, including a pirate sword skin, a Finger in the throat emote and a pack of 4 badges.
Is there a monthly subscription to pay? Do you have Italian? Which server to choose?
During the invasions you will have to collaborate with other players to chase away monsters and enemy armies in large-scale battles Unlike other MMORPGs, such as World of Warcraft and Final Fantasy XIV, no monthly subscription is necessary to play in New World. The only cost is the one related to the purchase of the game. In the internal shop there will be various objects obtainable with premium currency (and therefore also with real money) but these are exclusively cosmetic items. In short, New World has no pay-to-win mechanics.
New World is completely localized in Italian, both for the texts and the game menus and for the dubbing. More unique than rare in the MMORPG genre.
At the launch of the game there will be numerous servers, divided by regions, to choose from to start your adventure. Among these are some with developer-recommended languages ​​designed to allow all players to have fun together while communicating in the same language. As for the Italian players, the New World team recommends Jotunheim, where you should therefore meet a greater number of compatriots.
Have you noticed any mistakes?