Super Mario returns to the cinema after 28 years of the disastrous film with Bob Hoskins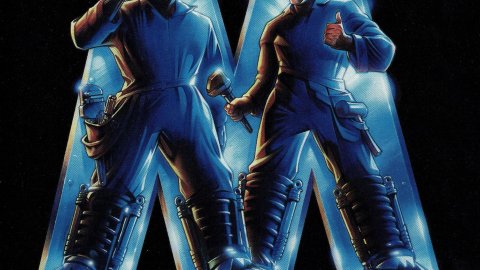 Despite the success of Sonic - The film and especially of Detective Pikachu it was not so obvious that
Nintendo
decided to try again with the cinema and Super Mario. The Kyoto house, in fact, does not have a good relationship with cinemas and television in general. After the catastrophic 1993 film starring Bob Hoskins, it really seemed that Nintendo had definitely finished with the seventh art. Then, a couple of years ago, there was talk of a hypothetical computer graphics film inspired by the adventures of the mustachioed plumber, but the news had followed one another so slowly that it seemed nothing more had been done.
During the last Nintendo Direct, however, it was the evergreen Shigeru Miyamoto who informed us about the film, which exists, is proceeding at full speed, will arrive in theaters at the end of 2022 and has just found the actors who will lend their voices to Mario and all the others.
Before taking stock of this project, however, we would like to dig into the past to remind everyone what terrible sin Nintendo
is trying to
forgive ...
Story of a Disaster
Super Mario Bros., John Leguizamo and Bob Hoskins in a scene from the film In the early 1990s, a few weeks after The Big Little Wizard was released in theaters of video games, President Minoru Arakawa had authorized the making of a film inspired by the Nintendo mascot that was not just a mediocre commercial. Throughout the following year, numerous film studios had proposed scripts, budgets and actors. Determined to have more control despite the cost, Nintendo turned to two independent directors: Jake Eberts and Roland Joffe. Arakawa was very impressed with the gloomy atmospheres of their previous scripts and was convinced that they could appeal to a wider audience. So, in October 1990, Arakawa and Hiroshi Yamauchi sold the rights to the brand at a reduced price, and from then on, pretty much everything went wrong.
Super Mario Bros., Dennis Hopper and Bob Hoskins in a scene from the movie Dustin Hoffman was very interested in playing the role of Mario. Arakawa did not share his own enthusiasm and, in fact, immediately dismissed the idea, arguing that Hoffman would not have been suitable for the part. The producers then focused on Danny DeVito: Arakawa approved the new choice, however DeVito turned down the part to focus on his career as a director. The next actor on the list was a young man named Tom Hanks who had accepted the part for a mere $ 5 million fee, but the producers and Nintendo backtracked shortly before closing the deal, as they had serious doubts that an actor of little fame could play such an important role. Hanks quickly recovered from his disappointment, not least because four films later he would win the Academy Award for Best Actor in Philadelphia.
While looking for the cast, things were no better on the directing front. Joffe, wanting to focus solely on the role of producer, decided to hire Greg Beeman as director, but Beeman had never directed anything major and no one would have entrusted him with a millionaire budget film. We then thought of Rocky Morton and Annabel Jankel, a newlywed couple from London who had only filmed music videos and The Max Headroom Show, an innovative television program. Morton and Jankel decided that the film should not only appeal to a more adult audience, but also be even more grotesque and grotesque, and for this they needed a script that reflected their eccentric vision of the film.
Super Mario Bros., Yoshi (sic!) and Samantha Mathis in a scene from the film Barry Morrow, who had recently won the Oscar for Rain Man, should have written a very complex script, but he was offended for refusing Hoffman, and so, while the magazines talked about him, Nintendo turned instead to Jim Jennewein and Tom S. Parker, two guys who had never written a screenplay in their lives.
The film as they had imagined, however, it was not bad: it had to be a modern fairy tale with sci-fi elements. The problem is that they had written it for Beeman, so Morton and Jankel, who had taken over in the meantime, discarded everything and hired Parker Bennett and Terry Runte, authors of grotesque comedies. Morton and Jankel wanted Super Mario Bros. to remember Ghostbusters in atmosphere and characters, and as the two new writers worked slowly, they fired them to hire Dick Clement and Ian La Frenais, who signed an action script. This, however, did not go well with Nintendo, who wanted a less surreal story, so they had to rewrite it from scratch and heavily modify it when the actor who would play Mario was chosen: they had imagined Tom Hanks, since the hiring was practically gone. in port, but then the production had chosen Bob Hoskins, who was completely different in character and physiognomy.
Super Mario Bros., Dennis Hopper was the Koopa King It seemed that it was all decided by now, until producers Eberts and Joffe realized that the film was not in the least the video game. Nintendo wanted a more adult product, but the script was perhaps too odd, reflecting the eccentric ideas of the directors that Nintendo no longer frowned upon. Two other writers were called, Ed Solmon and Ryan Rowe, who were forbidden to interact with the directors so as not to contaminate their work: the result was that the script reached the actors completely different from what it had been proposed. Eberts and Joffe backtracked this time too, but Clement and La Frenais had already found another job, so it went back to Bennett and Runte, who went to sets in North Carolina where no one could work, as there was no script, and the climate was practically cold warfare.
And in the weeks that followed, things got worse when directors began to mistreat the staff, even splashing hot coffee in the face of an extra. At that point, even the actors didn't give a damn about the film anymore: Hoskins and John Leguizamo, who played Luigi, regularly got drunk on set, and at one point they even got involved in a car accident that forced the former to bring a chalk for much of the film.
Super Mario Bros., John Leguizamo was Luigi and Bob Hoskins was Mario in the 1993 film The processing had accumulated monstrous delays which forced directors to cut a lot of scenes in stage editing, including the spectacular finale in which Mario faces off against a giant Koopa King on the Brooklyn Bridge and defeats him by slapping a Bob-omb in the jaws: in the official film he just shoots him in a much cheaper scene.
The film, of course, was rejected by audiences and critics alike, at the box office it did less than it had cost and generally went down in history as one of the worst film adaptations of a video game. While the cast, producers and directors remember it as a terrible experience - Dennis Hopper was supposed to be on set for five weeks, he left after seventeen! - and in the interviews they practically insulted each other for years, the only one who continued to rate it as a positive experience was Shigeru Miyamoto who, in an interview with Edge, admitted that perhaps the film had wanted to be too similar to the video game. After this statement, many have wondered if he has ever seen it ...
The origins of the new film
Shigeru Miyamoto, Mario's father The daring creation of Super Mario Bros. would explain why Nintendo has never returned to the cinema issue: let's say that in just over a year it has had enough for a lifetime. Things began to change a few years ago when Pokémon: Detective Pikachu was put in the pipeline, and brought to the cinema with some success.
If Miyamoto had already mellowed towards film adaptations thanks to the film inspired by Pokémon, the idea of ​​a new feature film focused on Mario came to him in the most unlikely way possible: thanks to the Virtual Console service. The latter could be considered as the catalog of Disney classics, in the sense that even after decades there is always someone who returns to look at them. A well-made film adaptation could further support that catalog, with the difference that it would not be tied to a single platform, nor would it force Nintendo to convert it when that becomes obsolete.
Chris Meledandri, the founder of Illumination Che ci E-mails between producer Avi Arad, TriStar Pictures boss Tom Rothman and
Sony
Pictures Animation president Michelle Raimo Kouyate, which were released following the Sony Pictures hack in 2014, prove it was a new film in the pipeline. it turns out that Sony had been aiming for the rights to a Mario Bros. movie for years and that Arad had even traveled to Tokyo in 2014 to strike a deal, thinking of Genndy Tartakovsky as director. In the end, however, nothing more was done, perhaps also because Sony is basically one of Nintendo's direct competitors on the videogame market.
A more concrete opportunity arose around 2016, when Miyamoto first met Chris Meledandri, founder of Illumination, the animation division of Universal Pictures, while working on the attractions of the Super Mario-inspired playground with Universal Parks & Resorts. It seems that the two immediately found themselves in tune, because within a couple of years Nintendo first hinted at a possible film, and then confirmed Illumination's involvement with a position as central supervisor for Miyamoto.
Despicable Me is one of the most important Illumination franchises Until 2020 there was only talk of a process that was proceeding at full speed, with a launch window scheduled for 2022, but now the official date arrives: 21 December 2022. Of the film Unfortunately, absolutely nothing has been seen yet. But we know the directors, because an Illumination animator put the film on his LinkedIn profile, referring to Aaron Horvath and Michael Jelenic. Both boast a variety of animated TV productions focusing on DC Comics heroes, most notably the acclaimed Teen Titans Go! At the script, however, we have Matthew Fogel, who has signed, among others, the scripts for Minions 2 and The LEGO Movie 2: A New Adventure. Illumination, which deals with computer graphics, has a very respectable curriculum: he has worked on successful franchises such as Despicable Me, Minions and Pets. On the technical front, in short, we should rest assured.
Chris Pratt in a scene from Guardians of the Galaxy Nintendo Direct gave Shigeru Miyamoto a few minutes not only to announce the release date of the film, but also to introduce the actors who will give voice to the various characters. Needless to say, the choices have raised more than one perplexity and triggered an avalanche of controversy on the web.
Let's start with Mario: Chris Pratt will lend his voice, but he has a very different tone from that of the plumber who we know well for his "Mamma mia!". Pratt was already known to television lovers years ago for his roles in Everwood and then Parks & Recreation, but then he literally exploded playing Owen Grady in the Jurassic World trilogy but above all Peter "Star-Lord" Quill in the Guardians of the Galaxy. by Disney and
Marvel
Studios. Pratt is not in his first dubbing, however: he has voiced many animated characters, including Emmet Brickowski in The LEGO Movie.
Anya Taylor-Joy in a scene from The Chess Queen Despite her prestigious resume , Pratt has been seen by the fandom as a convenient choice, not a timely choice, but it is curious that Mario wields his guns in Mario Rabbids illustrations exactly as Pratt does when he plays Star-Lord in the Marvel movies.
In the role of Luigi we find Charlie Day, whom many will remember for playing Newt Geiszler in the two Pacific Rim, but who the television fandom already adored for his Charlie Kelly of It's Always Sunny in Philadelphia, which he also writes and produces. Day also voiced Benny in The LEGO Movie and other more or less famous characters.
There is also Anya Taylor-Joy who voices Princess Peach. She the actress shouldn't need any introduction, mostly because she's been making a lot of talk about herself since 2015, when she made her big-screen debut playing Thomasin in the horror film The Witch. Since then, it has been a succession of successes and lately we have seen her in the excellent miniseries The Queen of Chess for Netflix, which also won her a Golden Globe for Best Actress in a leading role.
Jack Black will lend her voice to Bowser Keegan-Michael Key also has an impressive resume in terms of cinema and television: he has played or dubbed many characters, but in Italy he is actually less well known than the other actors, who are more mainstream. And he too, like Pratt, doesn't even remotely resemble his videogame counterpart.
The roles assigned to Jack Black and Seth Rogen actually make more sense. The first will be Bowser, but Black is a very famous face in the videogame field: actor, musician, comedian and writer, Black is a first-rate nerd who has participated in many films, such as the recent Jumanji reboots. As a voice actor, he instead lent his voice to Po, the protagonist in the Kung Fu Panda trilogy. Seth Rogen, on the other hand, is famous for having collaborated for years with directors and friends Judd Apatow, James Franco and Kevin Smith in funny comedies: versatile actor, he played Steve Wozniak in the biopic on Steve Jobs and dubbed several films, including the remake de The Lion King in which he voiced Pumbaa. In the new Super Mario movie he will be Donkey Kong because, somehow, in the script they found space for him too.
Seth Rogen in a scene from Steve Jobs The rest of the cast confirmed has also revealed other minor roles: Fred Armisen will play Cranky Kong, Kevin Michael Richardson will play Kamek, while Sebastian Maniscalco will lend his voice to Foreman Spike, a character who first appeared in the 1984 game Wrecking Crew. The film will also feature Charles Martinet, the historic voice of Mario
in video games
Nintendo, even if its role has been defined as a simple cameo.
In short, despite the controversy over the cast, the Super Mario film that will be released at the end of 2022 would seem to boast highly talented artists and a solid technical base to start from. Honestly, we have always seen a live action adaptation of a cartoonish imagery like that of Super Mario out of place, so much so that, stylistically speaking, the graft of a similar realistic world like that of the City in Super Mario Odyssey was very out of place. In short, the premises for a good animated feature film would seem to be there, and we can't wait to have more material to tell you about in the coming months.
Have you noticed any errors?