Life is Strange: True Colors, the end of a special journey in the words of Alex and Steph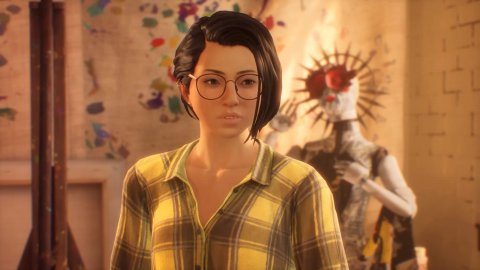 Life is Strange
We sit, as usual virtually, at the desk and wait to connect for the interview. The pleasantries are rather short,
it is no
t the first time we meet to talk about Life is Strange: True Colors although people have not always been the same. On the third round it becomes difficult to find a topic of conversation that has not already been explored, or is not silly having delved deeply into both the original game and the Wavelengths DLC.
We decide to improvise, like a GM who finds himself in front of experienced players capable of predicting his every move, ready for any usual stratagem. We opt for a direct attack, that of truth, and we admit, at that point, that we have run out of questions: the laughter is as unanimous as it is thunderous, the ice that always precedes each interview breaks and suddenly it's like really being there , together, with the lightness of someone who has always seemed to know each other and instead has only been seen through a screen for a short time.
There is Katy "Steph" Bentz, with whom we have already had an interesting chat, who in our eyes is a perfect cleric - not to be underestimated, we have direct testimonies of clerics who have dealt a most glorious coup de grace to Strahd von Zarovich. Joining her is Erika "Alex" Mori, who is a bard not only by right, given the role covered in the third chapter of the game, but because her words have hit particularly deep. Finally, to act as a bridge between them, Felice Kuan, whose role as screenwriter undoubtedly places her under the archetype of the Battle Master. And then there we are, storytellers of a wandering company, looking for something to tell and ready to make our skills available to give you back their adventure, in that long journey that was Life is Strange: True Colors.
Make yourself comfortable, then, and enjoy your reading.
Looking to the present
Life is Strange: True Colors, Steph and Alex in a scene from the game If you've ever finished a game with a long history and we're sure you did, then you will know that looking back and retracing the road that led you there has the bittersweet beauty of the stories that ended but, at the same time, they left an indelible memory within you: you grew up with your alter egos, you were even a alone and you have given each other so much, perhaps without understanding it until at the end when they come to terms with an adventure that lasted months, maybe even years. Or five, as in the case of Katy whose "session" began marginally with Life is Strange: Before the Storm and has, to her surprise, evolved into Life is Strange: True Colors.
Know that I would go back to Steph in True Colors was something I never thought would happen, she tells us, and seeing how much she had evolved, how far her role had expanded when I thought it would be a simple cameo ... has come to be not only a romantic choice, but an important piece in the life of Alex, a character so thick that she has earned her own DLC where players have known her best. It was extraordinary.
Offer Amazon Life is Strange: True Colors -
PlayStation
4 € 59.99 € 49.79
View Offer
When you play a character, even more so if we did not write it, it can happen to unknowingly get in tune
and it is
not a matter of acting, but rather of reflecting ourselves in him or her. Katy has already mentioned to us that she finds herself in some of the aspects of Steph but it was with Wavelengths that the two of them intertwined and she was able to better explain how: the DLC tells us a different Steph from the one we have been used to knowing and of which True Colors showed a small part. We are faced with a person who has never really forgotten the events of Arcadia Bay, regardless of the choice we made, because however it happened he lost someone. A trauma that she still carries and pushes her to the constant search for something more; something that maybe not even she really knows what it could be, but it's a need that comes from within and that she feels she can't refuse - at least until Alex comes into her life. We see clearly, in the year preceding their meeting, the void she tries to fill, and it is here, in a sense, that she and Katy intertwine.
Me as a person, like Katy Bentz, I always look ahead and I don't live in the present. I don't look at what I have now, here and now, nor can I feel grateful for it: I think about what would happen if I moved, if I did anything else and so on. If there is anything that Steph taught me, if I learned a "lesson" from giving it a voice, it was instead to stop and say no, look at what you have now because just when you least expect it everything could change. Don't wait for things to happen, don't think about what it would be like if, dive into what you are experiencing now. We can't say for sure if she was moved at this point, but it was evident the mark Steph left on her and how grateful she is for the occasion. Everyone at Deck Nine did a great job building the character.
Professional maturation
Life is Strange: True Colors, music is one of the pillars of the game but also of Alex Felice's journey was different, more didactic we could say, but not for this less interesting. On the other hand, characters like Alex and Steph could not exist if there was someone behind them to give them a direction, so the archetype jokingly assigned to her seemed adequate: together with the rest of the team, Felice directed and planned the development of the story. as, in a more drastic way, it would be done with a battle. Because developing a video game, beyond passion, this is: a constant conflict with foreseen and unforeseen difficulties, in the face of which we must prove ourselves capable of reacting by finding the best solution. Life is Strange: True Colors was, from the point of view of those who shaped it from scratch, an opportunity to test themselves, refine their knowledge and then concentrate it on what they wanted to tell. This too has been a path of growth, only more aimed at professional maturation.
For me as a developer and for all of us as a studio, having an original story at our disposal has allowed us to perfect what we care about most and what we mean. We were able to bring to the screen a main character through which it was possible to talk about the difficult relationship with parents, about emotions and how complicated they can be, about facing people who have done harm openly and reacting, responding verbally. high following anger or forgiveness. The different opportunities we had within the game gave us the opportunity to go all the way and understand what we really meant. Personally I have grown a lot during this process, learning to know myself better as a developer and understand what, in general, I want to tell.
Recognizing emotions
Life is Strange: True Colors, Alex and brother Gabe The last word goes to Erika, whose story, as we have anticipated, has not affected deeply because Katy or Felice weren't able to convey something to us, as much as a matter of harmony. Just as Erika found herself in the speeches of her colleagues, we did the same with her - after all, who better than a bard could break through her words? Her was a journey whose roots go deeper than she herself, admittedly, had believed. Life is Strange: True Colors was a lifeline that I didn't recognize as such at the time. On our part there is, especially listening to his initial pauses, the awareness of witnessing something very personal because what is at the core of the entire new chapter of the series comes into play: emotions.
I'm back recently in the world of acting, a way to not end up imprisoned by my loop work home, home work. Silvia Gregory was one of my acting teachers and is also a casting director, including that of True Colors, and she changed my life when she sent me the audition. I had no idea where I was getting, I had never been to an audition with all that goes with it, and I have no doubt I was a real mess back then. True Colors has really changed my life: the people I have worked with and with whom I now have friendships, each of them in their own way helped shape me, making me the adult I am. Because they helped me break down that insurmountable barrier to my own emotions.
I learned how to do it safely
and how to
reach them, touch them, for work, but then go back to having full control. I don't think I really realized how much I was holding onto both myself and others. Now I establish relationships that I discover and deepen day after day, because there is really no end, and they are much more genuine in their vulnerability, in their fragility. True Colors has changed my life, it is an unshakable certainty, it has done it with greater depth than I could ever ask for and it was thanks to the people involved in the project. The moment when Alex's narrative arc broke, when the player was put in front of himself, after having been puppeteer of other people's emotions all the time, here is where the game became metanarrative: why you passed the spotlight, you were pushed to look inside yourself while, invisible but present, a question hovered. What about your life? I lived it on my skin and for this I can only thank everyone who participated in True Colors, because my life has really changed it.
Have you noticed any errors?