PS5 and PS4, October 2021: the best games of the month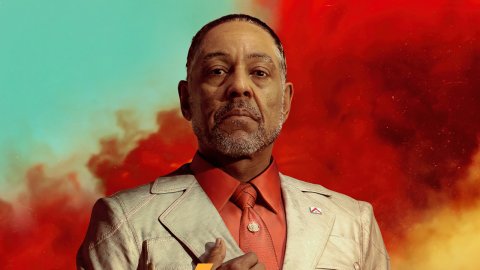 PS5 and PS4, October 2021
What are
the best games
coming to PS5 and
PS4
in October 2021? No significant exclusives, but on the front of multi-platform productions some rather anticipated titles stand out, starting with the FIFA 22 sportsman: EA Sports football is renewed again this year with an edition that is largely conservative but undoubtedly full-bodied and fun. br>
We can then join Yara's liberation forces in Far Cry 6, or face the dark forces hiding in Bright Falls in Alan Wake Remastered, debuting on
PlayStation
platforms. Or hunt down zombies in the cooperative shooter
Back 4 Blood
, or maybe experience the crazy adventures of Star-Lord and his companions in
Marvel
's Guardians of the Galaxy.
What will you
do?
FIFA 22
FIFA 22, Mbappé prepares to receive the ball Out
on PS5 and
PS4 October 1st
The new edition of the football game branded EA Sports has arrived: FIFA 22 inaugurates the month of October and tries to involve us in an experience that is anything but revolutionary on the structural front, but with some interesting news both
in terms of
gameplay and technical realization, the latter inevitably enhanced in view of the debut on next-gen platforms.
Struggling with the long and exciting Career mode, with the street matches of Volta Football, with the Pro Club or the inevitable challenges of FIFA Ultimate Team, we
will be able to
count on the presence of thousands of real players and official competitions such as the UEFA Champions League, the UEFA Europa Conference League and the CONMEBOL Libertadores. The FIFA 22 review.
Alan Wake Remastered
Alan Wake Remastered, a combat sequence Coming out on PS5 and PS4 on October 5th
Alan Wake Remastered is the remastered edition of the action shooter originally released in 2010, exclusively on Xbox. The game tells the story of a writer who is dragged by his wife to a remote location to solve a block that has been with him for some time, but does not know that during this journey he will find much more waiting for him.
A Bright Falls in fact, dark forces are hiding that take possession of people, turning them into crazy killers, and that hide in the shadows. Armed with a flashlight and a pistol, we must find the source of evil, destroy the darkness that surrounds it and eliminate the dangerous threat to discover a truth that could upset us.
Far Cry 6
Far Cry 6, the dictator Anton Castillo in one of the first game sequences Released on PS5 and PS4 on 7 October
The tropical island of Yara is controlled with an iron fist by the dictator Anton Castillo , the ferocious and powerful villain that
we will have
to face in Far Cry 6 as the former guerrilla Dani Rojas. Determined to flee to the United States, Dani loses his closest loved ones and therefore decides to stay in the archipelago, joining the rebel forces to make a difference and free Yara once and for all.
A mission that will see us explore three large macro-regions, meet various characters with whom to establish an alliance and fight the troops of Castillo who patrol the streets, control the territory in their bases and exploit the inhabitants of the island to extract the substances necessary to create a drug that brings millions of dollars in the dictator's coffers.
Back 4 Blood
Back 4 Blood, the protagonists about to leave a safe room Out on PS5 and PS4 on 12 October
Left 4 Dead's spiritual sequel prepares to drag us into its scenarios, those of a world ravaged by an infection that has turned most people into zombies. In Back 4 Blood, survivors immune to the plague have decided to become Exterminators, and so they scour the streets armed to the teeth, looking for undead to shred to free the cities one piece at a time.
Featuring an interesting cast of characters, the title of Turtle Rock Studios focuses heavily on a cooperative mode for four players that will see us shoot, fight hordes of zombies and mutants with special powers, huge monsters that sprout from the ground and other threats still in the attempt to find hope for mankind.
Marvel's Guardians of the Galaxy
Marvel's Guardians of the Galaxy, the full squad Coming to PS5 and PS4 October 26
After Marvel's Avengers, Square Enix and Eidos Montreal try to take advantage of another important official license with Marvel's Guardians of the Galaxy. These are not the Guardians of the Galaxy we saw in the cinema, of course, but a new version of these iconic heroes, once again grappling with missions with a ... galactic breath.
At the command of the shrewd Star- Lord we will have to use our skills in battle to defeat increasingly dangerous opponents, also taking advantage of the moves of our teammates, and avert a disaster potentially capable of destroying entire worlds. We'll also find ourselves making decisions that will change the course of events, just as befits a real adventure!
More games out October 2021
Phoenix Point: Behemoth Edition, out October 1 Jett: The Far Shore, out October 5 Hell Let Loose, out October 5 Puzzle Bobble 3D: Vacation Odyssey, out October 5 Super Monkey Ball: Banana Mania, in out October 5 Crysis Remastered Trilogy, out October 15 Demon Slayer: Kimetsu no Yaiba - The Hinokami Chronicles, out October 15 The Good Life, out October 15 Nerf Legends, out October 19 Disciples: Liberation, out October 21 The Dark Pictures: House of Ashes, out October 22 Iron Harvest: Complete Edition, out October 26 Solar Ash, out October 26 Pumpkin Jack, out October 27 Ghostrunner, out October 26 October 28 Project Zero: Maiden
of Black Water
, out October 28 Riders Republic, out October 28 Hotel Transylvania: Adventures of Scary, out October
Have you noticed any errors?