Far Cry 6: the 5 best aspects of Ubisoft's adventure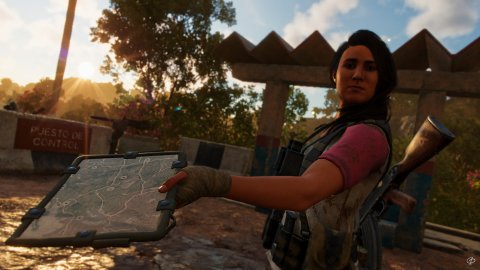 Far Cry 6
With
Far Cry 6
, the
Ubisoft
series has renewed itself while remaining authentic to the spirit of the series. In this way we found ourselves faced with a vast and traditional open world from the point of view of the structure, but full of interesting ideas regarding the narrative. The one set on the island of Yara is an ambitious chapter that focuses entirely on some characterizing elements.
Here are the ones that for us are the best.
The characters
Anton Castillo isn't the only noteworthy character in Far Cry 6 Far Cry 6 lets you know, see and hear the protagonist of the story. The cutscenes are really well written and allow us to witness a skilful blend of violence, black humor and emotions. Something in the style of Wolfenstein: The New Order if you like.
Although it cannot be denied that the villain played by Giancarlo Esposito has a certain depth, it is above all the protagonist and supporting actors who strike, bringing never banal situations to the screen , and which surprise on several occasions. We don't go into too much detail to avoid spoilers but trust me: they are really well written.
Co-op Mode
Storming enemy bases with a friend makes Far Cry 6 twice as much fun Far Cry 6 it can be played in co-op with a friend, and we got to try this experience too. Using a normal invitation, you enter the host's game and play according to his rules, i.e. the level of experience reached by him and by the enemies on the map. Any progress, however, is stored for both users, and
if you want
it is possible to face the entire campaign in two: a truly old-fashioned extra, which we hope to find again in the next episodes of the series.
Freedom of movement
As per tradition, even in Far Cry 6
we can do
what we want, whenever we want The progression of Far Cry 6 is regulated by a level of experience in RPG style that clarifies very well which areas are within our reach or not, and which ones it would be better to keep away from. The presence of anti-aircraft turrets also makes it impossible to quickly explore the entire island aboard a plane or helicopter, unless they have been neutralized first.
The limitations to our desire for exploration, however, stop here: Far Cry 6 immediately unlocks equipment that in the past had to be conquered. Parachute, wingsuit, grappling hook and of course an infinity of vehicles. Motorcycles, quads, cars, off-road vehicles, armored vehicles, trucks, tanks, the aforementioned helicopters and planes, snappy buggies and even horses or drones with the cockpit. We may also opt for the convenience of fast travel to any previously visited point of interest. The watchword, in short, is freedom.
Special Operations
Far Cry 6 is full of secondary activities, towards the liberation of Yara Among the hundreds of secondary activities of Far Cry 6, the ones that impressed us the most are undoubtedly the Special Operations. These are missions accessible within any hub, parallel to the expeditions of our guerrillas aimed at simply obtaining new resources, which can be tackled alone or in a cooperative. One in particular, called the Mesozoic, even took us to a huge theme park dedicated to dinosaurs, for a sort of Latin American version of Jurassic Park.
Los Amigos
In Far Cry 6 Chorizo ​​made us fall in love Far Cry 6's arsenal management isn't always clear, that's true, but that's okay for us. In fact, we were able to equip any unlocked weapon at any time, to give vent to our thirst for destruction or simply to try out a new gun. Is there a helicopter or a tank? No problem, I have a rocket launcher here with me just for these occasions.
But beyond the weapons, it is the amigos, or animal companions, that have conquered us. The Guapo crocodile and the Chicharròn rooster made us smile with their stylish look, but it is the Chorizo ​​puppy, with his wheelchair, who has stolen our hearts. Although, we must admit, we have forgotten it on the street from time to time during the most hectic escapes.
These are the features we liked the most about Far Cry 6. Have you already played it? And what are the elements that you are appreciating the most? Tell us yours in the comments below.
Have you noticed any errors?