GTA: Rockstar tells Grand Theft Auto 3 in an Italian exclusive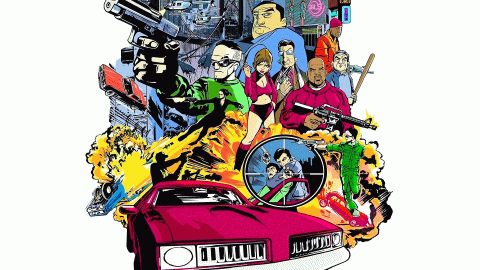 GTA
For a Grand Theft Auto 3 that turns twenty years old,
you need to
organize things well, create the conditions for an exceptional event. And so, while fans await the arrival of Grand Theft Auto The Trilogy: The Definitive Edition, Rockstar Games gave us the opportunity, exclusively for Italy, to retrace
the history of
GTA 3 through the memories of Aaron Garbut , one of the pillars of Rockstar North. A rare and precious testimony on the development and legacy of what has been one of the most significant projects for the series, for the company and for 3D video games.
Aaron Garbut started working as an art designer for DMA Design in 1996, and today he is head of development and co-lead at Rockstar North. Grand Theft Auto III was a game changer for the series - it marked the franchise's transition from two-dimensional play to 3D and introduced non-linear gameplay. What were the biggest challenges posed by this evolution?
The use of 3D has made the experience more immersive, moving the player within the game world instead of making him look down on it. As a result, our point of view on making the game has also changed dramatically. We needed a much more detailed, highly visible and much more interactive world. Our expectations of the product's ability to be cinematic and interconnected have changed, and we have moved away from the more classic elements of the gaming scene.
To achieve our goals, we needed a physics engine that can connect more to the vehicles and objects contained in the game world. We wanted to immerse players in the game experience and allow them to launch missions by talking to the characters around them and working with them. Our desire was to give depth to the game world and to exploit it.
Some of these elements were already present in 2D games, but the distance and the view from above made our life much easier in making them. With the transition to 3D we had to rethink from the beginning how to fit all these components: players were now immersed in the game world and no longer just observed it from above.
We encountered a lot of challenges in the game. our path. In those days, third-person vision and aiming were only in their infancy: no one else had yet created a game world so vast and so rich in detail, in which players could move quickly and in complete freedom. We were building a universe of unprecedented breadth, ambition and interactivity. How were we going to combine all of these features with RAM, render miles of roads, and allow players to enter and exit vehicles in a 3D environment? What makes me most proud is that we have achieved what we wanted to achieve, what we thought was best, without choosing the simplest solutions. We got into a lot of problems and not only started solving them, but we also started imagining a future where we would
be able to
improve even more.
The legacy
"8-Ball's the name, brother! Yeah, it's a dumb name, but my daddy played a lot of pool. He was a hustler, just like me! That's right. Anything you need in this town - connections, women , guns, all that - come see me, baby. Anytime! " Are there any aspects of GTA III development and design that have remained important to Rockstar even after all these years?
GTA III has helped us understand our approach to making a game, and this awareness has accompanied us in all our products, from GTA III to GTA V, up to the Red Dead Redemption series and all other creations: we love to create game worlds and make them as believable, detailed, interesting, varied and teeming with life as possible. We want to create worlds that are realistic, dynamic and full of other characters. We want them not to be just facades that come alive on command to accompany and please the player, but a real place, full of stories, characters, events, fun and interesting things to do.
Game worlds must be absolutely fun: you don't have to be forced to do anything in particular and you don't have to play with a certain strategy. You don't even have to follow the game's storyline if you don't care. You can give yourself the luxury of ... living. If the game world itself is full of choices and navigating it is as fun as tackling a mission, the boundaries between free exploration and core gameplay are becoming increasingly blurred.
Although our ability to tell stories within these worlds has improved over time, we still want to give players the opportunity to discover their own path and story on their own in a universe in which to make a driving around listening to some music and watching a beautiful sunset is as fun as raining lead on a mission. In this way, the game adapts to any need.
Iconography of a myth
So many aspects of GTA III are still iconic today. The characters, the variety of vehicles, the music, the lines, the locations, the graphics and the logo helped define the identity of the series in the following chapters. Were you aware at the time that you were making a work that would revolutionize
open world games
and become a pop culture icon?
While creating GTA III, it felt like we were making the game we always wanted to play. We thought it was great, but we had no idea of ​​the impact it would have. There was nothing else like it around and we were aware of it, but we didn't know if people would see it with our own eyes - we just wanted to share our enthusiasm with everyone. We unveiled it at E3 and the other Rockstar title we had in the pipeline, State of Emergency, got a lot more attention. It was a bad time, but we used it to give us courage.
Could we have known this was going to happen? Perhaps it is possible to understand if something is destined to succeed, but it takes a lot of luck to make its mark on the whole world. We are glad that people loved it as much as I did.
Radio Ga Ga
GTA III also included a radio and a much more elaborate music component than the one contained in the chapters precedents of the saga. How did you approach the making of the game's soundtrack?
When we began to understand how much we wanted to immerse the player in the game world, allowing him to interact closely with the characters and the environment that surrounded him, we imagined in detail the universe we were going to create. As vehicle contact became much more engaging, we had to refine other aspects of the game to bring it up to this new experience. Music and audio teams have helped us build a much more welcoming space, and music or talk show radio stations have taken the immersion of the game world to unprecedented levels. Thanks to the introduction of existing songs, such as the classics of Double Clef or the 80s pop songs of Flashback, and even the writing of unreleased songs designed for radio stations, GTA III's musical approach to music was a game changer. in the series; since then, the teams have continued to improve steadily.
20 years later ...
From left to right: Aaron Garbut, Sam Houser, Dan Houser and Leslie Benzies awarded at the Bafta
20 years after
its release, what aspect of GTA III are you most proud of?
Before Grand Theft Auto III, games were mere pastimes: you had to complete an adventure or solve a puzzle. GTA III has turned them into places to live. Since then, we have made them
more and more
intense and realistic. This aspect is very profound and very important. I grew up playing lots
of video games
; the GTA saga, on the other hand, I lived it. I am proud of our team and our choices. Together we built the foundations, the rules and the blueprint of our vision. We helped create a genre that was chosen and itself played by others.
I love open world games. I think they still have a lot to give. I know that thanks to the success of our open world games, and the worldwide team we have been collaborating with for years, we will have the opportunity to push them even further, and I'm sure we will. No one else has our experience, our knowledge and such a broad and solid network of contacts. The legacy of Grand Theft Auto III can give us even more: with each title we take big steps forward, and I can't wait to find out how far we can go. Grand Theft Auto III has begun the journey for us, but we are still at the beginning.
Have you noticed any errors?