FIFA 22: EA Sport's top ten soccer game teams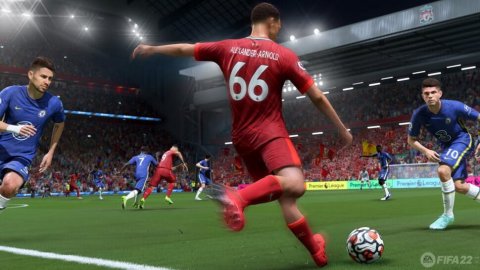 FIFA 22
In this guide you will find the ten best teams in FIFA 22. The new title of the famous
EA Sports
series arrived in stores a few days ago, ready to keep us company for another intense
football
season.
If you are looking for the perfect team for some online match or to challenge your friends , or you are looking for a club that is more than tested and ready to make sparks in Career mode, then you are in the right place. If you need a hand with FIFA Ultimate Team, here are the best formations and custom tactics to use.
The best clubs in FIFA 22
FIFA 22, Mbappé The ones below statistically they are the best clubs in FIFA 22, taking into consideration the various departments that make them up, namely attack, midfield and defense, and consequently the champions who are part of it. The various movements of the last transfer market session, including the unexpected shirt changes of Messi and Cristiano Ronaldo or
the return of
Lukaku to Chelsea, inevitably have significantly changed some of the strongest formations in the world, as we will see below. br>
Here are the ten best teams in FIFA 22.
Paris Saint-Germain
Attack: 89 Midfield: 83 Defense: 85 Standard module: 4 -3-3 flat Overall: 86
With the arrival of Messi (93) to complete a trident of wonders with Neymar Jr (91) and Mbappé (91), Paris Saint-Germain on FIFA 22 is hands down the team with the strongest offensive department ever, statistically speaking. The defense is also very solid thanks to the central couple formed by Sergio Ramos (88) and Marquinhos (87), with Bernat (82) and Hakimi (85) on the flanks to support the defensive and offensive maneuvers. Our Gianluigi Donnarumma (89) between the posts is the icing on the cake of a team that over the years has invested a lot to get a team of champions.
Manchester City
Attack: 85 Midfield: 85 Defense: 86 Standard module: 4-3-3 containment Overall: 85
Staying on the subject of champions, Manchester City can count "only" on five of the 20 highest-rated players in the FIFA 22 Premier League, but nonetheless they are a formidable line-up and one of the best in the EA Sports football title. It presents no gaps in practically any department. In midfield we find De Bruyne (91), one of the strongest players in his role, together with Gundogan (85). In front of defenders we find Rodri (86) to ensure a very solid and high level midfield. Laporte (86) and Dias (87) represent a phenomenal pair of defenders, while the trident formed by Grealish (84), Ferran Torres (82) and Mahrez (86) will have no particular difficulty in piercing the opposing defenses.
Bayern Munich
Attack: 92 Midfield: 85 Defense: 81 Standard form: 4-2-3-1 wide Overall: 84
Lewandoski (92) and Neuer (90) at the two extremes of the Bayern Munich formation are an excellent visiting card for what is in effect one of the strongest clubs in the world and, consequently of FIFA 22. In addition to a very solid striker, the fulcrum of the German team is represented by a stellar midfield, with Sané (84) and Gnarby (85) on the flanks, with Muller (87) just behind Lewandoski to support the attack. In front of the defense we find Goretzka (87) and Kimmich (89) to guarantee the solidity of the German formation.
Liverpool
Attack: 86 Midfield: 83 Defense: 85 Standard form: 4-3-3 false 9 Overall: 84
Despite it last year failed to repeat the result of the 2019/20 season, FIFA 22's Liverpool are still a fearsome team. A solid defensive department with van Dijk (89) and Matip (83) in the center and Robertson (87) and Alexander-Arnold (87) as wielders allows you to easily lock a result, whereas with the trident formed by Mané (89), Roberto Firmino (85) and Salah (89) will have no difficulty in putting the opposing defense with the Reds to sword and fire.
Manchester United
Attack: 85 Midfield: 84 Defense: 83 Standard form: 4-2-3-1 wide Overall: 84
The resounding return of Cristiano Ronaldo (91) in addition to the additions of Jadon Sancho (87) on the left wing and Raphael Varante (86) in defense have significantly boosted Manchester United this year. Pogba (87) and Bruno Fernandes (88) in midfield are essential elements for the construction of the maneuver and can surprise the opposing goalkeepers with powerful and precise long shots.
Fifa 22, Alexander-Arnold
Real Madrid
Attack: 84 Midfield: 85 Defense: 83 Standard form: 4-3-3 False 9 Overall: 84
The midfield formed by Kroos (88), Casemiro ( 89) and Luka Modric (87) of Real Madrid is among the best in FIFA 22. The construction of the offensive maneuvers in midfield also helps a trident not to laugh. Karim Benzema (87) is a central striker who does not betray expectations and the same goes for the disruptive Eden Hazard (85) and Bale (82) on the sides.
Atletico Madrid
Attack: 84 Midfield: 83 Defense: 83 Standard form: 3-1-4-2 Overall: 84
L 'Atletico Madrid could not be missing from this list. Griezmann (85) and Luis Suarez (88) are the nightmare of opposing goalkeepers, while Carrasco (84) and Llorente (86) are exceptional wielders who can do good and bad weather on the flanks. The 3-5-2 of Diego Simeone's team is a solid form both for the offensive and for the defensive. And if things go wrong, Jan Oblak's (91) super reflexes could save you on more than one occasion.
Chelsea
Attack: 84 Midfield: 86 Defense: 81 Standard form: 5-2-3 Overall: 83
Jorginho (85) and Kanté (90) represent the central focus of a fierce Chelsea this year in FIFA 22. Lukaku (88) is a very physical center forward with excellent technique and speed. The former Inter player this year will be assisted by two outsiders who know their stuff like Pulisic (82) and Mason Mount (83). While the defensive department of the London club is not up to par with the others on this list, the trio represented by Rudiger (83), Christensen (80) and James (81) should offer enough confidence.
Piemonte Calcio (Juventus)
Attack: 82 Midfield: 82 Defense: 84 Standard form: 4-2-3-1 wide Overall: 83
Juventus, pardon Piemonte Calcio, is the only Italian club to appear on this list and has a high-level formation. Thanks to Bonucci (85), Chiellini (86), De Light (85), Alex Sandro (83) and Danilo (81) the Old Lady can count on one of the most solid defenses on this list. In the offensive department we find Dybala (87) immediately behind Morata (83), supported on the flanks by Chiesa (83) and Cuadrado (83), who on the whole form a compact team with very few gaps.
Barcelona
Attack: 85 Midfield: 84 Defense: 80 Standard form: 4-3-3 containment Overall: 83
Barcelona would once have been on top of a similar list, but the Blaugrana team has lost some of its polish in recent years and in particular the absence of Messi in the offensive department weighs a ton. But we are still talking about one of the best clubs currently available in FIFA 22. Depay (85), Aguero (87) and Dembélé (83) in fact form an excellent trident capable of giving a lot of satisfaction and also the midfield is quite solid, with the very young Pedri (81) who over the years could become an absolute champion. The least satisfying department is probably the defense, with Eric Garcia (77) and Sergino Dest (76) who may have difficulty against high-level teams.
We would like to reiterate that the list above is based on the statistics of the various departments of each club and of the players who are part of it. But football is not just a question of numbers. The best club after all is the one that best suits the style of play and tastes of each player
and it is
not excluded that a team on the card below those mentioned above
will not be
a> able to
do wonders if exploited in the correct way.
You have noticed errors?