Aeterna Noctis, the tried of a new Spanish metroidvania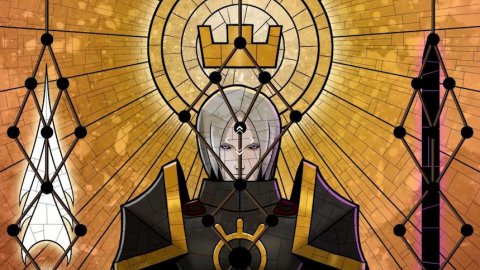 Aeterna Noctis
It is evident that Spain is a prolific environment for metroidvania. First MercurySteam with Metroid Dread, now Aeternum Game Studio, a small independent concentrate with a name that highlights the hope of making the work we are about to talk about into a franchise. In fact, we tried the demo of Aeterna Noctis kindly granted by
the friends of
Valve during the Steam Next Fest and we must say that there is a lot, succulent substance for fans of the genre.
Narration and setting must clearly be deepened : we understood that there is a clash between the queen of light and the king of darkness, the protagonist of the demo, but there is a lot of narrative margin on which to investigate further. We are in a fantasy world, at times that minimal that seems almost cyber fantasy but enemies, weapons and bosses remind us that the world of Aeterna Noctis is not that far from the typical canons of the genre.
King of darkness
The settings of Aeterna Noctis seem sufficiently varied The demo puts us in the shoes of him, the king of darkness, an almost divine entity who, even to say it, forgets everything he knew up until the moment before to become our puppet. The stylistic choice of creating a very strong character and then making him scarce at the beginning of the game to justify the gameplay, it must be said, to the writer he has never exalted, and we are diplomats. There are so many ways to create epicness or make people grow fond of a progression, but if you tell us first that we are very strong and then we don't even know how to shoot, something more realistic could have been done.
Anyway, these are trifles because what interests a metroidvania is the gameplay and Aeterna Noctis, right from the start, starts well. We are not far from playful features already widely tested in illustrious models of inspiration such as Hollow Knight or Ender Lilies: the Spanish title draws heavily, but works well, sometimes very well.
A clean combat system, structured platforming , the shot as usual tool to liven up a fairly punitive gameplay. Unlike other similar titles, the death and experience recovery rule has a little twist in the sense that you don't die completely immediately, but after a few failed attempts.
The two-dimensional realm is dotted with platforms , enemies, traps, but, pad in hand, Aeterna Noctis immediately enters the circle and lets herself be commanded immediately. Our dark king shows us the geographical structure: we are faced with a classic non-linear exploration seasoned with hidden and closed sub-sections, map niches to be discovered and completed quickly to access the reward. The logic, as already said, does not differ from what we have seen in recent years, but it is still true that to innovate
it would take
just the brilliant idea: Aeterna Noctis is a metroidvania of exploration, in which you have to feel the walls to discover hidden sections but which, for now, always rewarding in a satisfactory way, without ever leaving behind the feeling of wasted time.
Mischievous ghosts
Even if barely sketched, the platforming phases seem fun, even if perhaps still to be filed in the cleaning of the controls The demo, lasting up to an hour, presented us with simple enemies, others slightly evolved and still others of medium level, represented by quite spiteful ghosts with slightly more structured attack patterns. There is also a nice end-of-level boss, feasible but who required at least a couple of study attempts. We are therefore perfectly within the perimeter of the metroidvania type, but excellently presented by an absolutely enjoyable aesthetic and a playful flow that flows away serenely, without frustrating, also alternating non-trivial and fun level design situations. The Spanish team has clearly sought a sublimation of its predecessors, condensing the best of each title and mixing it all into a product whose sum of parts, for now, is greater than its offer on paper.
There are a couple of things that we hope will be polished by the team before the December release: the fonts are not always easy to read, while the map can sometimes be confusing. If on the one hand, however, the menus are not as stylish as we expected, on the other, a rich and layered progression of character growth is expected. In general, we can be satisfied with Aeterna Noctis' quick test, not because there are who knows what ideas involved, but precisely because a good metroidvania
does not need
any particular ideas, it needs a good execution.
Aeterna Noctis has it all in rule to be a valuable hit. It
may not be
characterized and brilliant as Hollow Knight or Ender Lilies, but it will surely
be able to
kidnap and entertain with a gameplay that is not fresh but fast, snappy, precise. The demo is not long, but what we have seen, between platforming, bosses, hidden sections and character progression has tickled us many beautiful salivation receptors and despite metroidvania on their shoulders they have several, if done well this is a kind of prestige that never tires. Pending the release in December, this first test has left us pleasantly surprised.
CERTAINTY
The progression seems rich Artistically and acoustically valid It has all the traits of good metroidvania DOUBTS The management of map and menu needs improvement Some platforming stages need a bit of filing Will the dual character mechanics guarantee two different playthroughs? Have you noticed any errors?