Mario Golf: Super Rush, trailer Challenge friends and family on Nintendo Switch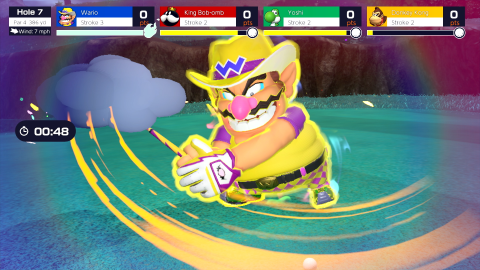 Mario Golf
Nintendo
has released a new trailer for Mario Golf: Super Rush, the new Super Mario adventure on a golf course. The video, titled Challenge friends and relatives on Nintendo Switch, focuses on the multiplayer potential of the game, and its ability to involve the whole family in truly crazy and fun multiplayer games.
But that's not all. The new trailer reveals the colorful roster of characters, a new mode, different paths and other details about the game. Let's find out all the news, as illustrated by Nintendo:
Various styles of play:
Simplicity of controls: the ease of controlling the buttons makes it easy for both new players and newcomers. experienced professionals. It's simple to aim, choose the strength of the shot and make the ball fly. Plus, you can use the motion controls by holding a Joy-Con controller like a golf club *. Useful tools: Curving a shot is an effective technique for avoiding danger, and the rotation of the ball affects the way it rolls after landing. Several functions are available to help master the trajectory, including a shot indicator that adjusts to the angle of the slope and a scan that makes the terrain easier to read.
Familiar faces and play with family and friends: Players can choose from a cast of 16 characters from the Mushroom Kingdom, each with different strengths and their own unique special moves. Pauline, Plakkoopa and King Bob-omb will make their debut in the series. Players
will be able to
tackle the fairway with up to three other companions, both local and online **, in different modes.
Various courses: From standard courses to those with special hazards, every round of golf is different. The game offers a variety of six sumptuous environments to choose from.
Various modes:
Speed ​​Golf: In the new fast-paced Speed ​​Golf mode, players start in unison and race along the course to be the first to put the ball in the hole. It is important to collect objects to always have full energy and avoid the various dangers of the course while running towards the ball. Players can also use sprints and special shots to swing the win in their favor. Battaglia Golf: In Battaglia Golf, an even more frenetic variant of Speed ​​Golf, nine holes are in play at the same time. The first player to score three holes is entitled to victory, so it is essential to stay ahead of your opponents in order not to risk losing. Golf Standard: In Golf Standard, every shot counts and the lowest score wins. Golf Adventure: Solo players can go from novice to pro when they sign up their Mii character in the prestigious country club in Golf Adventure. As they interact with well-known characters from the Mushroom Kingdom, they can learn to play and face a variety of challenges. Gaining experience makes
it possible to
level up the character, who can then be used in multiplayer modes.
We also present an avalanche of new images below:
+43 Mario Golf: Super Rush, arrives on
Nintendo Switch on
June 25, 2021.
Have you noticed any errors?
---
Mario Golf: Super Rush - Full Roster and Game Modes Revealed
Mario Golf: Super Rush received a new gameplay trailer that not only reveals its 16-character roster, but also details its many game modes, including Speed Golf, Battle Golf, and Golf Adventure.
Nintendo
Switch's Mario Golf: Super Rush will be released on June 25, 2021, and it will let players golf with their favorite characters from Mushroom Kingdom via button controls or motion controls. While the game is meant to be easy to pick up and play, it also features advanced shots like curve shots, spin shots, and much more.Super Golf: Super Rush Full Roster RevealedAt launch, Mario Golf: Super Rush will feature 16 characters that come with their own special shot, like one that lets Mario blast away balls on impact.
The full list of golfers is as follows, complete with their Special Shots if it was shown in the gameplay trailer;
Mario - Blasts away balls on impact.
Luigi - Freezes ground on impact.
Wario - Generates lightning interference.
Waluigi - TBA
Princess Peach - Blasts away balls in its path.
Daisy - Blasts away balls on impact.
Yoshi - Turns balls into eggs on impact.
Bowser - Blasts away balls on impact.
Bowser Jr. - TBA
Boo - Haunts balls on impact.
Donkey Kong - TBA
Rosalina - Turns balls into Star Bits on impact.
Pauline - Blasts away balls in its path.
Toad - Blasts away balls on impact.
Chargin' Chuck - Blasts away balls in its path.
King Bob-omb - Spawns bombs in landing zones.
Mario Golf: Super Rush's Game Modes Include Speed Golf, Battle Golf, and Golf AdventureMario Golf: Super Rush
allows you to
play with up to four friends locally or online on a variety of courses that range from ones with 'lush, natural scenery' to those with 'fantastical areas your could only find in the world
of Super Mario
.'
One of the new ways to play Mario Golf is Speed Golf. This frantic mode lets you and up to three friends tee off at once and then race to your balls after you hit them. Speed is the name of the game, and your goal is to be the first to get your ball in the hole.
Along the way, players can grab items that restore their stamina, use Special Dashes to help them move forward quickly or attack opponents, or use Special Shots to help gain an advantage.
Another new mode is Battle Golf, which is more or less Speed Golf with special rules. There are nine holes on one single course, and players are tasked with being the first to claim three holes.
Mario Golf: Super Rush's single-player campaign is called Golf Adventure, and it allows you to take a created Mii through a... well... golf adventure.
Level up your golfer, engage with Mushroom Kingdom locals, and much more. There are even practice areas with golf trainers to help players learn the rules of the game and practice their techniques.
Throughout the adventure, there will be challenges like hitting a ball into a giant pottery bowl on top of a tower and competing in golf-based boss battles.
Players will gain experience by playing through the game, and they can allocate their points to Power, Stamina, Speed, Control, and Spin to improve their Mii golfer. Theses golfers can then be played in any other mode in the game.
All 2021 Games With Confirmed Release Dates
Have a tip for us? Want to discuss a possible story? Please send an email to newstips@ign.com.
Adam Bankhurst is a news writer for IGN. You can follow him on Twitter @AdamBankhurst and on Twitch.