PS5 and PS4, June 2021: the best games of the month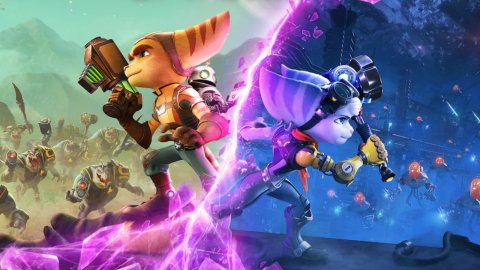 PS5 and PS4, June 2021
What are the best games coming out on
PS5 and PS4<
/a>
in June 2021? The first that comes to mind is undoubtedly Ratchet & Clank: Rift Apart, the long-awaited exclusive from Insomniac Games that promises to bring the series to the next-gen and to do it in a truly spectacular way thanks to various cutting-edge technical solutions.
However, Final
Fantasy 7 Remake Intergrade
also arrives this month, with the expansion dedicated to Yuffie and the graphic improvements made possible on the new Sony console, and several other titles: from Ghosts' n Goblins Resurrection to Chivalry 2 with the its large-scale battles, from Ninja Gaiden: Master Collection to Dungeons & Dragons: Dark Alliance, finally passing through the action RPG Scarlet Nexus.
Ghosts 'n Goblins Resurrection
Ghosts' n Goblins Resurrection, Sir Arthur in his underwear jumping around the scenery. Released on PS4 June 1
Thirty-five years after the series debut in the arcade, Ghosts' n Goblins Resurrection puts us back in the heavy armor of Sir Arthur, determined to save his beloved from the clutches of a evil demon. Succeeding in the enterprise will not be easy, because along the path that will lead us to the enemy's fortress we will find many zombies and monsters that will try to stop us.
Mixing the elements of the original Ghosts 'n Goblins and Ghouls' n Ghosts with A complete graphic redesign, the game offers an exceptional challenge to both the nostalgic of the franchise and the new users, involving them in frenetic fighting and chase sequences, spectacular boss fights and ruthless platform sections. Will you be good enough to get to the bottom?
Chivalry 2
Chivalry 2, an action sequence in the middle of battle. Out on PS5 and PS4 on June 8th
New chapter of the medieval action series developed by Torn Banner Studios, Chivalry 2 will catapult us into the midst of large-scale battles, open to the participation of up to sixty-four players and completely cross-play:
PlayStation
users will be able to challenge those
Xbox
or PC without limitations, so as to give life to even more exciting clashes.
Characterized by a first-person view and a multifaceted combat system, which rewards promptness and precision, the game will ask us to reach specific objectives, defend a fortress or assault it, or even eliminate all opponents until you are the only ones still alive on the battlefield to wave the banner of our army.
Final Fantasy VII Remake Intergrade includes an expansion starring Yuffie. Released on PS5 on June 10th
Square Enix's iconic RPG officially makes its debut also on PlayStation 5 with Final Fantasy VII Remake Intergrade: a technically improved version of the game, capable of offering a 4K and 60 fps graphics as well as a series of unpublished content; above all the expansion Episode INTERmission, which will put us in the shoes of the shrewd Yuffie.
We are talking about an even richer package than the one we tried on PS4, whose focus remains represented by the long campaign starring ex-military mercenary Cloud Strife, who decides to offer his services to the ecoterrorist group AVALANCHE but soon finds himself dealing with unexpected situations, in the middle of a real war for the future of Midgar.
Ninja Gaiden: Master Collection
Ninja Gaiden: Master Collection, Ryu Hayabusa struggling with an opponent. Out on PS4 June 10th
Ryu Hayabusa makes a big comeback with Ninja Gaiden: Master Collection, a remastered collection that includes all three episodes of the popular Team action series in one go Ninja: Ninja Gaiden Sigma, Ninja Gaiden Sigma 2 and Ninja Gaiden 3: Razor's Edge.
In command of the powerful ninja or other unlockable characters (Ayane, Rachel, Momiji and Kasumi) we will have to face hordes of enemies thirsty for blood, in the context of a distinctly hardcore experience in which precision and timing are fundamental elements to be able to survive, together with of course the many devastating weapons and Ninpo that can be obtained during the three campaigns.
Ratchet & Clank: Rift Apart
Ratchet & Clank: Rift Apart, the new character Rivet along with Clank. Out on PS5 on June 11th
The awaited adventure signed by Insomniac Games aims to show us what the next-gen Sony console is really capable of, thanks to mechanics that would not have been possible to implement on the previous hardware generation. Ratchet & Clank: Rift Apart is therefore a concentrate of spectacular technology, instant transfers and ray tracing, but not only!
The typical gameplay of the series has in fact been consolidated and enriched thanks to the wider scenarios, the arsenal revamped, the new playable character Rivet and many original ideas, capable of transforming the Rift Apart campaign into a frenetic, engaging and visually incredible experience.
Dungeons & Dragons: Dark Alliance
Dungeons & Dragons: Dark Alliance, Drizzt observes a huge monster before charging off. Released on PS5 and PS4 on June 22nd
An iconic scenario, an army of evil creatures and four brave heroes willing to face it: these are the ingredients of Dungeons & Dragons: Dark Alliance, the new cooperative-based brawler developed by Tuque Games which will see us fight inside the legendary Valley of the Icy Wind to defend the world from a new, merciless assault.
At the command of the barbarian Wulfgar with his war hammer, of the famous dark elf Drizzt with his swords, the dwarf ranger Bruenor with his ax or the infallible archer Catti-brie, we will have to make our way through hordes of enemies and face some of the most dangerous monsters in the world of Dungeons & Dragons.
Scarlet Nexus
Out on PS5 and PS4 June 25
Scarlet Nexus is Bandai Namco's new anime-style action RPG set in a future where some people find they can to use extra-sensory powers, but this ap re the gates to the arrival of a race of alien mutants hungry for human brains, the White Walkers. A bloody war for survival is thus unleashed in which we will have to take part.
As the recruit Yuito Sumeragi or the established warrior Kasane Randall, we will have the task of fighting among the ranks of Strangers Suppression Forces, exploiting all the possibilities of a surprisingly deep combat system and follow the events of a story that intertwines on multiple occasions, carrying on a fascinating narrative between battles.
More games to come June 2021
Necromunda: Hired Gun, out June 1 Operation: Tango, out June 1 Open Country, out June 3 Sniper: Ghost Warrior Contracts 2, out on June 4 The Elder Scrolls Online: Blackwood, out June 8 Dariusburst Another Chronicle EX +, out June 11 Guilty Gear -Strive-, out June 11
Metro Exodus Enhanced Edition
, out June 11 Alex Kidd in Miracle World DX, out eng June 24 Legend of Mana, out June 24 Roguebook, out June 25 Solar Ash, out in June Warhammer: Vermintide 2 - Chaos Wastes, out in June
Have you noticed any errors?