Final Fantasy 7: katyuskamoonfox's Tifa cosplay is blasphemy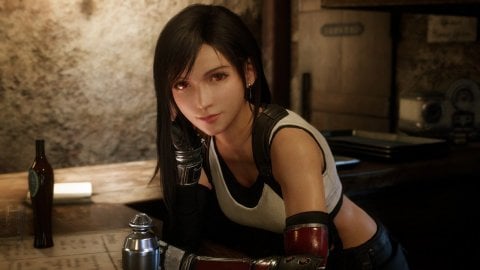 Final Fantasy 7
Let's see the cosplay of Tifa from
Final Fantasy 7
, made by a very inspired katyuskamoonfox, which leads us to say blasphemous things for how well it is done, despite being declined towards soft eroticism. The costume itself is very accurate, although more succinct than the original one (not too much in reality), while the pose screams Only fans from every pore. A masterpiece of modernity, which will surely appeal to those who appreciate the genre.
Tifa is a character beloved by cosplayers, who can use her to bring out their sexier side, while being charismatic at the same time. After all, she is also much loved by Final Fantasy 7 fans, who often prefer her to the more chaste Aeris.
But now let's stop the chatter and let's look at the cosplay of Tifa by katyuskamoonfox:
If you love cosplay, you can take a look at Eula cosplay from Roxhanne Kho, Neptulon cosplay from Panterona, Deadpool and Domino cosplay from armoredheart and geekstrong, or Ellie cosplay from DabbuCosplay , or the cosplay of Tifa by irine_meier, or the cosplay of Gal Gadot by juligeek or the cosplay of Bela and Alcina Dimitrescu from Helly Valentine or the cosplay of Vargas by Simone, just to get a further taste of some nice costume.
Have you noticed any errors?
---
New Final Fantasy 7 Remake Intergrade Gameplay Reveals Yuffie's Abilities, New Summons, And More
A new video from PlayStation Access has given some key glimpses into the new features coming in Final Fantasy VII Remake Intergrade's Episode Intermission DLC. Players can expect more of what made Final Fantasy VII Remake so memorable, like its updated renditions of classic songs and frantic semi-turn-based combat, along with some new mechanics.
Combat with Yuffie has already been detailed by director Tetsuya Nomura in an interview on the PlayStation Blog, but today's video on Intergrade goes a bit deeper. Since players will only have access to Yuffie in Episode Intermission, she's been made as versatile as possible. The ninja can switch between short and long-range attacks using her oversized shuriken and buff herself with any of the four major elements in the game thanks to her ninjitsu abilities. Players will also be able to access a new summon in Intergrade, Ramuh, the god of lightning.
Episode Intermission is also bringing more content back from the game's original 1997 release. More music from the game, including the Wutai theme and Yuffie's theme, are being remastered in new, orchestral renditions. The tower defense game mode Fort Condor is also making a return, although it's largely been changed since appearing in the '90s. Players will be able to deploy their units, which are broken down into three types, and activate abilities with them using ATB charges.
The city of Midgar itself is also getting some special attention. Yuffie's story in Episode Intermission takes place at the same time as the main game, but players will be able to delve much deeper into Midgar. They'll visit new places and meet new characters, as well as some familiar ones.
Traversing through Midgar will also be different. As a ninja, Yuffie can take advantage of some opportunities that someone with a massive 70-pound sword can't. She can scramble across walls, swing across gaps, and slide down poles throughout the underbelly of the city.
Final Fantasy VII Remake Intergrade is set to release for the PS5 on June 10. The game is currently available for preorder and comes with the full base game and the Episode Intermission DLC. If you already own Final Fantasy VII Remake, you can digitally upgrade to Intergrade for free, with the caveat that Yuffie's episode will need to be purchased separately.
GameSpot may get a commission from retail offers.