Sony, from June a smart city project in the municipality of Rome
Sony
Sony
Europe has announced
that it has
launched an experimentation project in collaboration with Citelum and Envision in the municipality of Rome to promote a Smart City model that aims to reduce traffic (and therefore pollution), optimize the public transport network and improve pedestrian safety considerably through the use of new image sensors that integrate artificial intelligence.
Specifically, the start of three experiments for next June has been announced and, at the same time, a new image sensor was presented to the public.
The whole project revolves around the new image sensor, called IMX500, which for the first time already includes Intelligence-based functions within it Artificial and which has a size of 1 / 2.3 "and a resolution of 12.3 megapixels. To assist the work of the sensor
there will be
smart Genius tips, which have been installed on some traffic lights in the center of Rome. In the preliminary phase, a neural network was trained to identify free parking spaces, the number of passengers waiting at stops and getting on / off vehicles and pedestrians near crossings. Each smart Genius tip consists of two sensors facing the surrounding streets and parking spaces.
The first declared goal is to reduce pollution through a smart parking system; when the system detects an empty space, it sends a notification to motorists looking for parking to prevent them from spinning around, congesting traffic and unnecessarily consuming fuel. The operation is very simple: the data on the exact position of the free parking spaces are transmitted in real time through the smart tip. The same are then processed immediately by the sensor inside the tip, using neural networks, and subsequently sent to the software platform, available in the cloud, of the trial partner company (Envision). The coordinates of the available parking are then indicated in real time on a map displayed on the display of the mobile device used by the driver who can head towards the indicated area. Everything will work, precisely, through an app for mobile devices.
The second stated goal is the optimization of the public transport network. In this case, the data processed by the sensor inside the tip through the neural networks and relating to the number of people waiting at the stop and getting on and off the bus, are sent to an Envision software platform, which aggregates them and makes them usable for public transport management staff, so as to allow for optimization of transport planning and scheduling. Based on a figure of merit calculated as a "crowding" parameter, the system can signal the achievement of the maximum capacity of a bus to avoid overcrowding, better manage the transport network and improve the travel experience of citizens.
Finally, but not least, there is the declared objective regarding pedestrian safety: the system will detect their presence by measuring and comparing it in different points of the city while the neural network system that will detect pedestrians on the crossings pedestrian will send a light signal to motorists.
With regard to privacy, Sony ensures maximum protection for citizens: the images, in fact, are neither saved nor transmitted by the sensor. In addition, thanks to this system, less data will be absorbed and therefore the bandwidth required to process it will be reduced. In this way, energy and communication costs will be reduced.
---
Sony Bringing PlayStation Video Game Franchises to Mobile by March 2022
Sony has committed to bringing its PlayStation brands and IP to third-party mobile devices, potentially as soon as this year (via VideoGamesChronicle).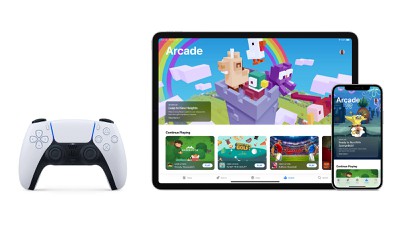 Sony Interactive Entertainment president and CEO Jim Ryan today explained during an investor relations session that the company plans to launch its major franchises on non-console platforms such as mobile, encouraged by its 'very successful' first steps into the PC gaming market.
Ryan presented research suggesting mobile gaming generated $121 billion worldwide in 2020, compared to $62 billion brought in by the console market and $42 billion generated by the PC gaming market, demonstrating the case for the company to move into mobile gaming.
We are beginning our journey to take PlayStation first-party IP off console. We started last year by publishing two of our games on PC, Horizon Zero Dawn and Predator, and both were profitable and really had a very successful publishing debut... In FY21 we will begin to publish some of our iconic PlayStation IP on mobile.
PlayStation intends to publish an increasingly large number of titles on mobile, hoping that it will 'become steadily more important as time passes' relative to console gaming.
Sony previously claimed that its move into mobile gaming would occur with at least five titles by March 2018, but it never came to fruition.
According to VideoGamesChronicle, PlayStation opened a new business unit to adapt its 'most popular franchises' for mobile earlier this year and was hiring for developers to achieve a mobile product roadmap within a three to five-year time frame.
PlayStation has a huge catalog of diverse first-party IP that can transition to smartphone gaming and complement our AAA games or live service games. We are exploring the mobile market with some wonderful PlayStation franchises so please stay tuned.
Sony Interactive Entertainment owns a large number of popular video game franchises, including 'God of War,' 'Gran Turismo,' 'Killzone,' 'The Last of Us,' 'LittleBigPlanet,' 'Ratchet & Clank,' 'Until Dawn,' 'Uncharted,' and more. The company's intention to move into mobile gaming will presumably see some of these titles arrive on iOS and iPadOS. Sony's PlayStation 5 DualSense controller also now works with iOS and iPadOS, which may aid the gaming experience with Sony's new mobile games.
Six years ago, rival company Nintendo announced its foray into mobile gaming on iOS and other platforms. Although the company has seen some success in the business move, it has also experienced some misfires, and there have since been indications that Nintendo is 'retreating' from its mobile gaming plans.
The arrival of Sony's 'iconic IP' on mobile platforms will occur by the end of the financial year in March 2022.