Nintendo Switch, June 2021: the best games of the month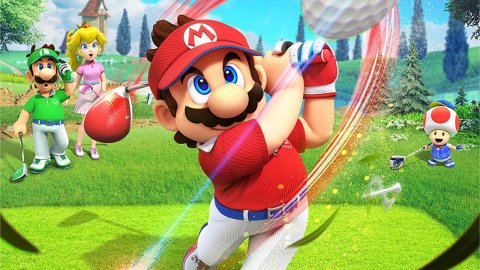 Nintendo Switch, June 2021
Nintendo
Switch owners
will be able to
have fun in June 2021 with Mario Golf: Super Rush, a new
sports
arcade in which we will be able to try our hand at golf games that are decidedly different from the usual, in the company of the traditional characters of the Nintendo series and with the possibility of using the controls with motion detection.
This month the interesting Videogame Laboratory arrives, with a rich set of tools for the creation of various types of games that we can then share, the Ninja Gaiden: Master Collection remaster, Tony Hawk's
Pro Skater 1
and 2 and Destroy All Humans!
Ninja Gaiden: Master Collection
Ninja Gaiden: Master Collection, Ryu Hayabusa struggling with an opponent. Out June 10th
Ryu Hayabusa makes a comeback in style with Ninja Gaiden: Master Collection, a remastered collection that includes all three episodes of the popular Team Ninja action series in a single solution: Ninja Gaiden Sigma, Ninja Gaiden Sigma 2 and Ninja Gaiden 3: Razor's Edge.
In command of the powerful ninja or other unlockable characters (Ayane, Rachel, Momiji and Kasumi) we will have to face hordes of bloodthirsty enemies, in the context of a distinctly hardcore experience in which precision and timing are fundamental elements to be able to survive, together with of course the many devastating weapons and Ninpo that can be obtained during the three campaigns.
Laboratory of Videogames
Videogame laboratory, a driving game created with software tools. Out on June 11
Not just a game, but a real set of tools for video game development: The Videogame Laboratory provides Nintendo Switch users with an object-based system that will allow them to create, modify and refine gaming experiences. different type, and then share them with the community or download and try the creations of other players.
Thanks to a series of funny characters called Nodon, each specialized in perfecting different features, we will be able to choose the genre of the project , adjust the mechanics, insert special effects, manage gravity and counters, starting from preset models or completely from scratch to give life to our little masterpiece!
Mario Golf: Super Rush
Mario Golf: Super Rush, Luigi performs an enhanced swing. Out on June 25th
The mustachioed plumber returns to try his hand at one of his many sporting passions in Mario Golf: Super Rush, an arcade golf game in which we will be able to participate in fun and unprecedented modes such as Speed ​​Golf, in which all the characters quickly alternate with the swing, or the Golf Adventure, with its multiple challenges. Sixteen different heroes are at our disposal, each with their own characteristics and abilities, as well as Miis.
The Mario Golf: Super Rush control system
allows you to
immediately become familiar with the game mechanics, but it is also possible take advantage of the motion detection of the Joy-Con for an even more engaging experience, virtually holding the golf club and making the shots
in first person
, trying to give the right effect to get first in the hole.
Tony Hawk's Pro Skater 1 and 2
Tony Hawk's Pro Skater 1 and 2, a sequence of tricks. Out June 25th
The fun remake dedicated to the Activision series also makes its debut on Nintendo Switch with Tony Hawk's Pro Skater 1 and 2. This is a collection that includes the two episodes in a completely revamped version, featuring new graphics and optimized gameplay, allowing you to perform even more spectacular maneuvers and stunts.
The core of the experience is represented by the Tour Skate mode, which will see us engaged in a series of gradually more complex events, in search of the perfect execution, but
there is no
lack of other contents, including an online multiplayer sector capable of returning many satisfactions. In short, we are faced with an indispensable product for the nostalgic of Tony Hawk's Pro Skater!
Detroy All Humans!
Out on June 29th
At almost sixteen years since the original game, Destroy All Humans! also returns to Nintendo Switch with a remake that aims to be just as fun, taking inspiration from classic science fiction films to tell in its own way an alien invasion that took place during the 1950s. At the command of the terrible invader Crypto-137, our task will be to conquer the planet!
To succeed in the enterprise we will be able to count on a wide range of skills and devastating weapons, recall our flying saucer to get support fire and literally burn cities to ashes. Not only that: we
will also be
able
to take on
the features of a human being and infiltrate them to destroy them from the inside, as part of a completely crazy campaign.
DC Super Hero Girls: Teen Power, out June 4 Dariusburst Another Chronicle EX +, out June 11 Alex Kidd in Miracle World DX, out June 24 Legend of Mana, out June 24 Ys IX: Monstrum Nox, out June 29 Sky: Sons of Light, out June Solar Ash, out June
Have you noticed any errors?