Scars Above: We tried a game that is reminiscent of Returnal, but has a completely different pace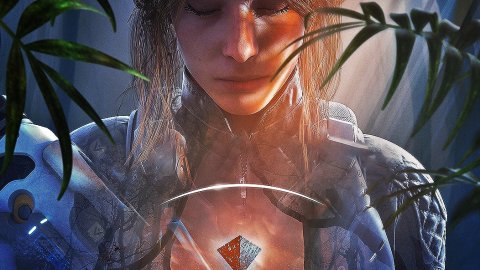 Scars Above
Looking back over the articles already published on the games of the latest Gamescom, it becomes increasingly clear that the average quality has been quite high. Although those seen and tried were mostly low-budget products, or perhaps for this reason, we have witnessed good ideas and excellent executions. A little on the sidelines, but certainly among the most interesting games, we tried Scars Above, do you remember? It was introduced about a year ago as one of the spearheads of Koch Media's Prime Matter label, which has since morphed into Plaion. Scars Above stood out for the enigmatic setting and for a gameplay that finally deviated from the "souls-like" shown in the same event. And right in Cologne, we had our first real contact with the game in question: 30 minutes in the company of a solid and fascinating action game.
My name is Kate
Scars Above: you are not an action if you do not have end-of-area bosses worthy of the name ... In Scars Above our character is not a warrior, but a scientist named Kate who finds herself imprisoned on the same alien planet in which she was sent for study its fauna and archaeological finds. No need to go around it: remember Returnal. But the gaming experience has a completely different pace in Scars Above, it is slower and more strategic than the furious action game Housemarque, while the environment analysis part is decidedly more elaborate and interesting. Studying the alien artifacts and the strange and lethal creatures of the planet is absolutely essential to continue the adventure, allowing us to unlock checkpoint monuments, activate portals that will take us to other areas of the planet and activate new fire modes
that will make
life easier. during the inevitable fighting.
The system that regulates the strengths and weaknesses of the enemies seems to be based exclusively on the attacks and elemental defenses that we will unlock in a rigidly linear way, or at least
this is how
the game presented itself to us in its very first bars . The weapons are powerful and precise, if you hit with the right bullet the damage is assured, but you have to
know how to
position yourself, keep the character in motion to get the better of the bestiary tank of Scars Above. The first mistakes can be solved with standard medkits, but persevering can only lead to death. This is not the adventure that you can play thoughtlessly.
Mysteries and puzzles
Scars Above: the graphics are pretty good but the use of colors stands out It's not all action: there is a mysterious planet to discover, a fauna to study, mythological remains to be analyzed and in many cases even reactivated. After a series of fights, the rehearsal demo ended with an old-fashioned puzzle, take it as a compliment, in which we had to find a way to get past a pond teeming with electrified eels. Again the elements, this time to be opposed in defense, and not in attack. The tree of technologies to be unlocked to improve the heroine's performance is inevitable, but she does not seem destined for extreme maneuvers such as flying or shooting faster than light. Scars Above seems to want to remain, literally and not only, with its feet on the ground.
Solid science fiction
Scars Above: the alien planet in which it is set seems irresistibly fascinating Scars Above also shows solidity from an audiovisual point of view. On PC the graphics are very clean and show an excellent use of colors which, mainly subdued, know how to attract attention with unexpected chromatic peaks. The alien creature design seems more fluctuating, but remember that we have played very little and it is highly likely that the best comes later, at least that is usually the case. Too bad that in this case we didn't have the opportunity to ask the developers a few questions, it would have been interesting to understand how Scars Above will evolve along its plot. We liked what we saw, but we are not entirely sure if
it will be
enough to keep the attention high until
the end of
the experience. If Scars Above succeeds, we will have to wait until the first months of 2023, when we finally get closer to its expected release date on PC, and on the entire family of
PlayStation
and
Xbox
consoles.
Scars Above seems to have all the credentials to offer a solid and engaging gaming experience. The combat system is simple, but effective, and the storyline could hold more than a surprise. It is not the freshest game to come, it is based on very popular styles, but it could have the necessary quid to stand out from the group.
CERTAINTIES
Fascinating storyline Imaginative at the right point Solid combat system DOUBT
Will there be
variety in enemies? Will its gameplay hold up long enough? How powerful will Kate become? Have you noticed any errors?