Wreckreation: is this the true heir of Burnout?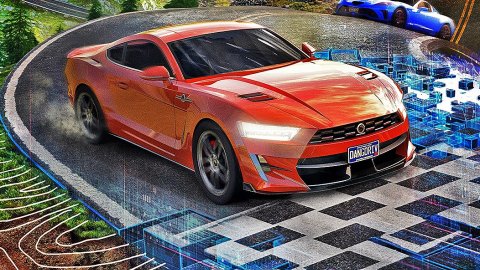 Wreckreation
When we were told we were going to preview Wreckreation, we weren't sure
what to expect
. All doubts dissolved once we entered the prepared area and, sitting on the leather sofa a few meters from the giant screen where the game was running, we saw him, just him: the indomitable, irresistible, very English Alex Ward. Another quick glance at the screen and we could easily have gone out and writing this article from start to finish because by then it was all clear to us. Gameplay, logo, authors ...
there is no
t a single aspect of Wreckreation that does not recall Burnout Paradise.
Alex Ward, together with Fiona Sperry, is in fact the founder of Criterion, the English software house became very famous for two things: the revolutionary Renderware engine, which we could define the Unreal Engine of the time that was also chosen by Rockstar Games for its first 3D GTAs, and for the series of arcade racing games Burnout, created precisely for push this graphics engine to the maximum, which made speed in data streaming its workhorse.
Criterion, until then owned by Canon, was sold in 2004 to Electronic Arts which supported its ideas until 2008 and to the great success of public and critics obtained by the exceptional Burnout Paradise. But this Burnout will also be the last: after Paradise, EA will use the skill of the English team to revitalize Need For Speed ​​and to help DICE in the development of Battlefront II, Battlefield V and the recent Battlefield 2042. What a waste, right?
The Rise
Wreckreation: Incidents are spectacular as always, but less destructive at the moment than in the past Alex Ward, Fiona Sperry and other members of the original team must have thought the same who in 2014 say goodbye to Criterion, thank Electronic Arts with gritted teeth and leave, politely slamming the door. Three Fields Entertainment was founded shortly after, with a small budget but a big heart, it began to work on its first projects. The young software house cuts its teeth with two very simple but also very fun games, Dangerous Golf and Lethal VR, but the ultimate goal is another: to rebuild Burnout from scratch.
Danger Zone is the first step, a game set in a protected environment in which various driving challenges have been inserted; Danger Zone 2 is pretty much the same game, but this time in open environments and with much more traffic; finally it is the turn of Dangerous Driving which we could define as a sort of alpha version of Burnout 3. Everything happens in a few years, from 2017 to 2022: in this period of time, Three Fields Entertainment has launched on the market three games that in the past would have had the form of three versions of a single video game still in development. That video game finally seems to be ready, and its name is Wreckreation.
In the paradise of speed
Wreckreation: all participants will be able to enrich the island with their creations Despite the Three Fields Entertainment continue to be a rather small team, the experience accumulated in recent years and the financial help of THQ Nordic are felt in Weckreation. No delimited tracks like in Dangerous Driving, in Wreckreation we will have a huge island of 400 square kilometers full of gradients, hills and more or less unreachable areas, but the biome should be unique. The deformation system of the cars, as accidents continue to be one of
the most important
elements of the experience, has visibly improved since their last game, but continues to be less extreme than the one achieved by Burnout.
The nerve center of t
his new game
, however, should be the ability to modify the map in real time for all participants in the session, changing the names of streets, hills, rivers; it will also be possible to build huge ramps that climb into the sky, parabolic curves that touch the trees, and do it all together. The game owner can organize races in just a few clicks, change the time and weather freely and without having to create a new room. A powerful editor, reminiscent of Trackmania, another game based on crazy tracks and machines that move at superhuman speeds.
In Wreckreation every stunt and event will be saved along with each player's best scores: if you break a billboard jumping off a hill and landing after a loop, the system will give you a score and make it visible for anyone
who wants to
challenge you in the same evolution. Wreckreation also
sports
a respectable soundtrack, at least on paper: in the game we will find sixteen radio stations that will range from gospel to rock, from the most famous soundtracks to jazz and pop from the charts.
The gameplay seems solid and also technically it is already a pretty sight with some really crazy reflections, but from here to being sure that Wreckreation succeeds in the arduous task of replicating the charm of Burnout Paradise, we pass it. It is not an easy thing to replicate even if you have already done it once; nothing is enough to transform the series' iconic accidents from a unique feature to a useless and annoying tinsel, as happened in Dangerous Driving.
Wreckreation is promising really well, but at the moment it doesn't have a release date yet. Three Fields Entertainment's racing game is currently in development on
PS4
,
Xbox
One, PC,
PS5 and Xbox Series
, although it is quite likely that the "old gen" versions may be dropped along the way. The desire to amaze is there, the game already seems solid, we'll see if it's enough. Are you still in the mood for Burnout?
CERTAINTY
Accidents as dramatic as they are hilarious Very fast and full of challenges Island customization DOUBTS The island seems to have only one true biome It will also be fun to alone? Nothing has been said to us about a story mode. Have you noticed any mistakes?