Nintendo, brands beyond videogames - La Bustina di Lakitu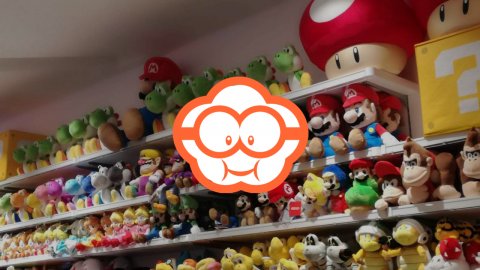 Nintendo
We recently admired the demo, developed by some fans, of a two-dimensional adaptation of Metroid Prime; on the internet is full of animated shorts dedicated to
Nintendo
brands, in particular related to The Legend of Zelda, always made by adoring fans. Today we are not interested in discussing in detail the draconian relationship between the company and the creations of the fans, but it is undoubtedly an important symptom: Nintendo is still far behind in the enhancement of its brands. In the case of Metroid also with regard to the video games themselves, while in the case of (almost) all the other series, the contents external to
video games i
n the strict sense are hidden.
Expanding a brand beyond the boundaries of the original expressive medium it is certainly not an obligation, mind you; however, it is Shuntaro Furukawa himself, the Nintendo president, who stressed how fundamental it is, in the coming years, to spread the notoriety of their series outside the strictly videogame context. The economic value of Nintendo intellectual properties is difficult to quantify, and the possibilities for development outside
of video games
are even more inscrutable. Now that the home and portable market has been unified, it could be vitally important, in case the next platform does not achieve the same success as Switch, to have other ways to earn and expand - don't forget that this fiscal year is profitable. record, 95% of the proceeds came from the videogame sector (excluding mobile, by the way).
Shuntaro Furukawa: the Nintendo president. Of course, every speech we will address in this piece goes beyond the Pokémon brand: it is the most profitable franchise on the planet (more than Star Wars, more than Harry Potter, etc ...), and it has a dedicated company that manages its commercial initiatives (The Pokémon Company). We talked about it in detail here: the big difference between Pokémon and Super Mario (also among the top ten richest franchises in the world), is that the former earns mainly thanks to initiatives not related to video games, while the latter is in top ten only - or almost - thanks to the interactive adventures of the plumber.
We must never forget, didn't you know, that Nintendo is a multinational with an extremely small creative - and operational - core: on an aesthetic level these dimensions form part of its uniqueness, on a commercial level they could hinder its ambitions. Nintendo Co. Ltd, the Japanese office, has just over 6,000 employees; of these, only half develop video games. Basically, all these huge brands that we will talk about are managed by a few creatives in Japan. And the suspicion that the commercial potential of these brands may be too great for such a reality does not seem completely unfounded.
Mario, beyond video games
We can only begin our analysis from Super Mario, the company's mascot, Nintendo's Mickey Mouse; at a videogame level, few disputes can be made: the titles featuring the plumber are many, and often excellent.
Mario Kart 8
and Super Mario Odyssey are only the latest exponents of a long series of masterpieces: the two-dimensional side could be developed more, but we have already talked about it in the past, and it is not the focus of this piece.
It's amazing how much Super Mario titles have sold, and how much they still sell today. With nearly 700 million units,
there is no
one to chase it in the short term. Even more surprising is the fact that, as we said a moment ago, much of the success of this brand is tied to video games only: cartoons, gadgets, merchandising ... so far they have been a simple, small corollary to video games.
Super Mario, star among humans in a Super Mario Odyssey trailer. It is clear that Nintendo wants to start its brand expansion plan starting from the strongest one, and that is - clearly - Super Mario. In recent years we have seen a collaboration with Lego, and we are witnessing the proliferation of a themed clothing line produced by Uniqlo (a Japanese giant whose main testimonial, worldwide, is Roger Federer).
An important turning point in this path could be the animated film that will arrive in 2022. Under the constant supervision of Shigeru Miyamoto, it is under construction at Illumination Entertainment, one of the most relevant companies in the world of animation: in the past he made Despicable Me, the Minions, Lorax, Pets. This is an extremely important collaboration: nothing to do, for ambition and investments, with the mediocre (to say a lot) 1993 film.
We suspect it will be a decisive moment for Nintendo, and for the brand Super Mario; precisely for this reason, it is difficult for the Japanese company not to accompany the release, and the advertising campaign, with a new dedicated episode (2D or 3D). The recent appointment of Chris Meledandri (CEO of Illumination) as external director of Nintendo's board of directors, the only Western present, is yet another confirmation of the importance of the project.
Super Nintendo World
In the top ten of the best-selling brands in the world, Super Mario
is one of
the very few whose fortunes are strictly tied to the "core business". As we wrote in the previous paragraph, Nintendo is trying to change things, and to make its icon thrive to the maximum even beyond the world of video games. However, if Super Mario finds himself in this situation, you can imagine that of all the other Nintendo brands.
With this in mind, an important initiative to report is the recent opening of the Super theme park in Osaka. Nintendo World: It was presented to the world with this video, and offers, in addition to the rides and culinary delights prepared (apparently) by the toads, small elements of interactivity for the whole park. It was developed jointly by Nintendo and Universal, and will soon be built and inaugurated in Hollywood and Orlando (no news, at the moment, on any locations in Europe).
Super Nintendo World, a model of the park. We mentioned Super Nintendo World in this paragraph by virtue of its name: however, it would have made more sense to include it in the previous one. And this is a rather significant conceptual problem, which shows how far Nintendo is still "behind" in managing its brands. Despite the name, everything, and we would like to literally underline everything, is linked to
Super Mario on
ly: as if Nintendo were Super Mario. There are openings to Yoshi and Mario Kart, however series closely linked to the main one of the plumber: there is not even a small appearance of objects, or rides, inspired by other Nintendo brands.
In summary, at present Super Nintendo World is nothing more than a Super Mario World; nothing to do with Nintendo Land, the (unfortunate) launch game of Wii U, which featured various mini-games taken from as many corporate intellectual property.
Other brands
There is no doubt that Super Mario is the most important brand of Nintendo, but it is equally obvious that Nintendo is much bigger - much more - than Super Mario. This is why we believe it is wrong to link a playground, and in general such an important investment, to a single figure: especially considering that the name suggests something else.
For example, if a child goes to Nintendo World, why shouldn't you find Donkey Kong's "Jungle Cotton Candy" in addition to the "Mushroom Pies"? It's just one example, but we believe it can be significant. The brand of the ape in tie is certainly one of the most underestimated, one that deserves a completely different commitment. There hasn't been a new original title for seven years, and extra videogame initiatives are practically nil. We are talking about a brand known all over the world, which has sold 60 million copies, has marked the history of arcade video games, and led, through the Rare creations and the "Country" series, the Super Nintendo to win the console war. . We are always there: there are not many Nintendo creatives, and developing a game that respects their quality standards is very complicated. There is a possibility that EPD Tokyo
is working on
a new Donkey Kong; however, at the moment it is a substantially immobile brand. Imagine what
Sony
or
Microsoft
would do (or could do) if, by magic, they were to manage the gorilla: we are not saying that the videogame situation would be better (we would never say it), however they would never dare to leave a static one for so many years. potential gold mine (the franchise has grossed, to name a few of the most exemplary, more than Avatar, Titanic, Terminator, The Matrix).
Donkey Kong Country: Tropical Freeze, the latest unreleased title on the gorilla. The same speech made for Donkey Kong we could extend it to many other Nintendo intellectual properties: Splatoon, Animal Crossing, Star Fox, Pikmin, Wario. None of these have - probably - the same potential as the gorilla, but each of them could certainly expand in a sprawling way (we repeat: in other areas outside the video game). An exception in this sense is represented by Kirby, which perhaps has not reached its maximum (also due to the "fault" of the quality of the video games), but has certainly been the protagonist of a serious development attempt, at least under the management of Iwata: a renewed logo and a dedicated animated series.
Although Metroid's games haven't sold as much as other Nintendo series, there is no doubt that her fans are among the most passionate, and that Samus Aran is a charismatic character; his adventures have a declared link with Alien, and it would not be absurd to hypothesize a television series.
Samus Aran, still absent on Nintendo Switch with a starring game. We haven't mentioned it so far, but if Super Mario is Nintendo's most important brand, The Legend of Zelda is - probably - the most prestigious; it is also the fourth best-selling overall (limiting itself to video games), after the plumber, Pokémon and "Wii series" (placing immediately above Donkey Kong). A fantasy world, beloved characters, in 2021 is probably at the apex - thanks to Breath of the Wild, and the upcoming sequel - of its fame: for years, moreover, there are rumors of a themed Netflix series. br>
In short, the outcome of the initiatives linked to Super Mario will tell us how much Nintendo is (or isn't) able to extend its brands beyond its native territory. In our opinion, the potential is enormous: and not only those of the plumber, but also of The Legend of Zelda, Donkey Kong, even of Metroid, Animal Crossing and Splatoon. As we have repeated several times in the course of the article, there is a doubt that the Japanese company is not ready to make this leap: despite being a large multinational known all over the world, the (videogame) destiny of these brands is managed by themselves. 3000 people (more than 1500 worked on
Red Dead Redemption 2
alone, to clarify the proportions).
The Legend of Zelda: Breath of the Wild 2: we'll know more within the year. The risk that Nintendo does not have the size and organization to be able to face the expansion of its main brands firsthand is strong. It exists internally in the world of video games (see Donkey Kong, Metroid or Wario), and is much, much more worrying as far as initiatives outside this context are concerned. It is no coincidence that Pokémon, commercially the most successful brand in the world, has "its" The Pokémon Company behind it: could this be the way forward to increase the other franchises as well?
Did you notice mistakes ?