Cloud Gaming: where are we and what future awaits us?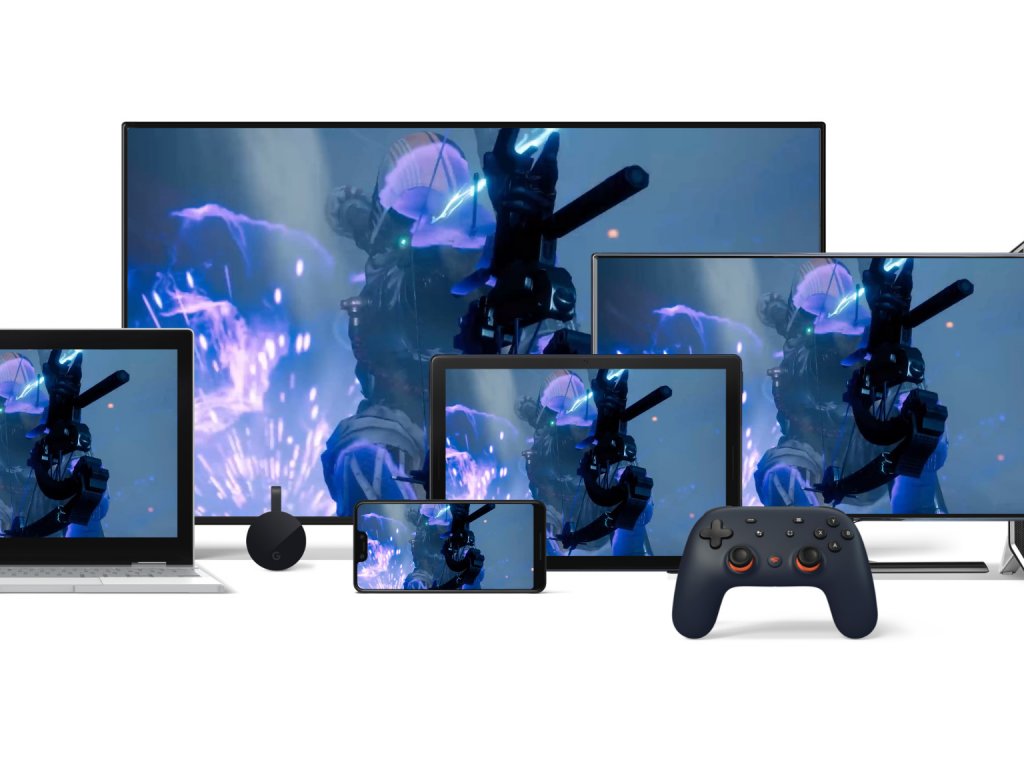 2020 was, for most gamers, the year of the new generation. The mental energies were all aimed at PS5
and Xbox Series X
| S, but also at the new graphics cards from NVIDIA. As a result, some have perhaps ignored a new technological competitor: cloud gaming. The common opinion, superficially analyzing the chatter from forums, is that this new type of service is not yet ready to undermine the power of local gaming: is it so? And above all, what are the long-term potentials? Who are the main names active worldwide? Today we will try to give an answer.
The main cloud gaming platforms
Let's start with a quick overview of the main platforms dedicated, with different types of effort, to cloud gaming.
NVIDIA - GeForce Now (2013)
NVIDIA is, among the leading names in cloud gaming, one of the oldest and one of the most changing. What we know today as GeForce Now was preceded in 2013 by NVIDIA GRID, launched in beta format solely for Nvidia Shield. The real announcement of the service and the name took place in 2015, with a subscription format with unlimited access and the possibility of buying some games to play them without a subscription.
In 2019, however, this version was canceled to make room for the model born in 2017 - GeForce Now, in fact - on computers (and then also on mobile and Shield) which allows you to run, via servers NVIDIA, the games you own on other launchers (like Steam, Epic Games Store, Uplay ...).
PlayStation - PS Now (2014)
PlayStation is the second big name to enter the world of cloud gaming. In 2014
Sony
unveiled and released its platform in North America, which allows you to stream PS2,
PS3
and PS4 titles to PC and consoles, or download PS2 and PS4 games to consoles.
The arrival in the rest of the world has been slow, with Italy being able to approach the service only in 2019. PS Now allows you to access a catalog through a monthly / annual subscription: they are regularly added ( and deleted) new games.
Google - Stadia (2019)
Google was the first company to say to the world, with enormous confidence, "cloud gaming has arrived and it is to you need ". The presentation of the GDC 2019 gave the charge to players and developers and Stadia was released in November 2019 (in the USA, Canada and a good part of Europe) to all those who had pre-ordered a package containing Chromecast Ultra (mandatory to play directly on TV) and the Stadia Controller, as well as three months of the Stadia Pro subscription.
In April 2020, however, Google gave everyone the opportunity to access the service without starting costs. Unlike other cloud services, Stadia's core model is based on buying every single game
you want to play
. In any case, the Pro subscription offers new games every month that remain available for several months, thus forming a mini-catalog of twenty / thirty games that are always accessible.
xCloud, formerly known as Project xCloud, entered testing in October 2019 and was officially released on Android devices in September 2020 in multiple countries, including North America, Europe (including Italy) and South Korea with more than 150 games at launch. xCloud is not an independent service, however, but part of the huge Game Pass package and allows you to play console titles on mobile.
Facebook - Facebook Gaming (2020)
Also Facebook, in the 'October 2020, has proposed its own cloud gaming service. It is, for the moment, a US exclusive and is dedicated to free to play mobile titles. It is a completely free service, it being understood that there is the possibility of spending money in microtransactions within the individual games. This is a platform included within the web version of Facebook.
Amazon - Luna (2020)
Amazon has also started its service, for now in the US territory. of cloud gaming: Luna. The platform offers PC / console titles via streaming via PC, Mac, iPhone, iPad, FireTV and Android devices. The big difference from other similar services is the sales method: you can't buy single games and you can't subscribe to a single catalog. Amazon Luna offers a series of "channels", each of which offers a list of games for a monthly fee.
Nintendo - Switch
Even if it does not have a real service of cloud gaming, it is not possible not to menti
on Nintendo Switch
. The platform of the Kyoto company, in fact, has proposed some games in game streaming format in various parts of the world, including Italy in some cases. For example, you can play Control's Cloud Edition.
The lesser known
So far we have mentioned the best known names in the gaming landscape, those that do not escape even the least attentive players. Obviously, however, the market includes many other "minor" competitors. Although not our focus, we cannot fail to mention services such as Shadow, Vortex, but also and above all emerging names in the Chinese market, such as Tencent, whose gaming division is working on three different platforms for the eastern market: Start (in collaboration with Nvidia), Instant Play (in collaboration with Intel) and GameMatrix (in collaboration with Huawei).
Sales models
With the previous list of cloud gaming platforms and services we could notice one thing. The clash that is emerging between the big names in technology is not solely linked to the computing power of their servers and, for the moment at least, is not being played on the field of exclusives. It is mainly the sales model that creates variety between one service and another.
The Netflix model
Let's start with what we like to call the Netflix model, that is, a monthly service which gives access to a single catalog which is expanded on a regular basis. PlayStation Now and xCloud fall into this category and are therefore the most understandable for the public. The advantage of this type is to be able to access a large number of games without limits.
Bring your games
In the directly opposite corner, we find cloud gaming services such as GeForce Now, or platforms that do not sell access to games, but "simply" allow you to take advantage of servers and play video games purchased in other stores at a much higher quality than what a simple office PC or mobile device can do. The advantage, in this case, is that you do not have to submit to a single store for the purchase of games.
The conservative model
In the middle, we find proposals such as Google Stadia, very more conservative and close to the sales model of local platforms: an internal store where you can buy the single game and in addition a subscription service (PS Plus and Live Gold style) that grants extra benefits and, above all, a limited number of games . The advantage, in this case, is that there are no fixed costs and those who want to play only a few games a year can save themselves the purchase of dedicated hardware.
Luna's surprise
Out of the box, there is the idea of ​​Amazon Luna which offers a subscription service, but divided into several "channels". Having just been born, it is too early to be able to evaluate its effectiveness as it will be necessary to understand how many "channels" (and at what cost) will be made available and what the final cost would be for a gamer who wants to try a bit of everything. Publishers, as demonstrated by the "Ubisoft +" package and the "Luna +" package, can also apply different pricing and usage rules: Luna + can in fact be used on two screens simultaneously, while Ubisoft + only on one. This could make Luna one of the most interesting platforms for large developers / publishers.
What we understand and what awaits us
At this point, we can easily draw two conclusions.
First of all, societies all over the world, from West to East, have learned from what happened with music and TV series, which have now put the physical format in the background and have moved towards subscription services (Spotify, Netflix ...). The companies firmly believe that the gaming market is destined to do the same. In the eyes of many, it is therefore time to get their share of this growing market. The competition, in other words, is great, bigger than the normal local gaming hardware / software market, which for years has seen only three console competitors and a few leading PC stores.
Secondly, while it remains true that each company will have to offer an effective technology (in terms of resolution, input-lag, frame-rate, etc.) and, at some point, will have to offer exclusive content as Sony, Nintendo and Microsoft (but also Netflix, for some time) have done broaden the comparison), for the moment the real discriminating factor is the type of service. Not only in terms of cost and supply, but also in the way in which it is accessed.
It seems very likely that each company will go to grab a specific slice of the public. For example, the casual gamer, who can only start one of the many AAAs available a few times a month, will never agree to pay a fixed monthly fee, but will be intrigued by the possibilities offered by Google Stadia.
A mobile gamer who seeks fast and accessible experiences will hardly want to start a long and slow console game via xCloud, but will appreciate the selection of Facebook Gaming (as soon as it is expanded, because it is very meager for now) which will allow him to play various games without consuming storage space. On the contrary, an Xbox enthusiast who is always on the go will be able with xCloud to continue his session started on the console.
Cloud gaming already seems to have the advantage of offering the right service to every type of player. The real question is: is there a market for the cloud? Is the public ready to respond to proposals? Or are the limits (real or only perceived) of this technology blocking its expansion?
In the market research State of Online Gaming 2020 by Limelight Networks, the level of interest in cloud gaming services is reported. world. 44% of gamers say that yes, they would be interested in subscribing to a service that allows them not to purchase dedicated gaming hardware. Obviously, the percentages vary a lot from country to country: in Japan, for example, only 20.9% answered yes. Similarly, countries such as France, Germany, the United Kingdom and the United States of America have said yes with percentages between 32 and 38. Above the world average we find Singapore (45.7%), Italy (48.8%). , South Korea (51.0%) and India (with an exorbitant 82.9%).
The public is therefore starting to be interested and, with the improvement of infrastructure and the expansion of 5G coverage, they could soon there will be the tools to play more freely in the cloud. So what are the market forecasts of the experts? The proposed figures are variable, but we can for example take into consideration the analyzes of Statista and Markets and Markets, which speak of a turnover of at least 3-4 billion dollars within four years, compared to the value of a few hundred millions of 2019.
The conclusion is that cloud gaming is already here, in an embryonic, perhaps imperfect format, but it would be foolish to think that it is destined to disappear like any passing fad. Like other media, this is the most natural evolution. Local gaming seems to have, for the moment, the performance advantage (input lag above all). The more credible short-term future sees cloud gaming as an additional reality, not designed to eliminate classic gaming, rather to give new access methods, with ad hoc services for slices of the public that, at this moment, ignore the video games. The cloud is therefore a way of expanding the market, rather than replacing it, an eventuality that would also benefit those who reject it outright.