Ruined King: A League of Legends Story, preview and interview with Joe Madureira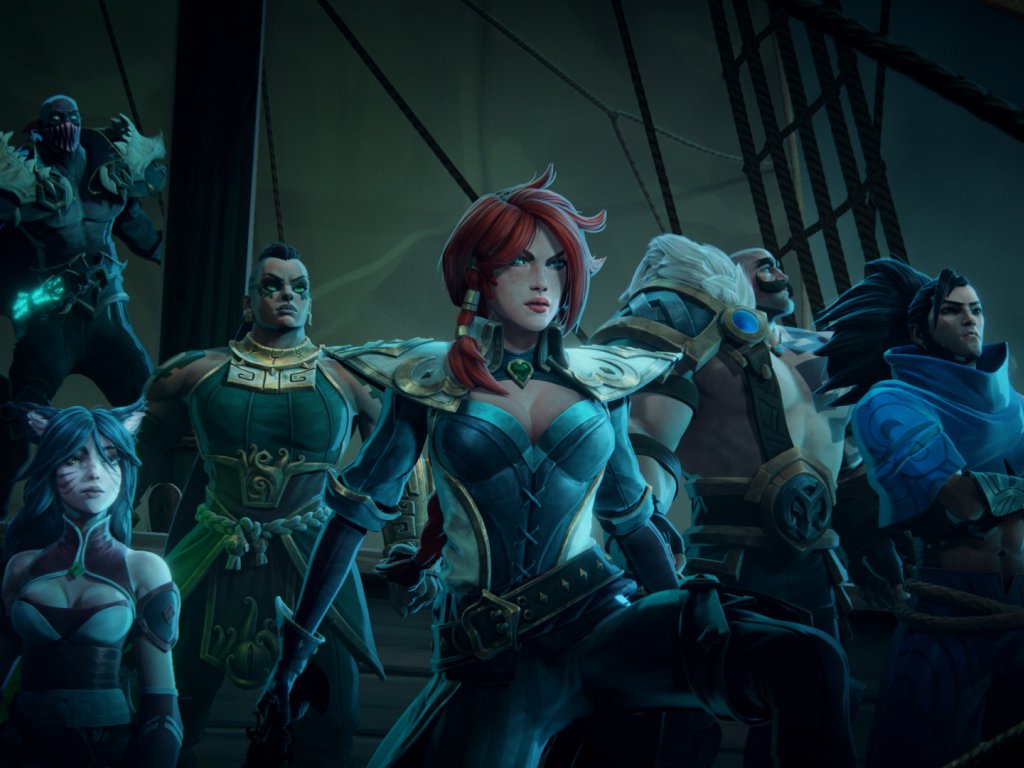 Finally, Riot Games' plan to invade the gaming market in all its forms begins to reveal itself and after launching Legends of Runeterra, Valorant and
League of Legends
: Wild Rift it is time to give the scepter to third-party studios so as to being able to expand the range of genres covered, while avoiding having to build one more dedicated development teams internally.
While there are still few details of the famous fighting game and little news about the publication of the official MMO, it is certain that the next title coming will be a turn-based RPG based on the footprint of Battle Chasers, Ruined King: A League of Legends Story. The starting idea finds us extremely favorable because the good Joe Madureira and his Airship Syndicate, after abandoning the Darksiders saga, have shown that they know how to do it anyway and that recognizable distinctive trait has been declined in a perfect way. For a few weeks now, several new details about the project have come out, let's see what emerged in our preview. A few days ago we were also able to spend a few minutes in the company of Madurerira who told us some background behind this interesting project.
The story up to this point
As the title suggests, Ruined King: A League of Legends Story will focus on the protagonists' past and history, with an emphasis on particular region of Bilgewater. The six champions chosen for this appointment are Miss Fortune, Illaoi, Braum, Pyke, Ahri and the inevitable Yasuo, now stuck in any production given the enormous success it has with the public. The narrative wants our committed to solving a strange mystery, but the plot in general does not seem to have been revealed in its entirety yet, placing it as a big question mark on the entire production. We know for now that ours
will have to
cross the Shadow islands unscathed and from what we have seen, at least for the moment, there are no opposing champions to face even if this, we admit, could make us turn up our noses.
The biggest fear we have for the whole project is that it is a carbon copy of Battle Chasers, a simple reskin that, for those who have already played the aforementioned title, would be an annoying deja vu. With a broader vision, however, looking at the positive side of the thing, we will have a solid game capable of exploiting known and loved characters, a combination that will inevitably bring benefits to both Riot and Airship Syndicate. In fact, from the few gameplay glimpses shown during
The Game Awards
, it was possible to observe the Active Time Battle of Battle chasers even if, at least on paper, weapons, equipment and skills will then be declined in League of Legends sauce, thus making everyone happy. the fans. We can therefore expect to choose from the pool of six initial heroes the three champions who will accompany us in battle, probably favoring Illaoi as a tank instead of Alumon and Miss Fortune in the place of Monika.
Also many new things
But we also saw something new, some distinctive traits capable of elevating Ruined King to something higher than a simple copy. Airship Syndicate wisely chose to take advantage of each character's iconic traits during the exploration phases. In the short excerpts of gameplay we saw a Yasuo use his Storm of Steel so as to interact with some environmental puzzles and he was seen appearing for a few moments in the resource skill bar as Last Breath to be launched later in battle but we also know that Ahri will have the ability to identify invisible enemies while Braum will be able to break through walls thanks to his shield, thus also favoring Backtracking.
The keen eye will also have seen the same game icons present on League of Legends, so as to create a single common thread and not leave the players confused. The game mechanics will therefore be based on turn-based combat and on the possibility of accumulating a special resource with basic attacks to be downloaded then using the spells for strategic clashes that are never too difficult but still sufficiently deep. We have noticed among other things some of our old acquaintances among the enemies such as bandits and spiders, models taken from the weight of Battle Chasers and brought back to this new adventure, perhaps by changing only the color, but we imagine that even the skills and strategies of the game will remain almost unchanged. Finally, all those secondary activities already seen on Battle Chasers and capable of giving greater depth to the game will also return, such as fishing activities, for example, or the arena or a system of sizes on minibosses thanks to which to obtain new equipment and to get up quickly level up your party.
What do you bring with you from your previous experience?
We learned a lot from Battle Chasers and Ruined King gives us the ability to make a product that is much more story-centric first and foremost. During the adventure there will be a greater number of interactions between the characters and this will help create a richer and more complex narrative context.
How was Ruined King born?
The guys at Riot played Battle Chasers and liked it, so they thought it might be a good idea to have us make an RPG based on the League of Legends universe. For us it was a nice surprise because we never thought we could work on such an important franchise.
How did you collaborate with Riot Games?
We worked very closely with Riot Forge: the choice of heroes, the narrative context, the events ... there are so many decisions we had to make and we did it together. We certainly have the challenge of having to speak to both a passionate audience and anyone unfamiliar with League, so Riot's support was crucial.
Is working on an IP already known and full of lore a creative limit?
Even when you create your own narrative / artistic universe, you end up choosing a whole series of rules to adhere to. In this case the rules were already present. It wasn't complicated because we were already fans of League of Legends and its characters: there are some limitations but there is also a lot of material to build on and create whatever you have in mind.
This is the first project of Riot Forge and if on the one hand we are not completely satisfied with the work of reviving an already known title with a new look, we can only be happy to be able to throw ourselves again on this 1.5 version of Battle Chasers having a new story available and new characters
to play with
, especially if these Champions are those from League of Legends. The idea of ​​Riot is however excellent if we think of the desire to reach a much wider audience than that touched by the Airship Syndicate alone, an important step to make the house known to millions and millions of players and push it to new heights, or at least it is how much we hope.
CERTAINTIES
Solid and fun gameplay League of Legends characters are a guarantee for success DOUBT How much will it really differ from Battle Chasers?