Animal Crossing: New Horizons, the November tour with winter update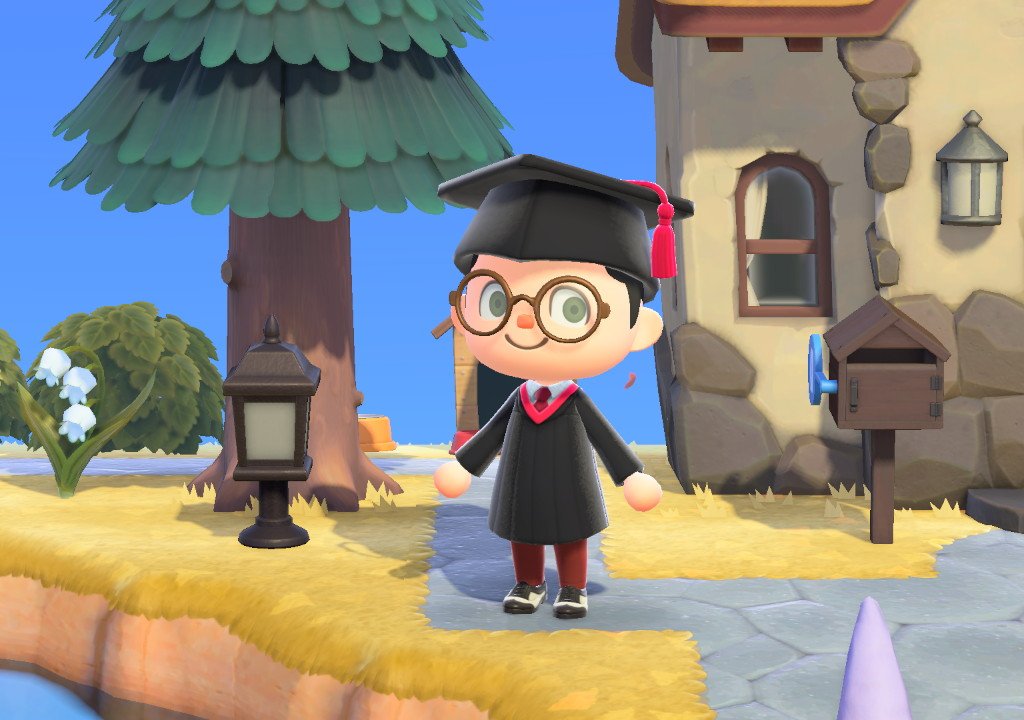 Last month we started to see the first hints of the autumn period, among other things also with a slightly subdued Halloween event.
But November is finally here. And we say "finally" not because, as it happens, it coincides with the birthday of the writer, but also because it means that the holiday period is almost upon us. Animal Crossing reminds us of it these days with the winter update, which introduces several new features.
Let's go and discover them in this November tour
of Animal Crossing
: New Horizons.
Something has changed
The sun is shining, the horizon is clear and the leaves are falling from the sky (?). There is no better day to take the monthly tour of our island.
Judging by the outfit, someone may have recently graduated, but we are definitely not looking for compliments (absolutely ...).
The ground is now a decisive yellow, just as the trees are starting to take on the characteristic reddish color that lights up the views of the autumn every year.
We start our tour from the usual neighbor, which has finally managed to repay the loan, also unlocking the personalization of the home (finally that green roof will no longer burn our retinas). Of course, he'll have to extinguish another one now, but we're pretty sure Tom Nook won't see half a star.
We continue south and ... oh look! A maple leaf twirling in the air!
This is one of the new features of the winter update released on November 19th. Until the snow begins to fall, it will be possible to catch these leaves with the net to create autumn-themed projects (exactly as it happened in the spring months with cherry petals).
Let's retrace our steps and head towards another tenant's home. She too has renovated the exterior of her home, trying to anticipate the coldest months of the year with a themed customization.
Mushrooms and truffles (indeed, rare mushrooms)
Let's move on and head for those marks in the ground.
For months and months we have had to contend with a flood of identical fossils, as we completed the museum collection almost immediately. However, digging underground finally becomes a fruitful activity!
This is because in early November (and thus before the winter update), mushrooms were introduced into the game.
Divided into different types, you can find them mainly near the trees. Obviously, these are useful for crafting various items, one of which is a wreath, the blueprint of which will be delivered to you by Fuffi as soon as you enter the game.
Of all the mushrooms, though, there is one that you must keep particularly in sight, namely the truffle ... the rare mushroom. As we said before, finally going back to digging makes sense again.
The rare mushroom, in fact, will make you a profit of 16,000 stars, if sold to Mirco and Marco. A considerable amount, especially if you can find more than one.
New emotions and haircuts
Let's go to the service center now.
As you can see, that usurer Tom Nook continues not to work, but still asks us for money for his "amazing projects".
This time his offer is to expand the closet space for a "negligible" sum of money. However, he warns us that, before proceeding, we must finish paying the loan he kindly offered us. What he doesn't know is that he'll never see those two million-plus stars he "kindly" lent us again.
Now that we've taken care of the raccoon too, let's get to the Nook point.
Here are two
novelties to buy for miles. The first is a selection of nine new emotions with which to relate to other players and inhabitants (and yes, we can finally sit on the ground). The second, on the other hand, is a new set of hairstyles (and yes, you can finally go bald).
For the rest, we believe there is nothing new to show you on our island. The orchard is a bit more suggestive now that everything is "autumnal", but it is useless to keep going around in circles.
Before closing this November tour, we remind you that the event will be held on November 26th special Festival of First Fruits, where the possibility of cooking should finally be introduced.
Waiting for the next tour, we greet you from our little paradise inside Animal Crossing: New Horizons.