MultiVersus - Gizmo: moves and strategies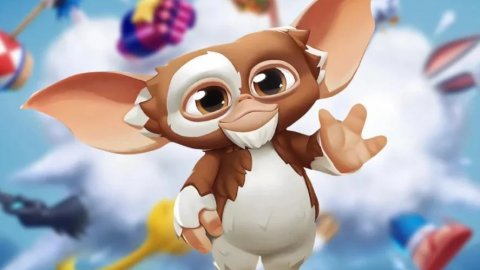 MultiVersus - Gizmo
MultiVersus a few days ago welcomed Gizmo, a new playable character from the famous 80s movies Gremlins. In this guide
you will find
an overview of his moves and characteristics, so that you can also get an idea if it is worth spending 2,000 Gold Coins or 700 Gleamium to unlock him.
Gizmo is a character listed as Healer and Hybrid. As a "healer" he has little and nothing, but he is an excellent support: in particular he is able to cling to the shoulders of a companion and fight alongside him, as well as apply an insidious debuff to enemies that prevents him from using special moves with reload for a certain period of time. In addition, the Mogwai also has more than an ace up its sleeve to cause damage and eliminate opponents, including flaming arrows, explosive popcorn and a toy car.
Gizmo moves and strategies
Multiversus, Gizmo's fiery arrows and explosive popcorn are a deadly combo Gizmo's moveset includes several really good ranged attacks, starting with the Neutral one, with which he shoots an arrow with his bow. A simple but effective move that also has several peculiarities to consider if you want to master this MultiVersus character. First, holding the charge button will cause the arrow to ignite, causing extra damage over time. Meanwhile, it is possible to move freely, jump or even cancel the attack by dodging. In the latter case, if you have completed the charge, the next bow attack will immediately fire an incendiary arrow. Keep in mind that you have three arrows that recharge over time, so it is not possible to spam them non-stop.
Gizmo's archery skills combine well with the "Pop Pop Pop!" attack (Up Attack). Gizmo throws a cloud of popcorn into the air in the desired direction, which slowly descends, settling on the ground and causing a very small amount of damage to enemies that come into contact with it. Hitting the popcorn with an arrow generates a cone explosion in the opposite direction, causing more than decent damage and knocking opponents away. If the arrow is incendiary the explosion will be more powerful and will have a greater range, making it one of Gizmo's most dangerous moves, albeit situational given the time
it takes to
make this combo. Popcorn can also attract and engulf Gizmo's musical notes, which we'll talk about later.
Another skill worthy of mention is "Beep Beep!" (Side Special): Gizmo climbs aboard his toy car to move at full speed in the ring, with overwhelmed opponents taking damage and being thrown backwards. Gizmo can also flee the vehicle by throwing it forward by jumping or dodging. The toy car becomes particularly treacherous when Gizmo jumps on it with the "Gizmo-A-Go-Go" skill. In this case, the vehicle overheats and explodes on contact, inflicting considerable damage and knocking opponents away. Combined with explosive popcorn it is one of the best techniques for eliminating enemies. Keep in mind that once destroyed or thrown out of range
it will be
necessary to wait several seconds to generate a new machine.
MultiVersus, when inside his trunk, Gizmo is invulnerable to bullets With "Corrugated Camouflage" (Special Down), Gizmo hides inside a trunk that blocks all enemy bullets as long as you hold down the appropriate button . By activating this move when Gizmo is attached to a companion, the Mogwai opens his umbrella blocking a single hit. Still on the subject of barriers, with the "Umbrella Shot" (Side Special in the air) Gizmo sprints forward with the umbrella open, blocking the bullets in the meantime and throwing away the enemies hit. Once the sprint is finished the Mogwai will start gliding for a short distance, which is undoubtedly useful for avoiding an elimination.
Gizmo is able to apply the "Music" buff to teammates and opponents via the attack "Cruel Melody" (Attack Down) and "Song of the Mogwai" (Neutral Special). The first is a charged attack that creates a small shockwave that shatters the armor followed by two musical notes that hit Gizmo's sides like bullets and knock enemies away. With "Song of the Mogwai" the character sings and generates small musical notes (even infinitely, as long as you hold down the appropriate button) above him or forward
if you are
in midair. These notes float in the air and can attach to Gizmo's arrows, popcorn and allies' bullet-type attacks, causing damage to enemies hit and small stuns.
The musical notes of these two attacks apply precisely the Music buff: by accumulating a certain number of stacks the opponents will suffer the "Silence" status and will no longer be able to use skills with recharge times for a few seconds. If instead they come into contact with an ally, this will generate musical notes in turn performing dodges, which cause small damage and apply the buff to the opponents hit. It goes without saying that preventing an enemy from using his abilities is an incredible advantage and therefore Gizmo's musical abilities are a key part of his kit.
MultiVersus, Gizmo can attach to companions and support them with his abilities offensive and defensive The other specialty of our Mogwai is "Gizmo-A-Go-Go" (Special Up). By activating this ability, Gizmo jumps towards the other and if there is an ally
in front of
him it attacks him remaining behind him for about fifteen seconds, purifying him. If, on the other hand, he is facing an enemy he will execute a mount. Once clinging, Gizmo and companion are as one, with the Mogwai continuing to shoot arrows, activate barriers, generate notes and so on. On the other hand, if the ally is hit, Gizmo also suffers damage (partially) so it is important that the duo is well coordinated. Gizmo can detach itself at any time by jumping or using the car, which makes this skill unpredictable and lethal if mastered properly: with a bit of cunning you could surprise opponents by hitting them with Gizmo's toy car or with a sudden aerial assault outside the ring.
Gizmo also has several melee attacks available that should not be underestimated, especially aerial ones. Puccioso Punch (Mid-Air Side Attack) discreetly hurls enemies away once fully charged. The "Miniartigliata" (Up Attack in mid-air) consists of two sweeps upwards, with the second sweeping the opponents very high. This last move with a little practice can be used in combination after the "Swooping Furball" (Special Down in Mid-Air): Gizmo executes a violent downward dunk with the hit enemy bouncing back into the air .
As for the unique Perks of Gizmo, the most useful in our opinion is "Powerful Cuddles", which speeds up the charge of the character's attacks (arrows, popcorn, piano) when attached to an ally, making it even more dangerous when using this mechanic. Also very good "Leap, Leap, boom!" blowing up his car using the character's swoop airstrikes.
Did you notice any errors?