The 15 best soccer games of all time for PC, console and mobile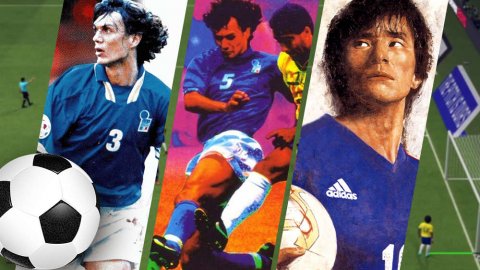 The 15 best soccer games of all time for PC
Football
represents perhaps the sum of all the peculiar characteristics of sport. It's a team game but it also depends on the talent of the individual. It is speed but also tactics and study. It is loved and hated by all men and women of the world without distinction of gender, and it is for this reason that even with regard to its playful counterparts it has always achieved great success. Over the years, hundreds of simulations dedicated to the most popular sport on the planet have come out but not all have managed to break through the hearts of the players, only a small part of them has always been loved and still played by fans of every place and time. . With this article we want to pay homage to some of these games, timeless masterpieces that we will continue to enjoy as long as we can hold a joypad in our hand!
These are our 15 best football games that all football fans balloon should try at least once in their life.
GOAL
GOAL! It was published by Jaleco for Nintendo in the distant winter of 1988 with the rising title Moero !! Pro Soccer and developed by the multifaceted guys of the Kyoto software house TOSE, a company that later boasted collaborations with the most important publishers in the world and is still in fervent activity. Goal was a very simple game but its linear gameplay managed to entertain for a long time: a "bird's eye" view in Sensible Soccer style, a few slowdowns too much and a hilarious free throw mode that anticipated penalties by several years. "American" movement. There were a few selectable options including the world championship, a knockout league and one-on-one multiplayer, obviously the most fun. Goal is a fond memory of the 80s that bequeathed to us by Nintendo and its legendary NES, perhaps not perfect, but certainly one of the best football games of the time.
GOAL has been released on the NES .
Striker
Striker Rage Software's soccer game had a very long life across virtually all consoles on the market until the late 1990s, from CD-i to Playstation passing through Super Nintendo, Game Gear and the beloved Atari ST and Amiga. Countless versions have come out including the Eric Cantona one, the one for Sega Sports and the very latest chapter called UEFA Striker for Sega Dreamcast. Striker was a beloved and critically hated game at the time with reviews ranging from bad to excellent due to its extreme speed. The clean and distinctly more beautiful sprites than those seen in similar games in the late 1980s made many love it and still remember it as one of the best football games ever.
UEFA Striker has been released on Dreamcast.
Virtua Striker
Virtua Striker 3 It seems like a century has gone by since we first saw Virtua Striker's incredible graphics in the arcade. With the "Virtua" series, SEGA had redefined the concept of realism in almost all fields, from wrestling games to sports. The first chapter of the series was clearly inspired by the 1994 USA World Cup, in which it was possible to take part in the event by choosing from 18 national teams of the time. The game was released in an arcade version and remained an exclusive of his for many years because it was never converted to the home console of the time, or the SEGA Saturn. With the second chapter, however, Sega had on the market an extremely powerful console capable of reproducing an "arcade perfect" at home, so it released Virtua Striker 2 in 2000 which was originally developed on a Model3 board. Even today it remains one of the funniest games in the series and certainly deserves to be part of our list of the best football games ever.
Virtua Striker has been released in arcade format.
Sega Worldwide Soccer
Sega Worldwide Soccer Produced directly by SEGA, it was the direct heir to that famous Victory Goal released on Sega Saturn a few years earlier. Released in the USA and Europe under the name of Worldwide Soccer, it was immediately a great success and was considered one of the funniest and best graphic games of those times, until the release of ISS 64 exactly one year later. The reviews (and memories) of the time underlined an extremely fun gameplay seasoned with animations superior to those seen up to that moment, very fluid and dynamic based on the position of the body, opponent and ball. He had some problem thinking about the way in which the sphere gave the impression of remaining glued to the ball carrier, but at the time it was happily passed over. It didn't have official player licenses, but SEGA Saturn's internal memory allowed for wild editing: extreme and beautiful.
Sega Worldwide Soccer was released on Saturn.
Jikkyou J-League Perfect Striker 2
Jikkyou J-League Perfect Striker Jykkyou World Soccer was a football video game series produced by Konami between 1995 and 2003 and is considered the progenitor series of Pro Evolution Soccer. . We are talking about the chapter released at the turn of 1999 and 2000 because that of the "turning point" as regards the maturity of the series. Innovative for the time, it offered simulation elements never seen before and a healthy dose of drama (du-ra-ma-ti-cu for the Japanese) that made this game an almost extreme experience, as tiring as playing for real and extremely satisfying at the same time. Graphics, fluidity and details at the top for the time, boasted an impressive amount of animations and absolute ball control with effects, special shots and unique features for each player. It is one of the best football games released in the early 2000s. Jikkyou J-League Perfect Striker 2 was released on the Nintendo 64.
Kick Off
Kick Off Made by Dino Dini , English developer of clear Italian origins, was the first chapter of a very successful series still loved by many fans. Its peculiar characteristic (for the time) was that the ball enjoyed an extremely satisfactory physics and unlike the opponent's titles it did not "stick" to the player's feet, rather it was pushed forward exactly as it happens in reality through small "touches" with the foot running. This characteristic immediately made Kick Off stand out and made it one of the favorite football games for the general public. Another peculiarity was represented by the behavior of the referees who distinguished themselves by having very distinct "personalities" and a severity different from each other. The game is still available through the most popular digital channels.
Kick Off has been released on Amiga and Atari ST.
Sensible Soccer
Sensible Soccer With Sensible Soccer we enter in the Olympus of football games, objectively gone down in history as timeless "masterpieces" and loved by all without distinction. Our best memory is surely the one related to Amiga and its joystick with a button, perfect for the gameplay of the creature programmed by the legendary Jon Hare. SWOS
was one of
the first games to try to enclose the entire football "world" in its gameplay, starting from the recruitment of players, passing from the managerial part to the actual gameplay on the pitch. There were leagues from all over the world, with many teams, even from lower leagues and amateurs, from which to go and "fish" young talents. Each player was really different from the others according to their characteristics and this made SWOS exciting also from the point of view of "scouting". Fortunately it is still possible to find it in digital delivery!
Sensible Soccer has been released on the Amiga.
Excite Stage
J League Excite Stage '96 J-League Excite Stage it was a very successful series mainly linked to the Super Famicom (Super Nintendo in the West) that left its mark both in the collective imagination of the players of the time, both in the critics and in the subsequent football games that took up some innovations. It used side graphics as opposed to many games of the time that preferred a bird's eye view. Including very fun modes such as soccer or beach soccer, absolute novelties for the time and much appreciated by SNES users. The series also arrived on Game Boy and PlayStation but with little success in sales as in 2000 on the market they poured much more fierce competitors such as FIFA and Konami football with its ISS Deluxe.
Excite Stage has been released on SNES, Game Boy and PlayStation.
Fifa 11
Fifa 11 Up to the 2011 edition the Electronic Arts football game was only partially able to undermine the overwhelming power of Konami in this genre. Something changed precisely with FIFA 11 and its breath of fresh air brought to the series, which until now suffered from chronic defects that seemed inextricable. In 2011, when Konami decided to change its "winning formula" of its Pro Evolution Soccer, Electronic Arts was able to make the most of those imperfections so far criticized by the players and implement many new features and a completely new control on the player that they decreed, from that moment, the arrival of a new "king" of soccer games. It is precisely for this reason that we take FIFA 11 as one of the most iconic and beloved games ever.
FIFA 11 has been released on PS3,
Xbox
360 and PSP.
Winning Eleven 6 Final Evolution
Winning Eleven 6 Final Evolution If it is true that Pro Evolution Soccer represents for many the football game "par excellence", one of the most loved and played in history, we wanted to remember in this article one of the chapters more successful and complete, that "Final Evolution" loved on GameCube and PlayStation 2 which represented the definitive edition of Pro Evolution Soccer 2. This chapter sacrificed slightly some aspect of its "reasoned" gameplay in favor of an increased spectacle of the action, a quantity of animations to make even the most modern productions pale and a more sparkling game speed. The Final Evolution boasted a series of infinite pearls such as the personalized celebrations, the companions who applauded us after a good shot, the goalkeepers who climbed into the area at the end to try to equalize many other "little things" that however recreate that feeling of "Real football" that all fans are looking for.
Winning Eleven 6 Final Evolution has been released on GameCube and PS2.
Football Manager 2020
Football Manager 2020 When we talk about soccer games, most of the fans think about real time action games. Old or new, football simulations see us take control of the players and kick the ball to get it into the net. Well, football is not just that. Football Manager is a very famous football-themed managerial saga that puts us in the shoes of the coach and all those roles less known to the general public. We will have to choose the squad, talk to the press, define the best game tactics and bring our team to the highest levels. We decided to suggest the 2020 chapter after being unconvinced by the 2021 chapter. Football Manager 2020 is also not perfect, also due to a graphics engine that needs updating, but for those looking for a different experience, this is one. of the best football games out there.
Football Manager 2020 is available on PC, iOS, Android, Mac, Google Stadia.
Fifa Calcio
Fifa Calcio The games football games have always existed and have evolved with the technical advancements of PCs and consoles. Over the years, however, a third platform has also come to dominate the videogame market: we are obviously talking about mobile. It would therefore be unfair not to include some soccer games for smartphones. For this we recommend Fifa Calcio, the mobile version of EA's football simulator. In the game you will find more than 50,000 players including those from the Premier League, Serie A, LaLiga, MLS, Bundesliga and Ligue1. There are 100 icons of football, from Pelé to Zidane, without forgetting Maradona and Paolo Maldini, obtainable through dedicated challenges. Of course, Fifa Calcio
allows you to
challenge your friends in 11 vs 11 matches in real time. It doesn't hurt that the game is free to play.
Fifa Calcio is available on iOS and Android.
Table Football, Soccer 3D
Table Football, Soccer 3D Many they love to catch a ball and throw themselves on a muddy field or on the concrete schedule for a game with friends, but some fans prefer to play another type of football, obviously we are talking about table football, or foosball if you prefer. Nowadays it is not easy to find one within your reach: luckily there is a free and fun mobile version, Table Football, Soccer 3D. In this game we will be able to play against the AI ​​or a real opponent. The ball has its own physics and can also be thrown into the air (did you consider it a foul?) To override opponents. In the free version there are advertisements, but by playing it is possible to collect coins to customize players, table football and more.
Table Football, Soccer 3D is available on Android and iOS.
Rocket League
Rocket League Rocket League is not the first football game that many think about, we know, but nevertheless in recent years it has dominated the afternoons of many young fans, and not only. The idea is after all the same: there is one ball, two goals, two teams and the winner is whoever scores the most goals by the end of the game. In this case, however, it is a slightly different football game, not only because we have wheels instead of feet, but also because the focus of the gameplay is no longer the control of the ball on the ground, but one's ability to manage the ball. aerial game. Do not think that Rocket League is in fact a game of pure chaos, quite the opposite: at high levels you need to know how to give the right touch to the ball in every situation, calculating the timing of the jumps and collaborating with your teammates to place an assist at the right time. .
Rocket League is available on PC, Linux, Mac, Switch,
PS4
, Xbox One and can be played in backward compatibility on PS5 and
Xbox Series X
| S.
Football, Tactics & Glory
Football, Tactics & Glory At first glance you might think that this is a copy of Football Manager, in this soccer game there is so much more. Football, Tactics & Glory provides an XCOM-style strategy structure with role-playing and management elements. Players can be upgraded to create a quality team, or sold and bought to completely change your Dream Team. The matches are turn-based and ask us to plan every action to achieve victory. It is possible to play online, create custom faces and
there is no
lack of mod support to create leagues inspired by reality. It has a Very Positive rating on Steam and a demo is also available to test key features before purchase.
Football, Tactics & Glory is available on PC, Switch, PS4
and Xbox One
.
Have you noticed any errors?