Black Ops: Cold War and Warzone: Firebase Z, Express and League matches available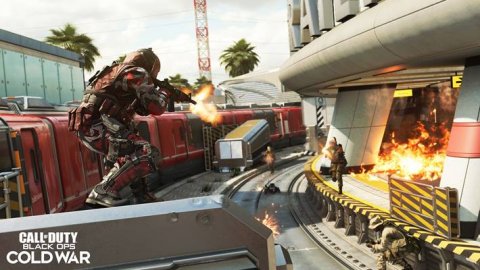 From today, the new Zombi Firebase Z adventure is available to all
Call of Duty
:
Black Ops Cold War
players. Along with this new chapter of the co-op mode, with Season 1 there are many other news, also for Call of Duty: Warzone. Let's find out together.
As part of
today's update for Black Ops Cold War (available today February 4th at 8:00 am), Requiem operators will be able to experience the next chapter of the Dark Aether story at "Firebase Z" ", the latest Zombie map released, free on all platforms.
In addition to this Zombies experience and the new Tombstone Specialty, today's update also includes
the return of
the Express multiplayer map, a favorite of the Black Ops II players, as well as many new playlists.
Also, before Season 1 ends, you can expect the League to return to multiplayer, along with some new bundles in the store for both Black Ops Cold War and for Warzone.
Multiplayer
Express arrives on time in multiplayer
More than eight years ago, a map was the site of turning points for many legendary competitive Call players of Duty, the scene of many breathtaking 1v2 games, a str aziante comeback in particular. In addition to competitive matches, Call of Duty veterans know this map as the staple of Black Ops II's map rotation, including a train to crush inattentive Operators, or to haul explosive loads across the map.
This is Express, the 6v6 hallowed terrain that joins the other classic map, Raid, in Black Ops Cold War.
From its futuristic main hall with its huge skylight, to the lethal runaway train that circles the terminal, Express will be familiar territory to anyone who remembers it from Black Ops II. For novices, on the other hand, expect information about the map on the Call of Duty blog tomorrow, which will help you discover all the secrets of Express, although this fast-paced map is rather easy to learn after a few games and some misadventures on the tracks.
To celebrate the return of Express, Black Ops Cold War Multiplayer will debut the 24/7 Express playlist, which includes a collection of game modes such as Team Deathmatch, Kill Confirmed and Domination, all available on this timeless map.
Object hunting expands to the new Season 1 maps, Armada and Crossroads Strike
Object hunting in Moscow has no more secrets for you? Have you mastered every millimeter and object of Checkmate by heart? Buckle up, four more maps are coming to this party mode with today's update.
Along with Express and Raid, Hunters will have to keep their eyes peeled for new Hidden Objects around Crossroads Strike and Armada Strike, reduced versions of two Combined Weapons maps.
These maps will be added to existing locations in the Object Hunt rotations, so get ready to hunt and hide in familiar and new territories, with your friends and the entire Call of Duty community.
Resistance (40 players)
Black Ops Cold War's broader game mode will take the squad 10 experience to a new level with Endurance mode this week.
Ten squads of four launch on Ruka, Alpine and Sanatorium to collect uranium and set off bombs during the game. After a bomb goes off, however, a new one goes online to take its place, making sure there are always five bombs available, instead of reducing the starting set of five to just one bomb. This introduces a new strategic and fast-paced action factor to these already intense 40-player battlefields.
The score cap is also doubled from 500 to 1000 during Endurance, making this the perfect opportunity to complete multiplayer challenges. Join your squad and experience the game's most elaborate map in a whole new guise.
The League is Coming
Now that the Call of Duty League enters the first phase of Season 2 , and with the return of a legendary map to competitive play, the League's debut in multiplayer Black Ops Cold War is approaching.
Coming during Season 1 Refreshed, the League is the ultimate battleground for those who want to improve and brag about their victories, with the chance to meet Call of Duty League pros as they warm up for the next game.
Based on the popularity of Black Ops 4's ranking system, the League of Black Ops Cold War will allow players to earn up to 30 Ranks during League Events. Only the best will win and reach the top of their division rankings!
Stay alert for more information from Treyarch about what to expect from the League launch in Black Ops Cold War, and get ready for the start of the 2021 Call of Duty League season on February 11 with the Atlanta FaZe Home Series.
Zombies
Rescue Samantha Maxis in "Firebase Z"
Following the destruction of the abandoned research laboratory "Projekt Endstation", a new hotbed deep in the jungles of Vietnam ... and it appears to be where Samantha Maxis is being held captive.
This is the premise for "Firebase Z", the new chapter of the Dark Aether saga that will test the Requiem Operators in a brand new location with new enemies, gameplay, mechanics, a powerful and extraordinary weapon to discover, and much more.
Get a head start on Dead Ops Arcade 3 single with advanced start
Mother Gorilla's fury is unstoppable, but if you want to take her out, you'll find a lot of help with the new mode Dead Ops Arcade 3 single with advanced start.
In this playlist, solo players will enjoy advanced starting position based on the highest checkpoint round achieved in their game of Dead Ops Arcade 3 single. For example, in the event of a defeat in Round 7, the penultimate round in the Jungle Arena, the late start playlist will start from Round 5, which is the first round in the Jungle Arena. If you die fighting Gorilla Mom, the advanced start will take you back to Round 61, which is the first round of the Boss Map, and so on.
To avoid disadvantaging players who have already completed Dead Ops Arcade 3, all stats, rankings and challenges will be disabled during Advanced Start. However, the "Back with Fidolina" objective can still be completed, making it easier for everyone to add this elusive trophy to their profile.
New Carnage map (
PlayStation
exclusive): Express
Requiem PlayStation members will need to be careful not to cross the yellow line and hordes of the undead in the new Carnage: Express map.
Follow the Dark Aether Orb in this classic map as you try to free this modern station train from zombies. Includes new types of enemies ready to derail your gold rush.
Do you think you have what it takes to survive these new threats and gather new information about the mysterious Dark Aether? Grab your partner and get ready for Carnage.
More details in the shop
During Season 1 Refreshed, Black Ops Cold War and Warzone operators will be able to show off their arsenal with massive new bundles, Seasonal skins and blueprints,
available for purchase
in the shop.
Today, the shop will be stocked with the "Zombie Slayer" bundle, which contains the legendary "Belligerent" skin, an imposing beast in crimson mask and armor. Also includes blueprints for the legendary submachine gun "Bloody Dozer", and the epic assault rifle "Crimson Dozer".
The store will begin stocking up with holiday-themed bundles next week, including the "Tracker Pack: Year of the Buffalo", containing blueprints for the "Golden Buffalo" assault rifle and "Golden Augx" tactical rifle, which fire golden bullets. Also expect to find the "Top Secret Admirer" bundle, perfect for Valentine's Day, along with the "Captain Carnival" bundle, which gives Baker a perfect outfit for Mardi Gras.
Before the season ends, the Mastery collectors will be able to pump up their arsenal with the "Retro Renegade" Mastery Bundle. Based on the success of portable cassette players in the 1980s, this bundle includes a Burst Fire Mastery Submachine Gun with a built-in Walkman, as well as five accessories that will help operators turn up the volume during the next infiltration.
Double XP Weekend Coming
To celebrate the continuation of Season 1, the Double XP event will be available on Black Ops Cold War and Warzone on all platforms starting February 5 through February 8, and PlayStation operators will receive an extra day of double XP today, February 4.
Whether you want to launch into Verdansk or Rebirth Island, rescue Samantha Maxis in "Firebase Z", or demolish your opponents in Express, this weekend is the perfect opportunity to sprint towards the title of Prestige Master, and towards the definitive Medal of Honor for Season 1: level 1000.