Final Fantasy VII Remake Intergrade, preview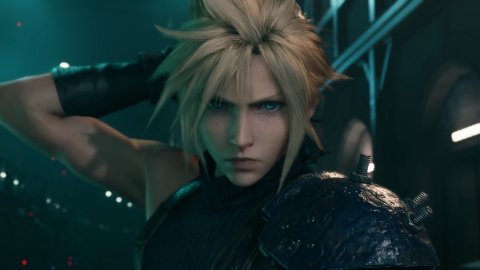 Final Fantasy VII Remake Intergrade
The leak of a possible conversion of Final Fantasy VII Remake from
PlayStation
4 to PlayStation 5 had already been running for some time, especially after Square Enix had registered the Final Fantasy VII: Ever Crisis trademark. It turns out that this is one of the two mobile titles that were presented at the same time, a sort of adventure in chapters that tells all the stories included in the so-called Compilation of Final Fantasy VII from the beginning. The other, Final Fantasy VII: The first SOLDIER, will even be a multiplayer battle royal set long before the adventure of Cloud and company. The update for PlayStation 5, however, really exists, and is called Final Fantasy VII Remake Intergrade: it will arrive next June 10, it will be free for those who already own the PlayStation 4 version, and will include a paid DLC focused on Yuffie Kisaragi. br>
The adventure of Yuffie and Sonon
To open the trailer, which was
the last of
the State of Play, it was precisely the DLC focused on Yuffie, an additional chapter that sees our cute ninja appearing in Midgar around the time Cloud is separated from Tifa and Barret after the fight at Reactor 5. Actually, the most attentive fans will have already remembered that Yuffie shouldn't have been there at th
at time of
the story, but as we have all understood by now, Tetsuya Nomura and Kazushige Nojima are rewriting the plot of Final Fantasy VII, enriching the original plot with subplots that serve to characterize the cast and the game world even better. In short, Yuffie's presence in Midgar is what we could call a retcon, and it is still too early to understand how much it will affect the general narrative.
Final Fantasy VII Remake Intergrade: here is Yuffie Kisaragi. We know that Yuffie went to Midgar to retrieve a Materia kept in the Shinra palace, and that to assist her in her mission there is a completely new character named Sonon Kusakabe: this warrior, who accompanies and protects Yuffie in her mission, fights with a stick, but in the trailer we have not seen him at the direct commands of the player, although it is highly probable that he can be controlled directly as it happened with Tifa, Barret and the others in the original title. The trailer showed us Yuffie's movement skills, that she can even run around walls and pull her shuriken to pick up items from a distance. The combat system doesn't seem to have changed that much, but it seems that Yuffie can throw the weapon and recall it as needed as a special ability; We've also seen a couple of spectacular cinematic attacks that Yuffie and Sonon perform together, but it's not clear if it's just a purposely scripted coup de grace or some kind of combined Limit.
Final Fantasy VII Remake Intergrade : Yuffie and Sonon in the new DLC. Of course, the character of Sonon represents an interesting unknown that we can assimilate to that of Roche, the SOLDIER created specifically for the Remake that Cloud faced a couple of times in the course of history, but which in the end did not change the course of events at all. More worrying, however, the short sequences that see Yuffie and Sonon grappling with members of the Deepground, a top secret military unit of the Shinra best outlined in the controversial Final Fantasy VII: Dirge of Cerberus. Although it w
as part of
the canonical Compilation, many players have preferred to forget, over the years, that mediocre adventure starring Vincent Valentine: in addition to being a disappointing title in terms of gameplay, Dirge of Cerberus was also bad on the narrative side, and introduced some of the the strangest and most forgettable antagonists of the franchise. Among them was Weiss, the leader of the genetically modified Tsviet at the helm of the Deepground.
Final Fantasy VII Remake Intergrade: Sonon Kusakabe is a new character. Weiss can be seen clearly in the trailer finale, and it brought back a number of memories that we would have preferred to have remained buried. Exhuming Weiss would mean putting our hands back on a subplot that we hoped Nomura had forgotten, that of Genesis Rhapsodos, perhaps his most controversial creation of all. After all, the Tsviet have been biologically modified with its genes, and Genesis - created for the prequel Crisis Core - reappeared in the finale of Dirge of Cerberus to take Weiss's body with it. Nomura has never continued this subplot and our fear is that his obsession with the singer Gackt, who lent the features and the voice to Genesis, could lead him to exploit the Remake to tell a story that apparently is still in his head. . Fortunately, according to what Nomura himself stated in a recent interview, Weiss should only be an optional boss in the VR simulator built by Chadley, a cameo that he had strongly wanted already in the original version last year and that the team had not been able to implement. until today.
The PlayStation 5 version
Final Fantasy VII Remake Intergrade: Midgar on PlayStation 5. Let's not wrap our heads up sooner than expected, in short: maybe the storyline with Deepground that Nomura and Nojima have in mind is much more interesting than we think and we are worrying about nothing. After all, Final Fantasy VII Remake was a great game, net of a final chapter that caused a lot of discussion, for better or for worse. We've already talked about this extensively, so let's focus on what
we know about
this PlayStation 5 conversion. First and foremost, and this is a good thing and fair, the update will be free for those who already own the PlayStation 4 digital or disc version. The DLC dedicated to Yuffie will instead be purchased separately, only after upgrading to the PlayStation 5 version: we do not yet know how much it will cost, but it should be around 10-15 euros.
Final Fantasy VII Remake Intergrade: sweet Aerith Gainsborough. In our review, we told you about a sumptuous technical implementation that lent the side to some smudging in terms of low resolution textures. It seems that the PlayStation 5 version has solved this flaw, especially as regards the images that are the background in some shots, although we do not know if the much-discussed doors, which were actually very ugly, have been visually improved. In addition to textures and resolution, the visual update also improves lighting, fog and frame rate. In the options we will
be able to
choose between a Graphics mode, which ensures that the game maintains the resolution at 4K, and a Performance, which instead aims to consolidate the 60 frames per second. Loads have also improved significantly, much faster than those of the PlayStation 4 version, as expected from this type of upgrade.
Final Fantasy VII Remake Intergrade: a fight. There are some improvements to the so-called quality of life. The first is the addition of a new difficulty level, called Normal (Classic), in which the controlled character attacks and defends automatically during fights, letting the player concentrate on choosing commands and skills. Unmissable, then, the Photo mode, which works just as we would expect: it is possible to pause the scene and change perspective, angle, framing, filters and all the ambaradan to take the perfect photo and then share it on social networks. All very interesting, for those who have not yet played this splendid remake, reboot, reimagining or whatever you want to call it, and perhaps a negligible hair for those who have already dedicated several hours to the PlayStation 4 version, but we must admit that it leaves us a bit perplexed. the decision to propose paid DLCs within a project born as an episodic of which we do not yet know the length, nor the
release date of
the second chapter.
The update to PlayStation 5 of Final Fantasy VII Remake was only a matter of time, but much less obvious was the announcement of a paid DLC, exclusive to PlayStation 5, and focused on Yuffie. A DLC that moreover could dust off skeletons in the closet like Dirge of Cerberus, going to crowd a story that Square Enix has yet to finish telling. Did we feel the need for this DLC? Not necessarily, but it's impossible to want Yuffie badly and we're still curious to play it. The unknowns, understandable, remain so for now.
CERTAINTY
We are happy to see Yuffie in Remake version Important improvements on PlayStation 5 DOUBTS The history of the DLC could take a worrying direction Price and duration of the DLC still shrouded in mystery