Pokémon Shining Diamond and Shining Pearl, the preview of the Sinnoh remakes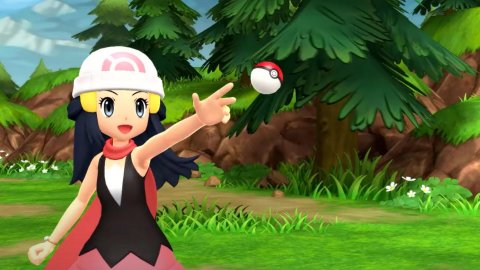 Pokémon Shining Diamond and Shining Pearl
They are called Pokémon Shining Diamond and Pokémon Shining Pearl: two very long names to pronounce, but also the concrete realization of a dream shared by all fans of the pocket monsters branded Game Freak. For years now, the smash of Sinnoh remakes accompanied every
Nintendo
Direct, who knows how many have exclaimed "finally!" seeing the announcement trailer. Announcement that, as Nintendo has accustomed us in recent years,
will not be
followed by years and years of waiting, on the contrary: Pokémon Shining Diamond and Pokémon Shining Pearl will arrive on store shelves (and in digital version on Nintendo eShop) as early as next autumn , just before Christmas 2021. Strictly exclusive to Nintendo Switch. Let's take
a look at
all the news in the preview you are reading.
An extremely faithful remake
It was the summer of 2007, when Pokémon Diamond and Pokémon Pearl debuted on Nintendo DS: the first Pokémon game in exclusive for the touch screen console of the Grande N, with all the news that could be expected, including the debut of the fourth generation of pocket monsters. Fourteen years have passed since that summer, and it is clear that now you will
be able to
enjoy the remakes on cutting-edge hardware, unprecedented, unexpected at the time (as well as on your home TV, as well as in portable mode). And if that hardware is used properly ... that's a different kettle of fish.
A first detail that is important to note: the operation will be extremely faithful to the original titles. The first trailer shared by Nintendo wanted to show the new graphics and the extent of the operation, but above all the underlying philosophy, which immediately appears to be very conservative.
Pokémon Shining Diamond and Shining Pearl: the new graphics Not that that's a problem, mind you. Indeed, someone feared that the formula of Let's Go Pikachu and Eevee would also be resumed in the fourth generation remakes, with everything that would have involved the gameplay side (shake the Joy Con, throw the Pokéball, smile). For now, no new mechanics or content
never seen before
(but something will surely come out): Nintendo has shown in all its renewed beauty the Sinnoh region, the starters (Chimchar, Piplup and Turtwig) the main characters, and some iconic places of the game world. Everything was as we left it in 2007, only "updated". Or at least, it seems so for now.
A new style
Pokémon Shining Diamond and Shining Pearl: a phase of city exploration What Pokémon Shining Diamond and Pokémon Shining Pearl look different from their respective titles for Nintendo DS it is obvious, almost banal. But less obvious, until yesterday, was their departure (graphically and visually speaking) even from more recent titles such as Pokémon Sword and Shield, and Pokémon Let's Go Pikachu and Eevee. In short, we have opted for a new style that does not want to distort or make huge leaps, but neither does it want to re-propose what has already been seen in recent times.
So in every context (excluding battles) the avatars of the players and the other characters will approach a chibi style, against the more generically cartoonish one of the Let's GO series; abysmal is the distance from two other very recent chapters such as Sword, Shield and attached DLC. The writer did not particularly praise this choice in the artistic direction, but he did not criticize it either: it is clear that Nintendo wants to use all its resources in another, Pokémon side, and this "other" is obviously the open world title Pokémon Legends Archeus .
For Pokémon Shining Diamond and Pokémon Shining Pearl he has evidently chosen to play it safe by proposing a winning card: and a remake is always a winner. It strikes in the heart the fans of the time, in the mind those who have not already gutted the respective generation. In this way, the market teaches, it is bought a little by everyone: the graphic-technical aspect, for the Pokémon series, has never represented a problem on the consumers' side, who always complain but then gladly put their hand to their wallets. That the artistic sector can undermine the success of the "rediscovered" Diamond and Pearl is really impossible.
Some hope
Pokémon Shining Diamond and Shining Pearl: a pokémon in action From Pokémon Shining Diamond and Pokémon Shining Pearl
for Nintendo Switch
we expect quite simply a faithful reproduction, almost 1: 1, of Pokémon Diamond and Pearl for the Nintendo DS, with just a few "rejuvenation" and high definition graphics. This also applies to us: it is perhaps better not to distort the old game formula too much. We are not talking about the umpteenth revival of Kanto, which was also updated in Fire Red and Leaf Green, then again (gameplay side) in Let's Go Pikachu and Eevee. Diamond and Pearl were long overdue, and now that they are ready to return they cannot risk displeasing the loyal ones. So it doesn't seem that Nintendo wants to risk unreleased mechanics, never-before-seen content or anything like that. For now, at least.
Some hope, however, is always legitimate. We just want to hope for a couple of possibilities: the first is that of mega-evolutions. Why not reintroduce them, to vary at least a little the main adventure, proposing new forms also for the fourth generation starters? We do not dare to think of something really new: for that we
will have to
wait for Pokémon Legends, or the successors of Sword and Shield. Otherwise there would be at least a second idea that deserves to get back into action: remember the mechanism of the underground mines of Sinnoh? Where did they go to find useful tools and fossils? It was also possible to meet your friends there, via local communication and Wi-Fi. Here, think about this mechanic with online support. More than a claim, it would actually be the least questionable.
Pokémon Shining Diamond and Shining Pearl are the long-awaited remakes of Sinnoh: a dream that has finally been fulfilled, or that will soon be, in time for the next one Christmas. At first glance it is already clear that Nintendo Switch will allow you to play a faithful reproduction of the "old" Sinnoh: the atmospheres, the places, have remained intact, and now they are also in high definition. The artistic, stylistic choices and the design of the main characters, however, did not convince everyone: the writer was simply impassive. It will be that what matters, as always, is the gameplay: but after so many years, perhaps we could have believed a little more in the fourth generation, even on a technical level. Nintendo Switch knows how to work wonders, with a little goodwill from the developers. This will not be the case: we hope at least for some surprises in the months to come.
CERTAINTY
"Sinnoh Remake", finally! The fidelity to the Nintendo DS versions is evident It will not make you wait too long, compared to the new projects DOUBT The new style does not convince everyone For now, no news of any kind seems to be expected Technically speaking it shines much less than the mentioned gems