Monster Hunter Rise, interview with producer Ryozo Tsujimoto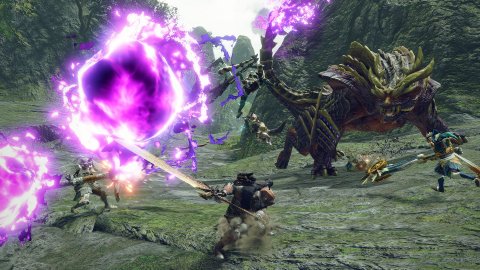 Monster Hunter Rise
Monster Hunter Rise will be the title for Switch
that will dominate
this first half of 2021: out at the end of March, the new episode of the famous Capcom series will return to the
Nintendo
console after a few years of pause in which it has played on PC,
PlayStation
4
and Xbox One
and will arrive on PC early next year. For hybrid console owners who have only played the Monster Hunter Generations Ultimate conversion from Nintendo 3DS to Switch some time ago, this will be a new experience, closer to Monster Hunter World in terms of gameplay. Monster Hunter Rise, however, improves the dynamism of the clashes even more thanks to the introduction of the brand new Wire Insect. We talked about it thoroughly in our recent trial of the demo that was temporarily available on eShop, but Capcom also gave us the opportunity to watch a couple of real hunts and to interview producer Ryozo Tsujimoto and director Yasunori Ichinose .
Interview with the producer and director
Yasunori Ichinose and Ryozo Tsujimoto. Have you ever thought about implementing swimming and underwater combat again in Monster Hunter Rise?
Ryozo Tsujimoto: We admit that every time a
new game in
the series comes out, fans always ask us why we haven't implemented some features that have appeared in previous titles. In reality it is not that we want to exclude them, but we prefer to focus from time to time on a new concept that changes the gaming experience. In this case it is the Wire Bug, which changes the way players move and move. Mixing such different dynamics would have been difficult and a little bit of everything would have come out of it. We prefer to choose our goals carefully, instead of putting it all together.
Thread Attacks reminded us of Monster Hunter Generations Ultimate Hunting Arts that weren't present in Monster Hunter World - why did you decide to bring them back into play right now?
Ryozo Tsujimoto: It's an interesting comparison that makes a lot of sense. We didn't want to copy them directly from Generations Ultimate: our intention was to implement the Wire Bug in various ways, combining it with the combat system and not just with the movement. At that point the idea of ​​the Wire Attacks came by itself and we were inspired only a little by the Hunting Arts.
Monster Hunter Rise: the new Tetranadon. Can we expect the same great support that Monster Hunter World has received in the two years following its release?
Ryozo Tsujimoto: We have great and lasting support in mind for Monster Hunter Rise, as has already happened with past titles in the series, but obviously we
will have to
change something for the simple reason that it runs on a hybrid console that does not it only works on the TV. We will reveal more details in the future, but you can definitely expect additional missions with special rewards like Armor Styles, Weapons, and so on.
What kind of challenges did you face while developing Monster Hunter Rise for Switch?
Ryozo Tsujimoto: It was the first time for us developing on Nintendo Switch from scratch, so we had to learn how to work with the new hardware and it wasn't easy at first. However, having used Capcom's proprietary RE Engine, we got used to it quicker than expected and ultimately were able to move forward with the development much more serenely. With excellent results, I would add.
In this regard, is there anything that you would have liked to implement and that you may not have succeeded in due to time or resources?
Ryozo Tsujimoto: I am very satisfied with the work done with Monster Hunter Rise, which I think is the best portable title of the series from a purely technical point of view. Maybe it would have been nice to take advantage of the Switch's unique properties, for example the touch screen or motion control, but since the game must also work on a normal TV we are happy with it.
Monster Hunter Rise: also the Bishaten it's a whole new monster. We saw the latest Nintendo Direct trailer where you showed the Fury and we were wondering how this new mechanic worked ...
Ryozo Tsujimoto: The Fury - Rampage, in English - is a new feature of Monster Hunter He laughed which is explained in the game's storyline. Basically it is a calamity that afflicts the village of Kamura: every now and then the monsters attack it all together, and at that point all the inhabitants, and not just the hunter, join forces to repel them. You can consider it a special mission that serves to better outline the village and the cast of supporting characters, who will all be involved in the action. To win you will not only have to fight monsters, but perform various tasks. It will be a lot of fun.
In this regard, Monster Hunter World's multiplayer sieges like the Safi'jiva or the Kulve Taroth were truly engaging - can we expect something similar in Monster Hunter Rise?
Ryozo Tsujimoto: We have decided to exclude the sieges from the new content for a matter of design: to play Monster Hunter Rise it is not strictly necessary to connect to the Internet, and the multiplayer missions can also be tackled locally. For this reason there will be no content that requires more than four players - we have designed them all with small teams in mind.
Monster Hunter Rise: Nintendo will produce a Magnamalo amiibo. In the latest trailer we talk about the Apex monsters: are they the same ones we hunted in Monster Hunter 4 Ultimate?
Ryozo Tsujimoto: Actually they are a little different from those of Monster Hunter 4, but they are still stronger and more lethal monsters that have completely new attack patterns. The Arzuros Apex, for example, is much more challenging than its normal counterpart. Some of them may even attack the village during the Rampage. We thought it was a fun way to further challenge hunters.
The million dollar question: Will there be the Master Rank?
Ryozo Tsujimoto: We haven't prepared a Master Rank for Monster Hunter Rise, but there will still be a lot of missions to complete as the village missions are separate from the multiplayer ones.
To finish, we really have to Ask yourself: how exclusive will Monster Hunter Rise be for Switch?
Ryozo Tsujimoto: (laughs) In fact, we are proud to announce that Monster Hunter Rise will also arrive on PC in early 2022. For now we can't tell you more, but we hope you enjoy the game in any format. you will choose
to buy it
.
Monster Hunter Rise: the Mizutsune was also present in the demo.