Final Fantasy 7 Remake in the PS Plus of March 2021 but not for the PS5, according to another clue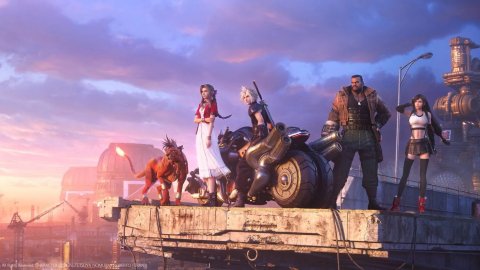 Final Fantasy 7 Remake in the PS Plus of March 2021 but not for the PS5
Final Fantasy 7
Remake may indeed be included in free PS Plus games in March 2021, but it may not be the upgraded version for PS5, based on another pretty convincing clue.
In this case it's not about of an insider, but of information disseminated by
Sony
itself: as pointed out by the Twitter user aibo, in fact, on the page of the Japanese PS Store of Final Fantasy 7 Remake Intergrade, or the upgrade for PS5 of the Square Enix game, it emerges that the original, namely Final Fantasy 7 Remake for
PS4
, is included in the PS Plus catalog.
The oddity is that, in the note shown in small print, it is reported that "Final Fantasy 7 Remake is included in PS Plus from 1 March ", thus anticipating what should happen next week. Considering that Sony has not yet (strangely) announced the free games scheduled for March 2021 for PS Plus subscribers, this may have been an oversight by Sony or Square Enix that anticipated the announcement, in any case the source seems decidedly convincing.
The only doubt that remains is whether it is an initiative dedicated only to the Japanese section of the PS Plus or also to the West, but considering that we are talking about Final Fantasy 7 Remake in the PS Plus of March 2021 for a few days already, it is likely to be arriving everywhere.
The limitation, however, would be given by the absence of the upgrade for the PS5 version: as always referred to in the notes on the Japanese site, we read in fact that "PS4 version of Final Fantasy 7 Remake obtained
for free with
PlayStation
Plus membership cannot upgrade to PS5 version for free." So, in case, Final Fantasy 7 Remake Intergrade should be purchased separately. However, we await the official announcement of the PS Plus games for March 2021 at this point, which could take place in the next few hours.
Source
---
PS4 and PS5 owners can get Final Fantasy VII Remake for free with PlayStation Plus in March
Final Fantasy VII Remake, the modern retelling of the 1997 PlayStation classic, will be free for PlayStation Plus subscribers beginning March 2nd. It is important to note the PS4 version of Final Fantasy VII Remake available for users with an active PS Plus subscription will not be able to receive a PS5 digital version of the game, which was announced yesterday at Sony's State of Play event.
Final Fantasy VII Remake launched last April exclusively on PlayStation 4 and serves as the first of an unknown number of entries in an episodic retelling of the original game. The game is also backward compatible on PlayStation 5, but yesterday's State of Play confirmed that a next-gen version of the game will release on June 10th and will take full advantage of Sony's next-gen console, with faster loading times, different graphical mode options, and a new episode focusing on the character Yuffie.
Other games eligible for download next month include the PS4 versions of Farpoint and Remnant: From the Ashes. Also coming to PS Plus is a digital copy of Maquette, which is a new game launching on PS5 on March 2nd. Destruction AllStars, one of the new PS5 titles released this year, will also be free until April 5th.