Games with Gold March 2021, from Warface: Breakout to Metal Slug 3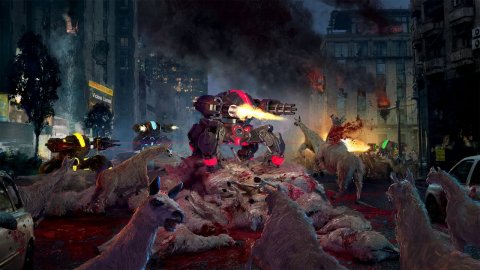 Games with Gold March 2021, from Warface
February is ending and it's time for the usual review on
Games with Gold
next month, or March 2021, which brings as usual four
free games for
Xbox
Live Gold
and Xbox Game Pass
Ultimate subscribers. After the hustle and bustle of February, with the threat of an increase in the cost of the Xbox Live Gold subscription - immediately returned with a lot of excuses given the (understandably) angry reaction of users and also the sector press on the internet and social media - let's go back standard rhythms and, unfortunately, also to the quality of titles to which the service has now got us a bit accustomed for a few months now.
Games with Gold March 2021 let's see the calendar with the four free games of the month
It seems pretty clear that the rather lively
month of February
2021, which had proposed five games including Gears 5 optimized for
Xbox Series X
| S and other interesting titles , was perhaps due to the need to have any increase in the cost of the subscription accepted more willingly, since there is no trace of the fifth title in this new mandate. So let's go back to the classic setting with two games for Xbox One and two games for Xbox 360, without specific games for next gen or specially optimized for Xbox Series X | S. Even in terms of the overall value of the offer we are not exactly facing a shocking thing, with about 65 dollars of evaluation for the four games in question, demonstrating how the initiative continues to languish a bit in that of
Microsoft
, perhaps waiting for a relocation that may never arrive (and if the idea was to double the price, we can still say "better this way").
Warface: Breakout - Xbox One, March 1 to 31
As an online multiplayer shooter, Warface has never really shone for specific originality or qualities, but there's no doubt that enjoyed wide popularity, especially on the Russian market initially but also in the rest of Europe and North America at a later time. Warface: Breakout is an attempt to give greater tactical depth to the somewhat generic setting of a classic first-person shooter, an attempt not fully successful but still appreciable, especially if it is offered for free as in this case. While the original chapter is a free-to-play with optional micro-transactions, in fact, Warface: Breakout is a standard game distributed as a premium, so it normally has its price. The idea is to move more on the competitive team tactical shooter, thus looking a bit at Rainbow Six: Siege but above all at Counter-Strike: Global Offensive, which continues to dominate the environment, on PC, with mind-boggling numbers. . By comparison, Warface: Breakout offers a less polished experience on the front from years and years of refinement and probably less selective too, which can be satisfying to a wider audience. A team of attackers and a team of defenders compete within various maps, trying to trigger or defuse a bomb, with all the winning actions performed in combat resulting in the accumulation of credits to be invested in the purchase of weapons and equipment for the next round.
VALA: Vicious Attack Llama Apocalypse - Xbox One, March 16 to April 15
A twin-stick top-down shooter where armored mechs fight without posing against swarms of angry llamas can be a very strange thing in itself, but to be honest the most surprising thing is that Jeff Minter has nothing to do with this, as you might easily think from reading the short and insane description. of the game. VALA: Vicious Attack Llama Apocalypse is the work of RogueCode, a team that evidently developed the same obsession for South American camelids as good old Minter but following their own path, or perhaps inspired by him, who knows. In any case, the facts are these: in an unspecified future, a cultist organization called the "Llamanates" has decided to summon hordes of demonic lamas to exterminate the human race, turning the world into a post-apocalyptic hell in which terrible herds of hopping and lethal ungulates roam around. The only hope of humanity is entrusted to a few soldiers (a maximum of four in the game) armed with mighty combat mechs, able to unleash a shower of fire against the demonic hordes. VALA is a twin-stick shooter with a rather classic setting but with a rather crazy premise, which determines very particular situations but also very traditional, as far as the genre is concerned. All this is further enriched by the cooperative multiplayer, which obviously represents the best way to enjoy the assorted destruction offered by the various levels of the game.
Metal Slug 3 - Xbox One and Xbox 360, from 1 to March 15th
It's hard to find something to say that doesn't sound trivial about a game like Metal Slug 3. It is one of the symbolic games of that epic of bitmap and glorious gameplay that was the classic SNK, here revived in excellent form and still perfectly enjoyable on modern platforms. It is a scrolling shooter of the "run and gun" type, characterized by cartoonic graphics that make it a sort of work of art in pixels, as well as being a rather challenging and fun arcade. The version for Neo Geo MVS came out in 2000, but after 21 years it still remains an impressive sight: inside we find all the typical ingredients of the series including over the top characters, crazy situations, transformations, various vehicles and gigantic bosses, as well as obviously to bullets and explosions everywhere. The era of the 100 Mega Shock has long passed but the dazed impression that we find ourselves taking by playing a classic like this is always the same, which is why we invite you to download without any hesitation, as soon as it is made available on 1st March. The reworked version for Xbox 360 and compatible with Xbox One
and Xbox Series X
| S was released in 2008 on Xbox Live Arcade, with a good resolution upscale and essentially the same gameplay, but with the very important addition of online cooperative multiplayer, which remains probably the best way to tackle the shooter in question.
Port Royale 3 - Xbox One and Xbox 360, March 16 to 31
The life of the trader / adventurer in the Caribbean of the 16th century is more complex than you might think and Port Royale 3 can give you a more or less precise idea of ​​it. It is a management software that takes into consideration numerous socio-economic and political aspects, all revolving around the Caribbean region which, at the time in which the game is set, was the object of attention and expansion by the four major European maritime powers. : France, Spain, England and Holland. Starting as a young merchant of high hopes, practically on a nutshell, we must understand which trades to cultivate, how to weave the best trading relationships and expand our influence as we rise through the social ranks to become true rulers of the Caribbean colonies . After the excellent second chapter, Port Rayale 3 marked a bit of a qualitative decline in the series, especially due to problems in the balance and internal equilibrium of the systems that make it less profound and interesting than its predecessor, but it is still a excellent management characterized by a very fascinating historical setting. There is a good freedom to range between different possibilities and to choose how to carry on their history between the Caribbean colonies, even beyond the fundamental choice between the two available campaigns, all things that will not fail to interest those who do not do it. discourage you from a slower than usual challenge.