Animal Crossing: New Horizons, the December tour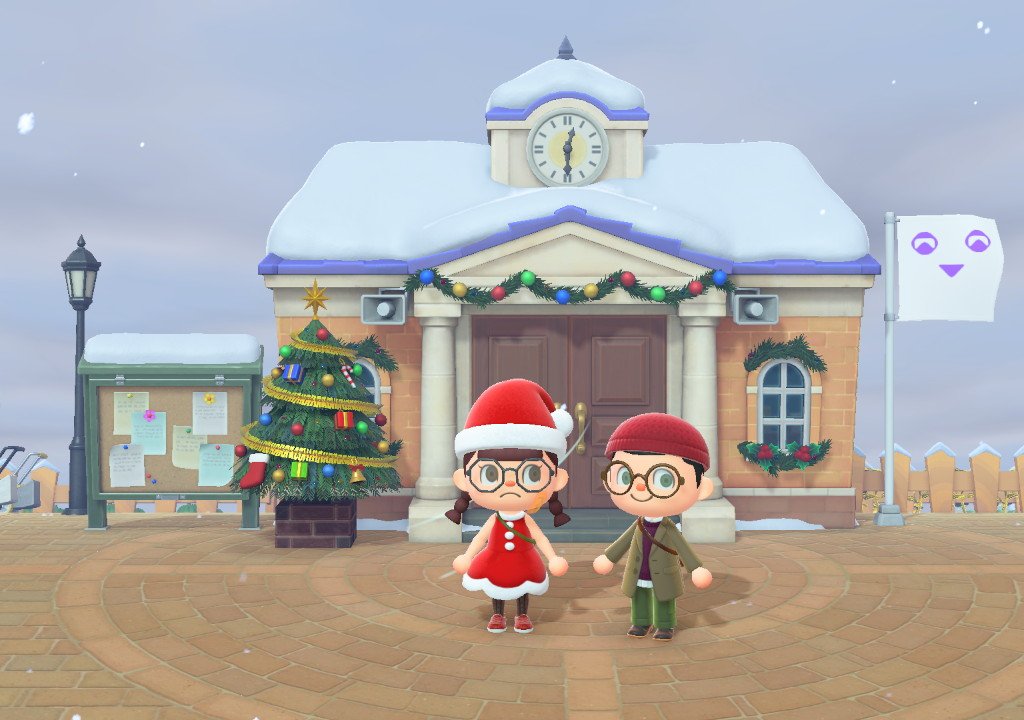 Finally here we are! Christmas is upon us and Animal Crossing reminds us insistently with each passing day.
Our islands have changed a lot this month, but let's see the main news in detail in this Animal Crossing: New Horizons December tour .
Snow is falling
Finally, the snow has made its debut in this new chapter of Animal Crossing. Our island is covered with a white mantle that also stands on trees and houses.
Speaking of houses, the most observant will have noticed a change from last month. We have, in fact, customized our home in such a way as to give it a more Christmas touch. We admit we are very satisfied with the result, but we absolutely want to know your opinion about it.
Continuing along the usual road, heading towards the commercial area of ​​the island, we can see the first cedars decorated for the occasion. If we shake them, some Christmas decorations may fall off, useful for creating themed items. Ah, here's one! In this case we have found a blue one, but there are different colors.
The day of toys is near
Arriving at the Shop, we can immediately see how the twins have dressed up properly their shop to reflect the time of year. Let's go inside to see what they sell today.
Look: on the left we find a new space dedicated to toys, essential for toy day, during which you can exchange gifts with the other inhabitants of the island.
The more you
give, the more you will have in return.
Now let's leave the two brothers' shop and go to Ago e Filo. Here we can find a wide selection of seasonal clothes, from down jackets to wool hats, and then also to Christmas costumes, such as the reindeer or Santa Claus one.
Snowflakes
Now we take you to the service center. As you can see, even here the Christmas air did not take long to arrive (highlighted by a Prince in great shape).
But wait. Yep, that's a snowflake. It's time to take out the screen and try to catch it, as these elements are useful for the realization of different projects.
Well, let's overlook the fact that we have missed two in a row and move on.
But look at the case! This you see here is Carlotta, the new neighbor who moved to the island just the other day, taking the place of the lovely Semola.
It was, among other things, her spontaneous choice, as she moved without any request from us, passing directly through Tom Nook.
How not to make a snowman
Now we take you to a nice clearing to show you one of the news key of the month. As you can see, two snowballs were created (obviously, we didn't even have a measly square of free land, so what you see is the place where the pumpkin carriage was, just beyond the cedars we showed you. at the beginning).
Now that we have two nice balls (don't be mischievous), we can build our snowman.
First
you have to
roll the balls, so that they become bigger (we are extremely sorry, but today it goes like this). You see, exactly how we are doing.
Oh! That thud you heard was probably Carmelo diving into the water. We certainly didn't knock one of the balls into the river. Imagine! Just a moment as we enter the house to recharge the game world.
Here, as you can see there are still two balls and, since we are practically certain that this
is not on
ly a fact but also one metaphor that perfectly encapsulates the sensation you readers are experiencing right now, let's go fast.
Let's roll the icy spheres a little to make them increase in size and then place them
on top of
each other.
Well, let us introduce you to Pallino, our snowman (it's a bit weird, but we were in a hurry; that's just for information).
The bigger your Pallino, the more he gets will thank you with various themed rewards. However, as today is his "birthday", he still gave us a project.
A villager joined the battle
Just as we were about to wrap up, a another inhabitant of Anselmo, already dressed up, among other things (although there are still a few days to Christmas and they do something like eight degrees below zero on the island). home and, from our music room in the cellar, we greet you and wish you a Merry Christmas and a Happy New Year, looking forward to more adventures within Animal Crossing: New Horizons.