PlayStation Plus: Discover the included PS4 and PS5 games for November 2020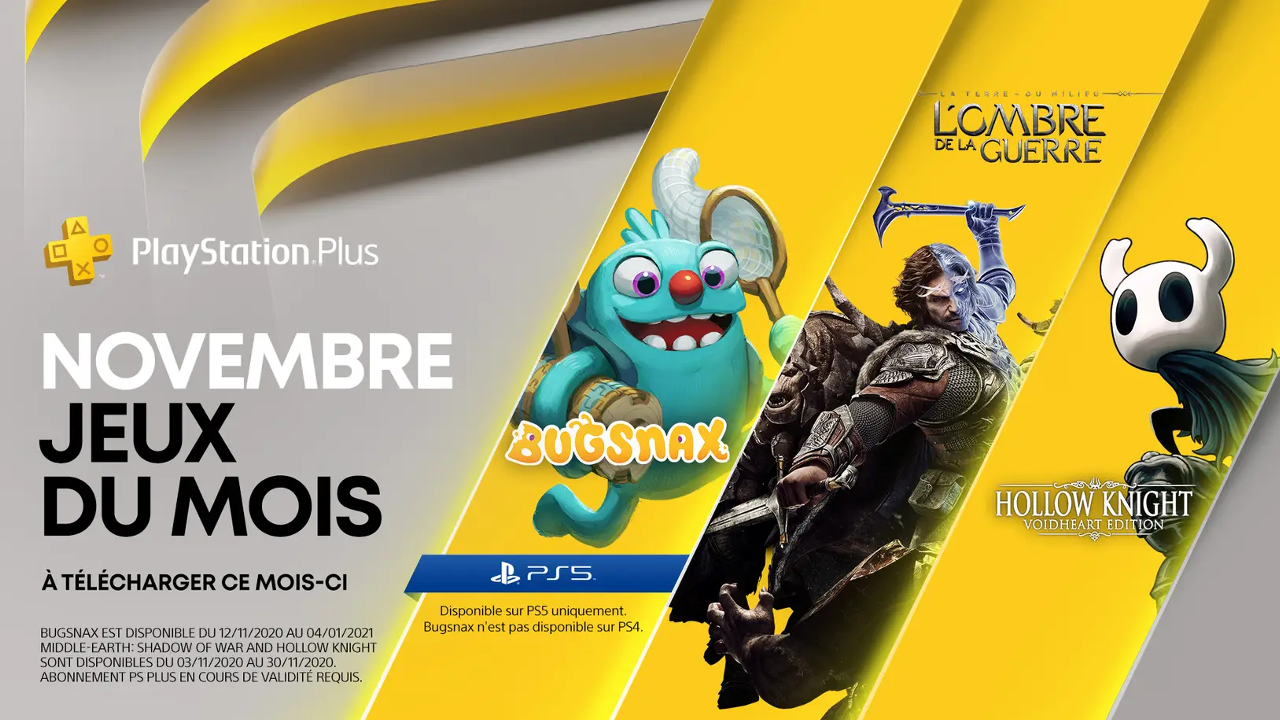 Like every month,
PlayStation
Plus subscribers can download and add to their collection cult titles ... and very soon, the first nuggets of the PlayStation 5. Here are the games included for November 2020!
Bugsnax (PS5)
After Fall Guys: Ultimate Knockout, it is the turn of another colorful production to be available to PlayStation Plus subscribers upon release: Bugsnax (PS5 version). This adventure game, whose main theme has probably echoed in your head all summer, revolves around a strange island where creatures who are half-insects and half-snacks live in communion. You play as a journalist responsible for investigating and chasing these little babes to better study them. But some are harder to catch than others!
Middle-earth: Shadow of War (PS4)
Shadow of Mordor sequel, Shadow de la Guerre marks
the return of
Talion and the elven ghost Celebrimbor, still determined to end Sauron's reign. With a new ring of power capable of brainwashing your enemies, your
goal is to
weaken the Dark Lord's army by recruiting or weakening its orc leaders. Incidentally, the nemesis system from the first installment is back, with enemies that will remember you and make it difficult for you if you spare them.
Hollow Knight: Voidheart Editon (PS4)
If you don't mind the difficulty, Hollow Knight: Voidheart Edition has plenty to spare! This 2D metroidvania tran
sports
you to an underground world plagued by a mysterious infection - the "Scourge" - and populated by terrifying creatures and bosses. With the help of a simple sting and skills to unlock as you progress, explore this fallen realm and bring to light the secrets hidden there. A task that will require rigor and perseverance, be warned!
Download over 24 games per year, included with PlayStation Plus, and enjoy other perks like access to online multiplayer, exclusive PS Store discounts, and 100 GB storage in the Cloud.
Discover the games offered on PlayStation Plus