Grand Festival Gaming: discover the full program of the event!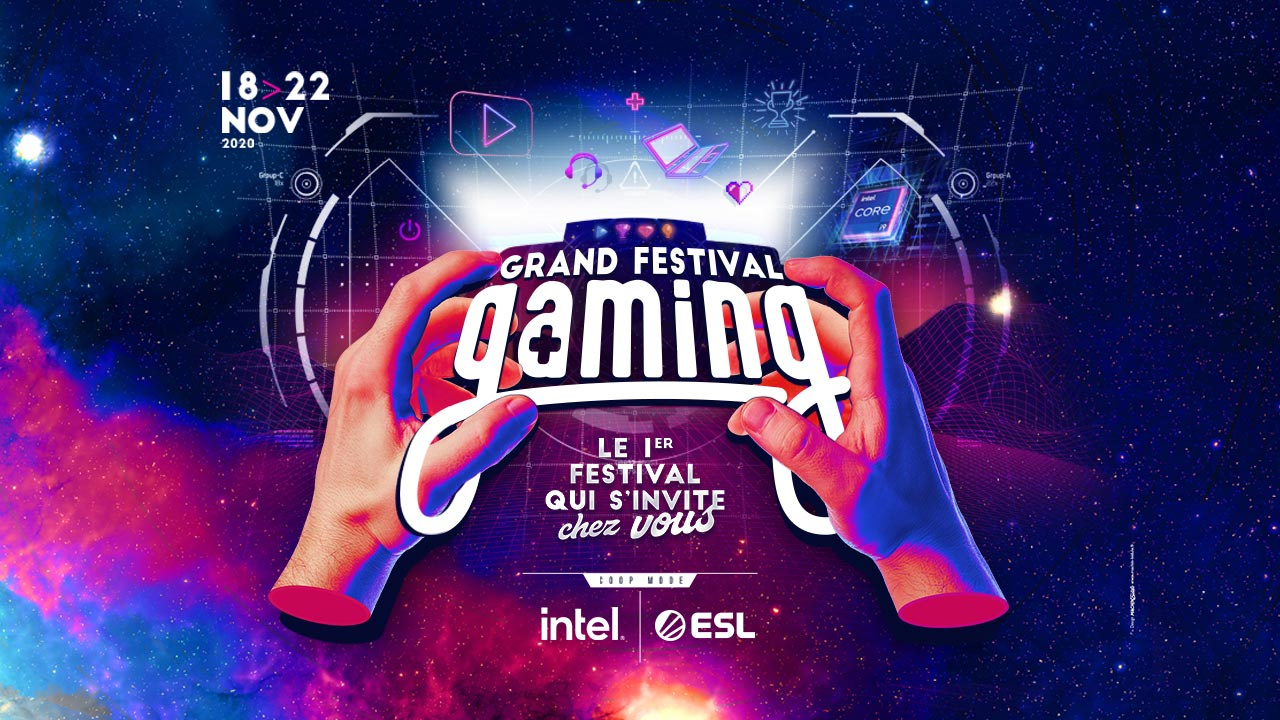 Organized by Intel and ESL from November 18 to 22, the Grand Festival Gaming is the first event dedicated to video games and technology coming to your home. Competitions, shows, conferences ... Here's what awaits you!
Thanks to the support of French and international players from the world of video games and technology, the Grand Festival Gaming will allow you to experience or participate to unique experiences from the comfort of your home, on your PC or smartphone. The festival will be more particularly to be followed on Twitch, via four thematic channels: Esport, Entertainment, Innovation and finally a main channel which condenses the best of the three other channels, in addition to offering exclusive interviews.
Sur these channels, you will
be able to
follow, according to your desires, esport competitions, entertaining programs, animations or enriching conferences. Find out below what the Grand Festival Gaming has in store for you for five days!
The competitions
Intel Extreme Masters on CS.GO Grand Final of the ESL National Championship on CS.GO Valorant Grand Invitational by Intel RPZ Challenge on Fortnite with Doigby
The broadcasts gaming
Wednesday, November 18
Two shows with Game One A show on Gaming in 8K with Labo Fnac
Thursday, November 19
A surprise show with MCES, on the sidelines of the RPZ Challenge semi-final A retrogaming show presented by Recalbox
Friday, November 20
A PC show as a work of art with talented modders An AOC Gaming Rocket League Challenge show A New episode of #LevelOne by Game One
Saturday, November 21
A show on
Call of Duty
: Warzone presented by Asus Rog, with Doigby and LockLear A special Call Of Duty show with Juliette Arz, ChowH1 and Zack Nan Un Intel show dedicated to Sport & Gaming One hour live with Kayane on a PlaySt hit ation 5
Sunday November 22
A program to learn all about Cosplay A debate refereed by Intel on the eternal match between PC and Console, with Domingo and Kayane RPZ Challenge Final on Fortnite with Doigby A special editing program of PC presented by Asus ROG
VIVATECH PROGRAMMING
Every day, a theme on
the future of
video games,
esports
and new technologies, will serve as a common thread to allow startups to present their solution as part of the Startups Challenge. This challenge, whose winners will benefit from VivaTech pass, Intel hardware and hours of mentoring provided by ESL and Intel mentors, will also be an opportunity for the biggest experts and gamers in the sector to decipher the trends. of tomorrow, through conferences and masterclasses with rich and varied content. Below, the themes of each day:
Wednesday November 18
WELCOME TO THE FUTURE - Decryption of future technologies and their possible uses in the world of gaming
Thursday 19 November
LE BIG BANG DE L'ESPORT - All about electronic sport and new monetization models, with the support of France Esport
Friday, November 20
GAMIFICATION FOR GOOD - Discussion on the square social in gaming (video games and learning, the place of women in gaming and esport, gaming as a vector of inclusion ...)
Saturday, November 21
IT'S TRAINING DAY - Analysis of link between gaming, sport and health with high-level athletes and recognized gamers
Sunday 22 November
VIDEO GAMING PROFESSIONS - Presentation of the video game profession repository with the SNJV and discussion around the opportunities for start your own business See you this November 18 on Twitch to assist r at the Grand Festival Gaming!
Find out more about the Grand Festival Gaming