Lonzo Ball Lauds LeBron James and Will Never Forget Playing Alongside Lakers Star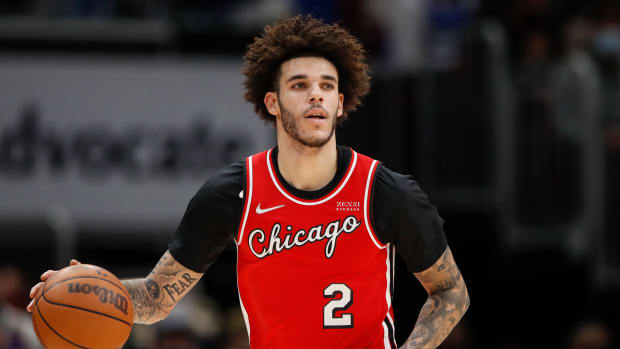 24-year-old Lonzo Ball completed a successful debut season with the Chicago Bulls but missed out on his team's run to the playoffs due to a meniscus tear but is nonetheless a talented player who is very much on an upward curve in his career.
The Bulls secured a place in the post-season for the first time in five seasons before being dumped out by the Milwaukee Bucks in five games. Billy Donovan's side is nonetheless a team that is showing real potential, and any Chicago fans looking to back the United Center team in 2022-23 should check out which sports betting sites are the most rewarding for punters and visiting sports-betting-ny.com is a good place to start if you want to get the inside scoop on where to place your bets.
Ball recently opened up on his time with the Los Angeles Lakers and specifically the experience of playing with NBA legend LeBron James, which he did for two seasons prior to leaving for the New Orleans Pelicans in July 2019.
"He was my favorite player growing up. Being able to share the court with him and learn from him was a moment in my life that I will never be able to forget, that I will never take for granted." Ball stated.
The California native then touched upon the chance he got to play for his home state NBA team;
"California is my home...it's a great opportunity that I will always try to see. Being a Lakers fan growing up, watching all the greats, and then being able to put on that jersey was great."
Ball is likely to miss the start of the season with the injury he suffered in January, and though initially his time out was set to be for six to eight weeks, it's taken longer for the Bulls star to get back on the court.
His knee has not responded as he would have hoped, and the pressure he put on himself to get back into action for Chicago's playoff run has actually led to an extended break from the game.
One hopes that he can return at around the same level he reached prior to his injury, as Ball was starting to really make a big impact on Donovan's side. A recent update on his status was reported by ESPN;
"Bulls guard Lonzo Ball is expected to miss training camp and is doubtful for the start of the regular season because of lingering pain and discomfort following meniscus surgery on his left knee in January; sources told ESPN on Friday. While a source reiterated that Ball's knee is structurally sound after he underwent arthroscopic surgery on Jan. 28, he continued to experience pain while attempting basketball activities as he spent the summer rehabbing in Los Angeles."
That report is somewhat contradictory to comments made by NBC's K.C Johnson, who said earlier this month;
"I've heard way more positive than negative," Johnson said. "I'm not saying that means he's out there opening night. I'm not saying that he's playing all 82. What I'm saying is the skepticism that was earlier in the offseason has moved a little bit towards the optimism side."
Either way, Billy Donovan won't want to rush Ball back into action as he knows how pivotal he would be in Chicago's ongoing push to become a real force in the NBA once again.