Batman: ithileryn's Poison Ivy cosplay is immersed in nature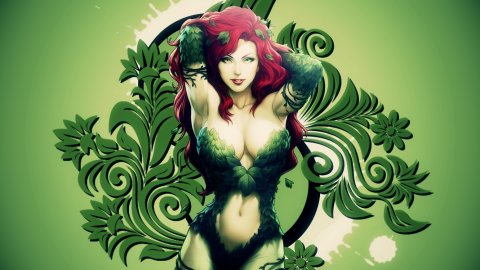 Batman
Poison Ivy returns to the protagonist of our pages thanks to the cosplay of ithileryn, who has perfectly placed herself in the "natural" role of the ecoterrorist with a poisonous touch and bitter enemy of Batman.
First appeared in the Batman comics way back in 1966, the origins of Poison Ivy changed several times throughout its publishing history. After the Crisis on Infinite Earths, usually the character, whose real name is Pamela Lillian Isley, is a biochemist who, due to a mutation, obtains superhuman strength, is able to poison people simply by touching them and in full control of all forms of plant life. With these new abilities, Poison Ivy becomes an eco-terrorist who commits terrible acts for reasons that appear almost noble, namely to protect plants and nature in general from pollution and destruction caused by humans.
The ithileryn cosplay is simple but perfectly represents the character and the idea of ​​setting the shot in the middle of the green is particularly apt in this case. Obviously, the thick red hair and the costume made of leaves and ivy, characteristic of many versions of Poison Ivy, are not missing.
Speaking of superheroes, from Teen Titans we also suggest the cosplay of Starfire from Missbrisolo and that of Raven from Snitchery. Switching genre completely, also check out Aela the Huntress from Skyrim cosplay by Armored Heart and Caitlyn's from
League of Legend
s by Bellatrix Aiden.
What do you think of
Poison Ivy cosplay
by ithileryn ? Please let us know in the comments below.
Have you noticed any errors?
---
Batman Day: Three Batman Movies Are Returning To Screens To Celebrate The Dark Knight
Batman is returning to theaters. Batman Returns is also returning to theaters. So many batty returns.
In addition to the Tim Burton-directed, Michael Keaton-starring Batmen hitting Cinemark on September 17th in celebration of Batman Day, the animated Batman: Mask of the Phantasm rounds out the marathon of some of the best orphaned Billionaire crime-fighting around.
This comes 33 years after Keaton first defined the character for the modern era, becoming the Bruce Wayne to live up to (to varying degrees of success throughout the sequels…). In a different world, it would also be an introduction and reunion of a classic incarnation that was about to spread through the DCU like wildfire. Instead, Batgirl and Keaton's return to the character have been shelved, his presence has been dropped from Aquaman 2 because it made no sense for him to be there, and it's a Riddler-sized question mark what will happen with the upcoming Flash movie and Keaton's presumed cameo there.
So it's possible that the Batman Day celebration will only make the world thirstier for a Keaton Batman that they can't have.
If you can't make it to Cinemark, all three films are streaming on HBO Max (until they're inexplicably removed by corporate decree).
(via Collider)