Intel celebrates 50 years of the Intel 4004, the first microprocessor on the market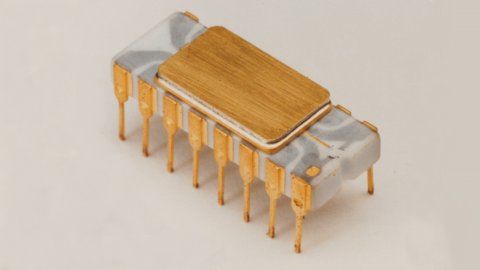 Intel celebrates 50 years of the Intel 4004
Today is the 50th anniversary of the Intel 4004, the first microprocessor for sale that started modern computing by packing 2300 transistors in a tiny piece of silicon. From there was born the possibility for developers to build their own computers and above all to program them through software, eliminating the need to physically design the logic circuits to give life, for example, to games such as those of the first cabinets.
The Intel 4004 The idea of ​​such a central processor was already in the air. There were those who were working on multi-chip projects and there was a metal gate technology that seemed like the ideal candidate for this revolution. But Federico Faggin, who later found himself captaining the team he first designed and then built, developed the MOS technology with silicon gate which was 5 times faster, thanks also to double the density of the circuit, despite a cost. reduced by half. Hence also the possibility of making the Intel 4004 available
to everyone
, remembered by many longtime developers as a key moment in the development of personal computers and information technology in general.
The Intel 4004, we said, it was built with 2300 transistors, a lot for the time it came out even if insignificant compared to the billions used today in a single chip. But on the other hand we are talking about a 10,000-nanometer production process, 1000 times larger than the 10-nanometer Intel 7 production process used for the new
12th generation
Intel Core. Even the new Intel processors, here the review of the Intel Core i9-12600K, have brought some innovations, introducing among other things a big.LITTLE hybrid core architecture in the field of consumer desktops, but the 4-bit CPU and The 750 kHz we celebrate today has shaped computing as we know it.
The advertising of the microprocessor that changed computing "[Looking back] 1970, it was clear that microprocessors would change the way we design systems, moving from hardware to using software. But speed with which microprocessors have been developed and have been adopted over time is truly amazing ". This is the comment of Federico Faggin who, less than 30 years old, found himself at the helm of
the project
with which he created the Intel 4004
together with
Ted Off, Stan Mazor and Masatoshi Shima.
Have you noticed any errors?
---
50 Things Turning 50 This Year
Walt Disney World
Walt Disney World turns 50 on Oct. 1 — and in true Disney fashion, a big bash will mark the milestone — but it's far from the only thing marking five decades this year. Some of the most prominent inventions, institutions, and pop-culture phenomena that we take for granted today came about back in 1971. From Starbucks to soft contacts and email to Uno, here are 50 things celebrating the big 5-0 this year.
Related: The Warning Signs You're Turning 50
Gene Lester / Contributor / Archive Photos / Getty Images CC
Disneyland's younger, larger cousin officially marks its 50th anniversary this October, five decades after the Magic Kingdom hosted its first guests on Oct. 1, 1971. Back then, admission to the park was just $3.50 (about $24 in today's dollars), but most rides were an additional fee. (Today, a single day at Disney World will cost you somewhere between $109 and $159 — ouch.) The original park included favorite attractions like Dumbo the Flying Elephant, the Haunted Mansion, and It's a Small World.
Related: Vintage Views of Disneyland and Walt Disney World
Rawpixel/istockphoto
You have a man named Ray Tomlinson to curse for your overflowing inboxes. The computer engineer is credited with creating email as we know it, complete with the '@' symbol between the username and host. He sent out his first test email in 1971, an 'entirely forgettable' test message between two computers in the same room.
Related: The Greatest American Inventions of the Past 50 Years
jetcityimage/istockphoto
Java junkies don't have to go far to find a Starbucks these days, with more than 30,000 stores worldwide. But 50 years ago, there was just one: a small shop in Seattle's Pike Place Market. And it was more than a decade after opening that Starbucks began to sell brewed coffee — until then, you could only buy coffee beans, tea, and spices.
Related: Things You Didn't Know About Starbucks
Emil C./Yelp
Though it may only be McDonald's second-most famous burger (all hail the Big Mac), the Quarter Pounder is a fast-food heavyweight in its own right. It was first sold in California in 1971, but didn't become a part of the menu nationwide until 1973. Take a trip down memory lane with this Quarter Pounder commercial from 1977.
Related: Taste Test: The Best Fast-Food Cheeseburger
For more great trivia stories, please sign up for our free newsletters.
Sunset Boulevard / Contributor / Corbis Historical / Getty Images CC
The company that would spawn the 'Star Wars' juggernaut was founded in 1971, the same year George Lucas released his first feature film, 'THX 1138.' The first official Lucasfilm movie, 'American Graffiti,' came in 1973, four years before the first of the original 'Star Wars' trilogy. After years of blockbusters, Disney acquired Lucasfilm in 2012 for a whopping $4 billion.
Related: How Disney Revolutionized Entertainment
fotograv/istockphoto
This shipping heavyweight was founded 50 years ago in Little Rock, Arkansas, by a Yale grad who wanted to find a faster way to get time-sensitive packages to their destinations. Then known as Federal Express, the company wouldn't ship its first parcels until 1973. A decade later, it had over $1 billion in revenue, and in a little over another decade, it shortened its name to 'FedEx' and adopted the hidden-arrow logo that's so familiar today.
Related: Successful Businesses Launched During Economic Downturns
Zerbor/istockphoto
Thanks to smartphones, it may have been a while since you carried a calculator, but it was in 1971 that the first one small enough to shove in your pocket hit the market. The Busicom LE-120A, also known as the 'Handy,' was also the first to use an LED display, according to the Vintage Calculators Web Museum. It cost $395, which in today's dollars would make it nearly $2,600. (Don't worry: It had a strap to keep you from accidentally dropping your big investment.)
Related: How Classrooms Have Changed Over the Past 50 Years
EQRoy/shutterstock
Though rail advocates would undoubtedly argue that it hasn't come far enough, U.S. passenger rail made a huge leap forward with the birth of Amtrak in the early '70s. Amtrak consolidated 20 existing passenger railroads, starting out with 21 routes. Today, there are 35 routes that connect 500 cities in 46 states, including the high-speed Acela trains that run between Boston and Washington.
Related: Spectacular Train Trips Across America and Beyond
tupungato / istockphoto
Nike was founded in the '60s, but its iconic logo didn't appear until 1971. That's when a graphic design student named Carolyn Davidson sold the swoosh to Nike founder Phil Knight, then an assistant professor at Portland State University, for $35 — about $227 in today's dollars. That's certainly a deal considering how ubiquitous the logo has become. (Davidson was eventually presented with a significant amount of Nike stock.)
Related: The Secret Histories of Popular Brands
KathyDewar/istockphoto
This quintessential brand of ramen, beloved by both the budget-minded and culinarily challenged, hit grocery shelves in September 1971. Its inventor, Momofuku Ando, was inspired after he watched Americans breaking up blocks of instant noodles so they could fit inside of cups, according to NPR. The truly devoted can visit the Cup Noodles Museum in Yokohama, Japan, for a chance to make chicken ramen by hand.
Related: Hacks to Make Instant Ramen More Delicious
Manudri/istockphoto
A year before they founded Atari, Nolan Bushnell and Ted Dabney released the world's first coin-operated, arcade-style video game in 1971. Called 'Computer Space,' it was housed in a shimmering fiberglass case and played 'like a one-on-one version of 'Asteroids' without the debris,' notes Engadget. You can have a look at what it was like to play thanks to this YouTube video.
Related: Bars With Arcades That Are Worth Your Quarters
Shidlovski/istockphoto
Now a commonplace way for doctors to detect tumors, internal injuries, and other serious conditions, the first computerized tomography scan was conducted in London in September 1971, documenting a patient's cerebral cyst. The scan's inventor, Godfrey Hounsfield, received the Nobel Prize in 1979 for his work.
Related: Life Expectancy the Year You Were Born
Michael Ciaglo / Stringer / Getty Images News / Getty Images North America / Getty Images CC
The second-most recent amendment to the Constitution isn't so recent anymore. In March of 1971, Congress overwhelmingly voted in favor of a proposed amendment that would lower the voting age from 21 to 18 nationwide. Three-fourths of state legislatures ratified it within two months — the fastest that's ever happened, according to the National Constitution Center. President Richard Nixon signed it into law that July.
Related: Tricky Tactics That Could Cost You Your Vote
lucky-photographer/istockphoto
In 1971, the Nasdaq, short for National Association of Securities Dealers Automated Quotations, was created as a quicker way for investors to swap securities. As its name suggests, it initially only gave automated quotations, but eventually grew into a full-fledged electronic trading system. Today, 4,000 companies are listed on the Nasdaq, including tech heavyweights like Apple, which went public on Nasdaq in 1980.
Related: Companies That Tried to Trick Consumers
Lawrence Lucier / Stringer / Getty Images Entertainment / Getty Images North America / Getty Images CC
Arguably one of the best known of Barbie's many fashionable incarnations, Malibu Barbie first hit the beach 'as the quintessential, sun-loving California girl' with a blue bathing suit and yellow towel. More notable: She wore no makeup and had a forward-facing gaze and smile that replaced older Barbies' sideways glances and tight-lipped expressions, a nod toward the feminist movement.
Related: Big Names That Rebranded to Avoid Being Canceled
Yongcharoen_kittiyaporn/shutterstock
Computing has certainly changed in the last five decades, but there was a time when the floppy disk was revolutionary technology. Introduced by IBM, floppy disks computer users to take their data with them, freeing them from using just one machine. Of course, floppy disks were eventually overtaken by the likes of CDs, flash drives, and now, cloud storage. The last company to make them, Sony, stopped in 2011.
Related: Products You Never Thought Would be Obsolete
Amazon
You've officially been slicing, dicing, baking, and cooking with this iconic brand of kitchenware and accessories for half a decade. The company, founded by a physicist and avid cook who was inspired by a food-prep demonstration he observed in France, started out selling stainless steel cookware. It sold its first food processor two years later, in 1973, and has since expanded into everything from flatware to grilling.
Related: Grilling Accessories You Didn't Know You Needed
Amazon
Chances are good that this classic card game, with its dreaded 'Draw 4' and coveted wild cards, is still in rotation in your house. Invented by an Ohio man who risked his house to print the first 5,000 decks, the game went on to truly catch fire in the '80s. Today, you can buy more than 470 varieties of Uno, from Disney-themed decks to versions meant for kids to Uno Attack, which comes with a machine that spews cards at unlucky players.
Related: Fun Family Games to Keep You Entertained at Home
tupungato/istockphoto
In the early '70s, it was hard to come by a decent burger in London — or so the origin story of the Hard Rock Cafe goes. That led two Americans to establish the first outpost of what would become one of the world's most recognizable restaurant chains. Hard Rock would host its first live music act two years later: Paul McCartney and Wings.
Related: 17 Restaurant Chains We Miss
A processor Intel C4004 with grey traces (no gray trace version).
These tiny gizmos, essentially the brains of modern-day computers, date to 1971, when a little-known company named Intel released the 4004 microprocessor. Interestingly, the 4004 was not a major priority for Intel, but an 'understaffed side project … one simply intended to drum up some cash' as Intel focused on memory chips, according to IEEE Spectrum. It was supposed to be used exclusively in calculators, but Intel realized its potential and began marketing it for other uses later that year.
Related: Events That Made Retail History Before the Pandemic
Hamburger Helper
In the early '70s, families were looking for ways to stretch a pound of ground beef, and the one-pot wonder that was Hamburger Helper proved to be a big success. The Betty Crocker brand was introduced with five flavors, and has grown to more than 50 today. It wouldn't get its cheerful mascot, the helping hand known as 'Lefty,' until 1977.
Related: Foods We Miss From the '70s and '80s
Jeff J Mitchell / Staff / Getty Images News / Getty Images Europe / Getty Images CC
The COVID-19 shot is gaining critical importance 50 years after another milestone vaccine: measles, mumps, and rubella. Separate vaccines for the three diseases were introduced in the '60s, but it wasn't until 1971 that they were combined into one.
Related: Are You Vaccinated? Claim These Freebies as a Reward
Mark McMahon / Contributor / Corbis Historical / Getty Images CC
National Public Radio was incorporated in 1970, but it wasn't until the following year that it went on air. The very first broadcast, in April 1971, covered Senate hearings on the Vietnam War. The next month, 'All Things Considered' hit the airwaves with its original host, Robert Conley. In 1972, Susan Stamberg joined as host, becoming the first female anchor of a national nightly news program.
The Oregon Trail Handheld Game
'Dying of dysentery' has a completely different meaning to schoolkids of the '80s and early '90s, when 'The Oregon Trail' was an inescapable part of the classroom experience. The iconic video game was invented by three student teachers, and started spreading to computers nationwide by the end of the decade. According to the World Video Game Hall of Fame, a staggering 65 million copies have been sold, teaching history every step of players' arduous journey.
Related: Cool Gifts for Old School Gamers Who Miss the '80s
United Archives / Contributor / Hulton Archive
Stanley Kubrick's famous — and infamous — dystopian film premiered at the tail end of 1971. It received an X rating, so Kubrick replaced some explicit footage the following year to get an R rating that would allow a wider release. In 2020, the movie became a part of the Library of Congress' National Film Registry thanks to its enduring cultural significance.
vladans/istockphoto
Though many people may associate this famous federal initiative with President Ronald Reagan, it was actually Nixon who declared the 'war' 50 years ago, saying drug abuse was 'public enemy number one.' The Drug Enforcement Administration was founded in 1973, but it wasn't until the '80s that high-profile campaigns like 'Just Say No' and increased arrests brought the issue to the forefront.
Related: Facts You Learned in School That Are Actually Lies
eBay
General Mills' Monster Cereals started scaring up sales in 1971, when Count Chocula and Franken Berry hit store shelves. They were the first chocolate- and strawberry-flavored cereals, respectively. Boo Berry didn't join the spooky soiree until 1972. About a decade ago, General Mills stopped making the cereals year round, but it does bring them back to stores every fall, in time for Halloween.
Related: Childhood Cereals We Wish They'd Bring Back
padnpen/istockphoto
Apparently, 1971 was a big year for fruity cereal. While General Mills gave us the Monster Cereals, Post unleashed its own iconic brands nationwide: Fruity Pebbles, then known simply as 'Pebbles,' and Cocoa Pebbles. Released in partnership with Hanna-Barbera with 'The Flintstones' as their mascots, the cereals are still widely available today, with the same smiling cartoon characters on the boxes.
Bettmann / Contributor / Getty Images CC
A group of environmental activists hatched an ambitious plan in 1971: They would board a small fishing boat and sail to Alaska's Amchitka Island to disrupt U.S. nuclear tests there. They were arrested by the Coast Guard, but the activists, who dubbed their group Greenpeace, succeeded in stirring up enough protests that further tests on the island were canceled. Today, the organization has 2.8 million members worldwide and offices in 50 countries.
Susan Wood/Getty Images / Contributor / Hulton Archive / Getty Images CC
John Lennon's inescapable ode to peace was released in October 1971 after being recorded in a single studio session. Lennon says the song was heavily influenced by wife Yoko Ono, and in 2017, Ono was officially added as a co-writer of the song. 'Imagine' is still played every year just before the ball drops in Times Square, and 'Rolling Stone' named it No. 3 on its list of the 500 Greatest Songs of All Time.
Related: Enduring Quotes From John Lennon
Michael Ochs Archives / Stringer / Getty Images CC
Marvin Gaye's most famous song, ranked just behind 'Imagine' on Rolling Stone's list of the Greatest Songs of All Time, first hit airwaves in 1971. That was after Motown refused to release it for several months, unsure how listeners would react to such an overtly political song. Of course, the rest is history: The song was a smash, and emerged as one of the most important of the era.
Related: Stars Who Died Penniless
Amazon
When the first bottles of Herbal Essences hit shelves 50 years ago, there was just one scent: 'a bold blend of green herbaceous notes with a big white floral middle and a balsamic musky background,' according to Southern Living. Today, there are more than 30 varieties of shampoo alone in the Procter & Gamble-owned brand, which arguably became a household name with its steamy commercials from the '90s that made lathering up look like an enjoyable experience, indeed.
dennizn/shutterstock
When this ubiquitous chain's first store opened in New Jersey in 1971, there was no 'beyond.' The store was simply Bed 'n Bath, focusing on items for those rooms only. But as anyone who has been inside a Bed Bath & Beyond lately can attest, the limited focus didn't last long, and the store's name changed in 1987. Today, it carries everything from cookware to pet products to 'as seen on TV' gadgets.
Darren McCollester / Staff / Hulton Archive / Getty Images CC
It hasn't exactly cracked open America's red-blue stranglehold, but the Libertarian Party has grown into one of the nation's most notable third-party options after its founding in the early '70s. As of August 2020, Libertarians held 232 offices across the country, according to Ballotpedia. Gary Johnson, the party's presidential candidate in 2016, managed to notch nearly 4.5 million votes.
Bettmann / Contributor / Getty Images CC
'All in the Family' premiered on CBS in January 1971, with 'lovable bigot' Archie Bunker lashing out at everything from feminism to homosexuality. Though controversial, the sitcom steadily gained viewers, ran for nine seasons, and was a No. 1 show in the Nielsen Ratings for five years. It also spawned several spin-offs, including 'Maude' and 'The Jeffersons.'
Gregory Smith / Contributor / Corbis Historical / Getty Images CC
AOL's chat rooms were the hot place to digitally mix and mingle in the late '90s, but their origins in 1971 were wonkier than their slightly sketchy reputation might suggest. Murray Turoff, a computer scientist at Berkeley, was charged by the federal Office of Emergency Preparedness to find a new way for offices to communicate. The result, the Emergency Management Information System and Reference Index, allowed chatter in real time and was even nicknamed 'the party line.'
Bernard Annebicque / Contributor / Sigma / Getty Images CC
DuPont chemist Stephanie Kwolek invented Kevlar in the 1960s, but this revolutionary, heat-resistant fiber didn't hit the market until 1971, when it was first used in place of steel in racing tires. In the years since, it has been used in everything from cookware to boats to the Ove Glove, but its most well-known use might be in protective gear including bulletproof vests and combat helmets.
Weebles
Quick: What's the toy that wobbles but won't fall down? Weebles, of course, which made their debut in 1971 under Hasbro's Romper Room label. The egg-shaped toys, weighted so that they would return to an upright position after being bumped, pushed, or even thrown, were a big seller for the next decade, coming in sets including a haunted house, a circus tent, and even the Magic Kingdom castle.
Alphotographic/istockphoto
The ubiquitous chain of sunglasses shops had humble beginnings, as a lone kiosk inside a Miami mall. The brainchild of an optometrist who wanted people to protect their eyes from the harsh Florida sun, the business took off and eventually went public in the early '90s. In 2001, the company was acquired by global eyewear giant Luxottica.
Related: Competing Brands That Are Actually Owned by the Same Company
Patrick Robert - Corbis / Contributor / Sygma / Getty Images CC
Established as Medecins Sans Frontieres at the end of 1971, Doctors Without Borders aims to bring medical professionals to people suffering from humanitarian disasters around the world. The initial group included 13 founding doctors and journalists, plus nurses and other volunteers. Their first mission was to Managua, Nicaragua, where a massive earthquake killed up to 30,000 people in 1972.
Tim Boyle / Staff / Getty Images News / Getty Images North America / Getty Images CC
This frowny green symbol was a common sight on everything from drain cleaner to bleach in households of the '70s and '80s. Mr. Yuk, created by the Children's Hospital of Pittsburgh, was meant to be a skull-and-crossbones alternative that warned young children of poisons. Though not as common today, you can still get sheets of Mr. Yuk stickers or even Mr. Yuk on a T-shirt.
Bettmann / Contributor / Getty Images CC
Andrew Lloyd Weber's eponymous rock opera premiered on Broadway in October 1971 and ran for close to two years, stirring up plenty of controversy among religious groups along the way. That didn't stop it from opening in London's West End in 1972, where it ran for eight years. It has been revived several times since then, and was made into an NBC television special starring John Legend in 2018.
McDonalds McDonaldland mini-puzzle - Ronald waving burger alarm - 1973
Today, there's little trace of Ronald McDonald's crazy companions at McDonald's restaurants, but children of the '70s, '80s, and even '90s fondly remember Grimace, the Hamburglar, and others. The gang was all part of 'McDonaldland,' which started as a TV campaign 50 years ago to appeal to children. Of course, the wacky characters ended up taking many forms: They were made into Happy Meal toys, at-home play sets, and playground equipment for McDonald's PlayPlaces.
Related: 20 Fast Food Restaurants Then and Now
NASA. / Contributor / Corbis Historical
After Apollo 13 failed to make it to the moon, the pressure was on for Apollo 14 during its January 1971 launch. There was no need to worry: Commander Alan Shepard even walked more than 9,000 feet on the lunar surface, and became the first U.S. astronaut to return to space. Later that year, the crew of Apollo 15 was the first to drive a lunar rover on the moon.
Related: Incredible Feats of American Genius Across the Country
Bettmann / Contributor / Getty Images CC
This iconic magazine began its five-decade run as a modest insert in New York magazine in December 1971. Articles didn't shy away from controversial topics, tackling everything from abortion to 'raising kids without sex roles.' Today, Ms. is published quarterly by the Feminist Majority Foundation, and co-founder Gloria Steinem remains a consulting editor.
Daniil Dubov/istockphoto
1971 was a pivotal year for those of us with bad eyesight. That's when the FDA approved Bausch & Lomb's revolutionary soft contact lenses, Soflens, the first of their kind to hit the U.S. market. They quickly notched $1 million in sales as buyers sought a more comfortable alternative to hard lenses. Disposable soft contacts followed 16 years later.
Related: Products You Should Always Buy Online
Silver Screen Collection/Getty
This whimsical classic starring Gene Wilder has left a mark on kids and grownups alike, but it wasn't an immediate smash after its debut 50 years ago. In fact, as Mental Floss notes, it made only $4 million at the box office, and cost $3 million to make. However, it later found plenty more viewers during repeated television broadcasts.
Justin Sullivan / Staff / Getty Images News / Getty Images North America / Getty Images CC
This candy-aisle favorite of folks who love to chew was released to accompany another notable 1971 favorite: 'Willy Wonka and the Chocolate Factory.' Interestingly, Laffy Taffy started out square, and the Willy Wonka Candy Company was originally known as Breaker Confections. Today, Laffy Taffy is made by Ferrara, but one thing hasn't changed: Each wrapper still includes the brand's signature goofy jokes.
Related: The Forgotten History Behind Your Favorite Candy
Wikimedia Commons
Is it time to disappear? The Witness Security Program (also known as the Witness Protection Program) has been making it happen for 50 years. Administered by the U.S. Marshals Service, the program has protected more than 19,000 people whose lives have been threatened because of their testimony in major criminal trials. Impressively, no one following the program's guidelines has ever been harmed or killed, the marshals say.
Related: Surprising Facts About the Secret Service
'Masterpiece Theatre'
Long before Netflix brought us 'The Crown' and other period dramas, PBS had 'Masterpiece Theatre.' It debuted five decades ago with the witty, well-read Alistair Cooke at the helm; he would remain host for two decades. Today, the show is simply known as 'Masterpiece,' and it's the longest-running weekly primetime drama on TV. It scored a recent hit with 'Downton Abbey,' which also spawned a feature film.