Succubus, the proven satanic spin-off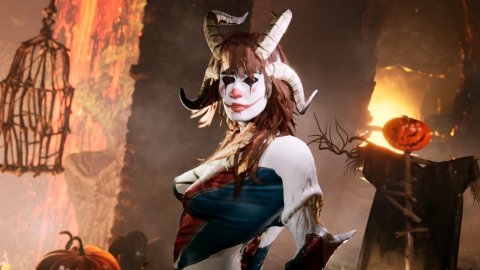 Succubus
Madmind Studio's provocative streak did not end with Agony, an imperfect debut title capable of attracting attention thanks to a brutal aesthetic in its effective representation of hell. Blood, laments, glimpses of Dante and perverse whispers are the backbone of an intriguing experience, albeit debased by a shaky gameplay to say the least.
And this
is one of
the elements that we hope have received the right attention from the small but interesting Polish team, as we launch into the demo trial of this all-action spin-off that changes gear in gameplay but resumes nudity , blood and explicit sexuality of the first chapter, pushing the pedal even further on sensuality and sadism. In fact, the protagonist is Vydija, the provocative demon of lust already appeared in the Unrated version of Agony. But we find it changed which is evident as soon as we took control of it for our trial of the Succubs demo.
A completely different protagonist
Betrayed by her lineage, Vydija is looking for revenge Succubus changes setting but does not change spirit by putting us in front of a raw, visceral and completely devoid representation of hell's filters. There is censorship but activating it does not compromise, for better or for worse, the truculent look of the title of Madmind Studio. On the other hand we are talking about a blurry spot around the genitals and nipples that is certainly not enough to sweeten a title that wants to be and is all effects disturbing. Crossing the bowels of the underworld we are faced with demonic creatures that give themselves to the wildest sodomy, devoured babies and macabre details in abundance that make Succubus a title destined for a strong stomach audience. However, he does not indulge in sex excessively and does not slip into pornography.
The protagonist, although willing in moments of calm to satisfy her desires, in most cases prefers to torture and kill her victims, in the worst ways imaginable. And she is even more ruthless after being betrayed and disfigured by her own species and this is the background of Succubus, arriving on Steam on July 21 at an unspecified price.
Evocative colors, but rough models The Succubus gameplay veers decisively towards first-person action, abandoning the stealth ambitions and subdued rhythms of Agony. On the other hand Vydija is not a poor soul fleeing from hell, but a powerful creature with sufficient powers to face hordes of enemies with spells and stabs. And
this is what
we are called to do by taking advantage of the possibility of slashing with one hand, casting spells with the other, keeping enemies at a distance with throwing daggers, making lightning-fast dodges and activating the rage mode that
allows you to
detach heads and shatter enemies with a single blow, with claws. However, it is not the only way to dismember the opponents.
When the enemies, after taking a few hits, are enveloped in a yellow aura, we can make a final move and enjoy one of several skits, different depending on the enemy killed, which include bodies broken in two, obvious beheadings, assorted mutilations, heel-crushed skulls and other amenities that make hasty gameplay more bearable. The game of slashes, spells and rips all in all works, but brings nothing new and suffers from obvious deficiencies in collisions, feeling, animations and models.
Breakthrough action, not without some problem
The demo already includes different types of enemies If nothing else the variety of enemies is good and includes flying creatures, higher level enemies that work in synergy with the hordes, flaming-eyed minotaurs that charge head down, totems that evoke a large number of skeletons and creatures of various kinds, in a triumph of dynamic lights that bears the clear imprint of the Unreal Engine 4.
But the transition to the action dimension was made in a hurry , which is evident from the very low quality of some models that are slammed in the face during close combat and during the final moves.
Some evocative backgrounds, atmospheres and certain main characters retain a certain appeal thanks to superior care, but overall the look is raw, old and clearly inferior to that of Agony. So much so that among the few things to actually save themselves from the point of view of the aesthetic result are some of the bloody skits of which the game is dotted and the useless guided climbs, one of which welcomes us at the very beginning of the demo, which simply ask us to pressing a button to make the animation proceed and they do not serve much if not to show the curves and movements of Vydija.
The lighting of the Unreal Engine 4 still has its impact To complete the picture we find four levels of difficulty, starting from the story mode to enjoy the plot and passing through a normal mode which is rather easy, and a handful of options that as we said include censorship and some graphical settings. However, they lack the possibility of removing subtitles which, among other things, lack the Italian language. But this is a limited demo, which doesn't even include the save system. In terms of side dish, in essence, we expect much more from the final version. Instead, we do not expect much more from the gameplay of a title that at least from the demo seems to lose charm and visual coherence compared to Agony, even if it could still be fun for those looking for the combination of caciarona action and the most visceral and brutal expression. you can imagine of a Dante's hell.
Like Agony, Succubus is a title for strong stomachs and for those who appreciate the most visceral interpretations of hell that history remembers. However, it changes pace by veering towards unbridled action with a transition that unfortunately is not achieved in the best way. However, it remains an atypical and potentially interesting title, which we will return to evaluate, albeit without expecting miracles, with the final version scheduled for July 21.
CERTAINTY
Certainly not lacking ideas for lovers of the macabre An experience different from Agony Fascinating main character DOUBTS Loses charm and mystery compared to Agony Fluctuating and rough technical sector Extreme, for better or for worse Have you noticed errors?