Resident Evil Village, Lady Dimitrescu cosplay by Livia De Luca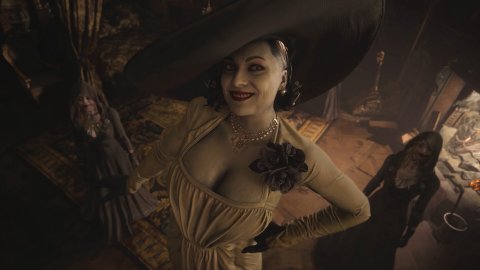 Resident Evil Village
Resident Evil Village
continues to hold the bench and Lady Dimitrescu probably remains the most interesting character of the Capcom title, so our Livia De Luca has also seen fit to dedicate a cosplay to her. The result? Judge for yourself.
One of the official voices of sportsgaming.win, Livia got involved for the occasion and in our opinion she passed the test brilliantly, thanks not only to her physical skills but also to a certain attention to the details.
In short, his Alcina Dimitrescu has certainly proved worthy of rivaling the other interpretations of the character that we have admired in recent weeks, see for example those of Yaya Han, Kalinka Fox and Helly Valentine .
In her post on her Instagram, Livia confirms that she is playing Resident Evil Village. And you? Have you already completed the latest episode of Capcom's survival horror series?
Source Did you notice any errors?
---
'Resident Evil: Village' — Here's What The Critics Are Saying
Resident Evil: Village
Credit: Capcom
Resident Evil 8, aka "Village," is finally here after months of hype and anticipation. I've played some and I'm enjoying it so far, though its opening salvo isn't quite as terrifying as Resident Evil 7's. There are scary bits, no doubt, but not to the same degree. But I'm not that far yet, so I'm reserving judgment.
Fortunately, plenty of reviewers got the game prior to release and have penned reviews aplenty. Right now, the game is at a solid 85/100 on Metacitic for PC and PS4, with PS5 at 84 and Xbox Series X at 82. Not too shabby, but not quite a masterpiece, either.
Let's take a look at what the critics are saying.
Windows Central:
"Resident Evil Village is one of the first games that feels truly 'next-gen,' with absolutely stunning tech bolstered by the industry-leading RE Engine. Stunning visuals, truly bizarre creatures, a memorable parade of eccentric characters, and truly satisfying gameplay make Resident Evil Village soar, even if a few quirks in the plot delivery deflate the spectacle. Resident Evil Village is a truly excellent game and one of the best entries in the legendary franchise. Long may it continue." (9/10)
PCMag:
"Resident Evil Village blends Resident Evil 7's grounded horror with Resident Evil 4's fast action and offbeat concepts. More tension, more combat, and more weirdness round out a game whose faults lie on the edges of the overall experience." (4/5)
PlayStation Universe:
"Resident Evil Village combines the best of the past 25 years of the franchise, bringing a compelling adventure that should appeal to action and horror fans alike. With massive locations offering a wealth of exploration and hidden goodies, a meaty campaign with some decent unlockables, Village is the franchise at the top of its game." (9/10)
Video Gamer:
"I wonder, when it comes to Resident Evil Village, if it wouldn't have been better off as a new IP. The answer, in financial terms at least, is "No." Still, reaching the credits, I sat back, exhausted and disappointed at where the series had ended up. In Kamiya's final journal entry, he reflected on the change brought about by Mikami—whose services we really could have used here—saying, "I easily went into the world of devils…" Indeed, I wonder if we can so easily make our way back." (5/10)
Pure Xbox:
"Resident Evil Village may not quite live up to the highs of its terrifying predecessor but it's a still a solid entry in the long-running series that's well worth checking out. Eastern Europe makes for a fantastically atmospheric and surprisingly open setting here, it's chock full of delightfully oddball characters and features a handful of properly entertaining set-pieces to blast through. There may well be a few rough edges, with a rather painful protagonist and some duff boss battles to contend with but, overall, this is one truly messed up village that's well worth a visit." (7/10)
SkillUp: Recommend (even though he didn't like it very much)
All told, it sounds like Village isn't as scary as Resident Evil 7. Indeed, this was by design.
"Some of the feedback we received regarding [RE7 was] that it was too scary to play," producer Tsuyoshi Kanda told Axios Gaming (via VGC). "In one regard, that's exactly what we were striving for, so it's a huge compliment for us.
"But at the same time, it's always our goal to create something that anybody can feel comfortable jumping in and playing, so we eased up on the tension curve [in RE Village] relative to Resident Evil 7: Biohazard, so that players aren't in constant fear."
That doesn't mean it's not at all scary, but fans of truly horrifying horror games may be a little let down. Perhaps the atmosphere and next-gen graphics will make up for that, or the daunting presence of Lady Alcina Dimitrescu. Perhaps not. Either way, this sounds like a nice throwback to Resident Evil 4 which should please many fans.
I'll have my own impressions up in the not-too-distant future. What do you think of Resident Evil: Village so far?
You can find me on Twitter, Facebook, Instagram or YouTube. 
Also, I would really love it if you subscribed to me new newsletter diabolical!