Resident Evil Village, how to get ready for the new chapter of the saga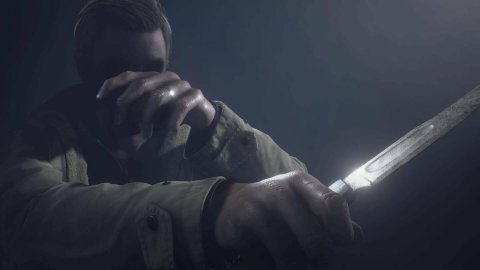 Resident Evil Village
Very close to the launch of
Resident Evil Village
, the new chapter of the famous Capcom survival horror series that will take us from the humid swamps of Louisiana to the freezing land of Romania, between local folklore and that pinch of body horror that never hurts. Waiting for our review, and to make you even more prepared for May 7th, we have compiled a short list of important points to memorize in order to face the game as aware as possible.
Resident Evil Village è a stand alone chapter?
Resident Evil Village, a tormented Chris Redfield No. Resident Evil Village is the direct sequel to Resident Evil VII: Biohazard, a rather rare event within the series and for which this chapter boasts the primacy . While all linked within a narrative macro universe, none of the previous chapters have ever been a true sequel to another. They are temporal sequential (except for Resident Evil 0, which brings us back before the events at Villa Spencer) but never so closely linked. This means that to fully understand the context of the eighth chapter, including some characters, it is necessary to have played the seventh.
Where and when is Resident Evil Village set?
Resident Evil Village, Alcina Dimitrescu The Resident Evil Village events take place three years after Resident Evil VII: Biohazard. Ethan Winters, in search of his kidnapped daughter, will find himself trapped in a mysterious Romanian village that seems to have frozen
in time and
is invaded by nightmare creatures. To govern it, four Lords who in turn respond to a figure known as Mother Miranda - a sort of matriarch of the entire community, who reverts her and entrusts herself totally: Alcina Dimitrescu, Donna Beneviento, Salvatore Moreau and Karl Heisenberg. Each will pose a threat to Ethan in his own way, and he will have to rely on himself to get out alive and possibly with his daughter.
Who is Ethan Winters?
Resident Evil Village, Ethan Winters Ethan Winters is the protagonist of Resident Evil VII: Biohazard. After the terrible events that involved him in Dulvey, Louisiana, he managed to rebuild a life believing he could keep it. Nightmares knock on his door again when Chris Redfield, a renowned hero in the fight against bioterrorism and the protagonist of several other chapters in the series, kills his wife and kidnaps his daughter for no reason. These events will be the basis of Resident Evil Village, during which Ethan will do everything to get back what's left of his family. Unlike other protagonists of the main chapters of the saga, Ethan is not a soldier but a civilian; furthermore, he is the only character whose face is not shown. Even Bruce McGivern and Ark Thompson, protagonists of the first-person chapters Resident Evil: Dead Aim and Resident Evil: Survivor, have artwork that depicts them entirely.
Resident Evil Village will it be in the first person? And VR?
Resident Evil Village, one of the many threats that Ethan will face Like the previous one, Resident Evil Village will only be in first person. At the moment there is no support for virtual reality, contrary to what was done with Resident Evil VII: Biohazard. However, it is not excluded that the game may become part of the
PlayStation
VR 2 lineup (whose real name is not yet confirmed).
How it connects to the old Resident Evil?
Resident Evil Village, what made Chris behave as he did? Resident Evil Village is mainly connected to Resident Evil VII: Biohazard, being the direct sequel, but within the story there is no lack of details dating back to an old criminal organization that has always operated behind the scenes and the return of a historical character in the series. It is not necessary to have played all the other chapters but knowing some of them is useful to reconnect some details. The important thing, as already indicated, is to have played the seventh.
Is Resident Evil Village open world?
Resident Evil Village, the coats of arms of the four houses No Resident Evil Village is an open map, that is, it provides an extended map and most likely interconnected in its individual parts that the player can explore at will, with the aim of creating shortcuts to move more quickly. Apparently it is not necessary to explore every area of ​​the map to complete the game, so the choice of whether to risk visiting apparently superfluous points (with the resulting risks) is all in your hands. Each of the four Lords has their own area of ​​expertise, which once completed is not specified whether it will still be accessible.
Will it be a horror, a survival horror or an action?
Resident Evil Village, how to reject the lycans in one fell swoop Judging from the demos "Village" and "Castello", as well as some videos that we were able to preview, Resident Evil Village seems to be a mix between survival horror and action. It goes to recover the passion for puzzles typical of the first chapters, and partly revived in the seventh, to merge it with more adrenaline moments along the lines of Resident Evil 4 - a declared source of inspiration.
Why is the web crazy about Alcina Dimitrescu?
Honestly, who wouldn't be? The charming lady of the castle, with her vamp (anger) behavior, had direct access to the famous rule 34 of the internet. Surprisingly Capcom didn't really need to sexualize her (her busty breasts just conform to her gigantism, remember that it's just those six feet tall), unlike Jill Valentine and Excella Gionne in Resident Evil 5 ; or Jessica Sherawat and Rachel Foley in Resident Evil: Revelations. Dressed in a style that is very reminiscent of the 60s, Alcina Dimitrescu is the spearhead of Resident Evil Village marketing and given the amount of more or less sensitive material produced by fans, as well as the memes that have proliferated and continue to do so, Capcom's choice turned out to be absolutely spot on. But if we look beyond the easy joke, her design is very intriguing.
Have you noticed any mistakes?