Gigabyte AORUS 4K, all about the new gaming monitors for PC, PS5 and Xbox Series X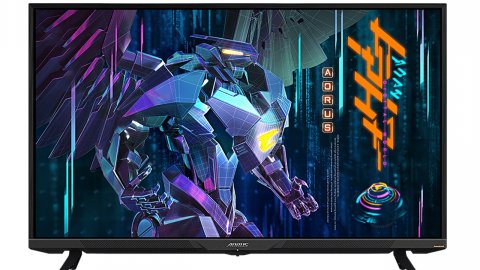 Gigabyte AORUS 4K
Gigabyte AORUS has officially presented its new gaming monitors with 4K resolution and cutting-edge technical features, ready for next-gen platforms: PC,
PS5
and Xbox Series X
.
Three models announced: FI32U with 32-inch IPS panel and 144Hz refresh rate, FV43U with 43-inch QLED panel and 144Hz refresh rate, and finally FO48U with 48-inch OLED panel and 120Hz refresh rate.
"Sales of next-generation consoles around the world are still booming with no signs of slowing down. However, pairing a next-generation console with a compatible high-resolution display can push the high refresh rate limits of 120Hz and beyond remained a mission impossible ... until now, "reads the official release.
Gigabyte AORUS FV43U" GIGABYTE's new AORUS 4K gaming monitors throw a newray of hope in the long wait of the players. Full HDMI 2.1 compatibility provided with the new AORUS monitors allows gamers to unlock higher resolutions and framerates on next-generation consoles, such as
PlayStation
5 and Xbox Series X. "
" GIGABYTE AORUS 4K Tactical Gaming Monitors they are the best solution for different uses. Not only do they promise eSport-level display performance with up to 144Hz refresh rate and 0.5ms response time, but they take full advantage of the HDMI 2.1 connector bandwidth to get the most out of next generation consoles, making them the ideal monitors for gaming on different platforms. "
"Through HDMI 2.1 connectivity, gamers
will be able to
fully enjoy the extreme gaming performance powered by high-end graphics cards, such as the RTX 30 series, while playing on PC. When paired with consoles from next generation, gamers will finally be able to play their favorite AAA games at 120Hz, with ultra-smooth gameplay and stunning 4K resolution. "
Gigabyte AORUS FV43U" In addition to the superb display performance, GIGABYTE further optimizes the gaming experience with AORUS 'unique tactical features. These in-game enhancements, including Aim Stabilizer, Black Equalizer and ANC (Active Noise Cancellation), were only available to PC gamers, but are now also accessible to console-players who they want the best gaming experience. "
" GIGABYTE AORUS 4K tactical gaming monitors will soon be available in Italy in 32, 43 and 48 inch versions for gamers to choose from "; at the moment, however, the full technical specifications are present only for the 43-inch model.
Gigabyte AORUS FV43U
Gigabyte AORUS FV43U Featuring a 43-inch VA QLED panel with Ultra resolution HD (3840 x 2160 pixels), the Gigabyte AORUS FV43U can count on a refresh rate of 144 Hz, response times of 1 millisecond, a contrast ratio of 4000: 1 and a typical brightness of 750 cd / m2 with peak at 1000 cd / m2.
The color gamut of the monitor covers 97% of the DCI-P3 standard, 150% of the sRGB standard and 99% of the AdobeRGB standard. The device supports VESA Display HDR1000 technology, mounts two 12W speakers, has two HDMI 2.1 outputs, one DisplayPort 1.4, one USB-C and two USB 3.0.
Gigabyte AORUS FV43U datasheet
Display: 43-inch VA QLED with Ultra HD resolution, 144 Hz refresh rate, 1 ms response time and HDR1000 Viewing angle: 178 ° / 178 ° Brightness: 750 cd / m2 (typical), 1000 cd / m2 (peak) Contrast: 4000: 1 Color gamut: 97% DCI-P3, 150% sRGB, 99% AdobeRGB Antiglare: yes Connectivity: 2 x HDMI 2.1, 1 x DP 1.4 USB: 1 x USB-C, 2 x USB 3.0 Power supply: internal VESA support: yes, 200 x 200mm.
Have you noticed any errors?
---
Gigabyte's Aorus, Aero, and G-Series laptops all offer 11th-gen Intel
(Pocket-lint) - Gigabyte has announced new Aero, Aorus, and G-Series laptops, and they, of course, come specced out with Intel's 11th-gen Tiger Lake-H chips.
The Aero series of laptops, meant for creators, includes the Aero 15 OLED, which is available with up to an Intel Core i9-11980HK, RTX 3080, and 4K HDR OLED display. There's also the Aero 17 HDR, which is available with the same specs, but it has a 17.3-inch IPS display instead.
The Aero 15 OLED starts at $1,799, and the Aero 17 HDR starts at $2,499. Both are available to buy from 11 May 2021.
Next up are the Aorus 15P, Aorus 17G, and Aorus 17X gaming laptops. The 15P and 17G come with Intel Core i7-11800H processors and up to an Nvidia RTX 3080 with 16GB of video memory. The Aorus 15P features a  15.6-inch 1080p IPS display with 240Hz or 360Hz refresh rates. The Aorus 17G has a 17.3-inch IPS display with a 300Hz refresh rate. The Aorus 17X also has a 17.3-inch 300Hz IPS display with up to an RTX 3080 and an Intel Core i9-11980HK processor.
The Aorus 15P starts at $1,599, and the 17G starts at $2,099. Pricing is not yet known for the 17X. All are available to buy from 11 May 2021.
Lastly, Gigabyte has 15.6-inch G5 MD and G5 GD laptops as well as 17.3-inch G7 MD and G7 GD laptops with resolution and refresh rates of 1080p and 144Hz, respectively, across the range. The G5 MD and G5 GD pack Intel Core i5-11400H processors, while the G7 MD has an i7-11800H, and the G7 GD features an i5-11400H. All the laptops offer Nvidia's new RTX 3050 and 3050 Ti GPUs.
The new G5 and G7 models are available to preorder from 11 May 2021, with the G5 starting at $1,149.
Writing by Maggie Tillman.