MSI MEG Aegis Ti5, the review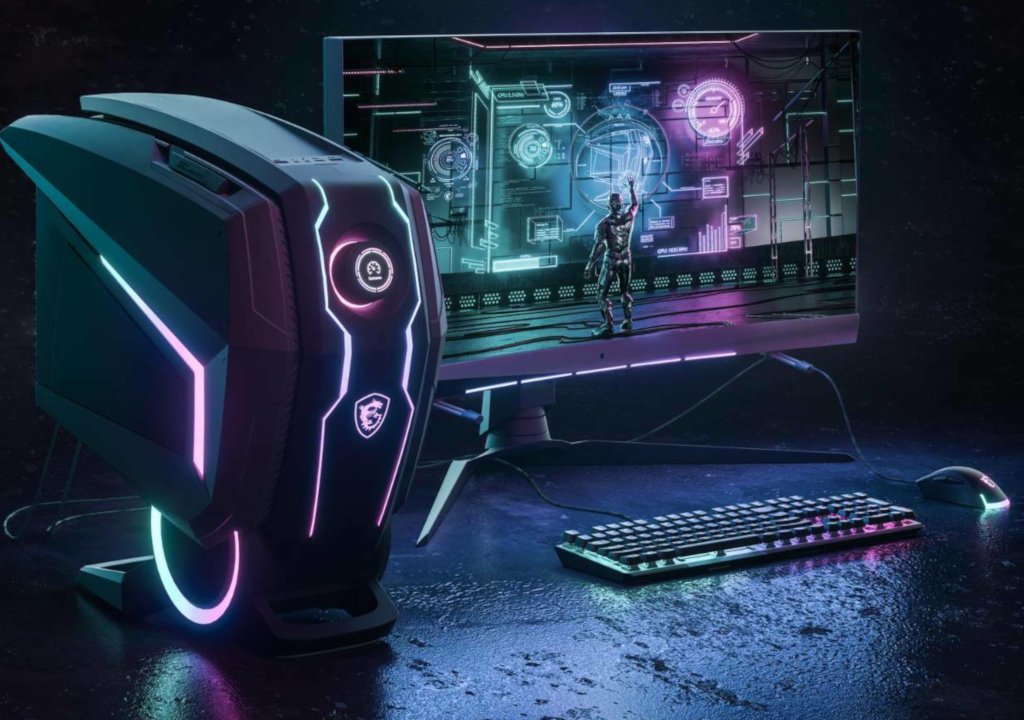 MSI MEG Aegis Ti5 review
The review of the
MSI MEG Aegis Ti5
drags us up to last January, when still free to travel we flew to the CES in Las Vegas finding ourselves in front of a particular robot-head case designed for extreme-end configurations. But it
is not on
ly the shapes, the equipment or the RGB lighting that make the MSI pre-assembled special that boasts a unique feature, a sort of eye with a built-in OLED screen that allows you to interact with the system quickly, showing the data on the PC. , allowing us to activate overclocking and enriching the aesthetics of the system with customizable animations.
A premium PC in every sense
To launch its new star, MSI has been waiting for the arrival of the
new GeForce RTX
3000 that are part of an extreme configuration that for the model arrived in the editorial office includes a powerful Core i9-10900K, a brand new MSI
GeForce RTX 3080
Ventus and 128GB of memory at 2933MHz. All obviously installed on an MSI motherboard which among other things is equipped with a WiFi 6 card with good range and a 2.5 Gb / s LAN port. To take care of the data, however, there are a 3TB mechanical disk and two 1TB NVMe SSD disks each, for a total of 5 TB of storage. All housed in a case that is heavy, reaching up to 17 kg, but is also elegant, provided of course you appreciate the particular shapes that, as we have anticipated, recall the head of an android. And it is one of those with a lot of two openable antennas that, obviously designed to support headphones or cables, are paired with the central eye, as anticipated a knob with integrated screen that in addition to being able to show color animations, even customized, allows to set overclock mode and change other parameters such as Mystic Light lighting.
In fact, lights abound starting from the logo and the futuristic friezes on the front that give a premium look to a case undoubtedly designed largely in function of aesthetics. In fact, it includes two lateral RGB strips that reflect the shapes of the central body. An internal lighting dedicated to the GPU which, placed horizontally, can be seen through the upper part of the case, all transparent like the front. The panels, on the other hand, in plastic like the whole exterior of the chassis, house two large ventilation grilles, functional to a system centered on a CPU which, as we know, guarantees peak performance in the game, but reaches important temperatures. In short, nothing seems to be missing, even if, considering the nature of the product, we would have expected more aluminum and glass or perhaps a plastic less prone to scratching than the one used for the transparent section. But the choice of materials was probably also dictated by the need to contain the weight.
Much of the weight does not derive from the central body, all in all limited in size, but from the two thick supports that make up a base of sturdy support, more than enough to guarantee full stability to the Aegis Ti5. And it is always this that increases the overall dimensions of the particular MSI case, however, contributing in an important way to the design and transforming itself into a pair of comfortable handles essential to transport the PC safely. And it is also easy to rotate thanks to another sturdy handle located at the top of the rear, acting as a wing, helping to make the case more slender.
Not bad for a 67-liter case that includes separate areas to ensure maximum effectiveness for liquid CPU ventilation, GeForce RTX 3080 fans, and VRM heatsinks - critical to smoothly squeezing a demanding processor like the Core i9-10900K. In any case, all components are accessible once the right bulkhead has been removed, where the AIO heatsink is also housed. A little bit of work on some components is needed, but inside there is room for 2 2.5-inch drives and one 3.5-inch drive, as well as three M.2 SSD ports placed on the motherboard. For everything else there is instead the software that obviously allows you to program the fan, setting a maximum of 5 functions ranging from the system monitor to the gaming mode, as well as guaranteeing an avalanche of accessory options. The software also includes Nahimic audio technology and neural network-based microphone noise cancellation, which is also available through the GeForce RTX 3080 which uses tensor cores with excellent results.
Returning to the outside, however, we find the connectivity which is partly above, towards the front, and partly obviously on the back where we find 5 USB ports, a USB Type-C, the SPDIF audio output, five 3.5mm audio connectors, a
PS2
port and a second 1 Gb lan port and a Thunderbolt 3 that guarantees high charging speed, a maximum of 40 GB / s transmission speed and a video connection from up to 5K to 60Hz. The GeForce RTX 3080 instead offers 3 DisplayPort and an HDMI 2.1, allowing 4K up to 120Hz and 8K at 60Hz. Finally, below is the power supply, hidden in what we could consider the back of the case.
Benchmark
Aesthetics and comfort are undoubtedly important in a product of this type, but not as much as the performance, especially considering how much an extreme end component that we know is able to combine high gaming performance, multitasking without hiccups and a brute power functional even for certain applications, thanks to the monstrous quantity, impacts on the price of 12
8 GB of
memory. We already know, in broad terms,
what to expect
, but it is good to always check that everything works properly, starting with the CPU which, immediately placed in high performance mode, reached 7541 points in the CPU-Z multi-thread test, reaching 580 points in that single thread.
Not bad, thanks to actual 5.3GHz and average effective speed of 4.9GHz, achievable only with Thermal Velocity Boost. It is therefore fully exploited, even if under prolonged effort it drops from 7500 to 7300 points in CPU-Z to avoid overheating, but it is undoubtedly at home inside the MSI MEG Aegis Ti5. But the ventilation, to keep up with the Intel processor, makes itself felt, albeit with a soft and bearable noise. Probably thanks to the silence of the GPU which, like most of the RTX 3080, is silent. But it performs well as evidenced by the 3D Mark tests with 17233 points in Time Spy, 10528 in FireStrike Ultra and 11181 points in Port Royal.
On balance we are on the side of the Founders Edition, with lower scores than those of the overclocked models, but we are still talking about high performance as is evident by switching to games, obviously tested at maximum settings excluding the rendering level of the DLSS. In our Wolfenstein tests: Youngblood reached 311fps in 1080p, 219fps in 1440 and 128fps in 4K which become respectively, by activating ray tracing and DLSS, 200 in 1080p, 187fps in 1440p and 134fps in 4K. With the rendering set below Full HD, the CPU brake is felt even with a CPU like the 10900K, but we are still talking about a top-of-the-range configuration capable of guaranteeing high-framerate 4K, at least with an optimized title like the Bethesda one. .
With Control, in fact, the performance with active RTX technologies slips up to 86fps in 1440p and 52fps in 4K, but it is still possible to enjoy an almost perfect visual experience by settling for DLSS in performance mode that allows you to play 111fps in 1440p and 74fps in 4K. The same, however, does not apply to the very heavy Watch Dogs: Legion which even setting the DLSS to maximum performance stops at 55fps in 4K and 65fps in 1440p. However, it is fully playable, despite putting on a show of breathtaking reflections thanks to the application of broad spectrum ray tracing in an open world urban environment. There are no problems, however, with
The Witcher 3
, dated but still spectacular, which does not implement any RTX technology but is a reliable test bed for overclocking which, by pushing the GPU to 100MHz and the memory of 500MHz, takes us from 90 to 93fps in 4K, with a gain of almost 3.5 percentage points. Not exactly an imperious leap, but neither does it involve temperature increases, which remains around 77 degrees for the GPU and 66 peak for the GPU, or noise.
Comment
Multiplayer .it 8.5
Focused on the concept of interaction between man and machine, the particular MSI MEG Aegis Ti5 is an extreme product, as particular and powerful as it is expensive. In fact, we are talking about € 4,499 but we are also talking about a top-of-the-range configuration capable of combining editing and 4K gaming by mounting 128 GB of memory, 5 TB of storage, a powerful GeForce RTX 3080 and a 10-core processor pushed to high frequencies. It stands out from the crowd, therefore, even if in the face of such a price we would have expected a greater use of glass and aluminum.
PRO
Top performance Distinctive look and premium functionality Sturdy base
that makes it
comfortable to carry AGAINST A lot of plastic Quite expensive Not exactly quiet