Silent Hill 2 Remake: the images of the leak are true, but they are from an old demo for Dusk Golem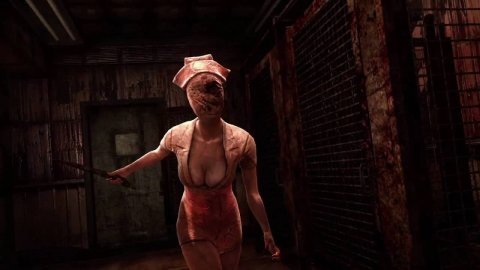 Silent Hill 2 Remake
The first images of the alleged Silent Hill 2 Remake seem to have leaked online, reported by some leakers such as Andrew Marmo on Twitter, referring to what the Bloober Team game developed in collaboration with Konami should be.
to some "leak" images, these too are obviously of very low quality, covered by huge and not easily understandable writings. Everything as per regulation, including the fact that they could be removed at any moment, so watch them (or at least try to do it) before they disappear (at this address on ResetEra all three should be visible).
Original Screnshot: Tweet 1, Tweet 2, Tweet 3
Contrary to the images that emerged previously, which seemed to relate to studies on settings, details and artwork, these seem to derive from gameplay, as there the protagonist can be seen from behind (Harry Mason or James Sunderland, depending on whether it is the remake of the first or the second) taken from moments of the game.
The shot seems to be the typical third person shot from behind the protagonist, who finds himself exploring suitably desolate settings, in perfect Silent Hill style. The resolution is really very low to be able to understand something, but at least the atmosphere seems to be going in the right direction, while the setting seems to resume the traditional one but with an update towards that established also by the Resident Evil remakes.
All this would be part of the rumor that wants the new Silent Hill announced in September, perhaps during the Tokyo Game Show 2022, given that Konami has talked about the return of a much loved series on that occasion. Obviously it could also be a simple fake and it would not even be the first time for the subject in question, although the fact that there is a Silent Hill
in development at
Bloober Team, studio author of The Medium and Layers of Fear, seems to be almost a certainty.
Update: According to what is indicated by the well-known leaker Dusk Golem (aka Aestethic Gamer) the shared images are real, but they are not representative of the final product. In fact, it seems that these images are taken from a demo created by Bloober Team, with no real budget behind it, to show Konami the idea of ​​the team for the remake of Silent Hill 2. The game
will not be
as it appears in these images. In a nutshell, what is shared is interesting but does not give us any information about the game according to the leaker.
Tell us, what do you think of a Silent Hill 2 remake?
Source Did you notice any errors?
---
Bloober Team's Silent Hill 2 Remake Images Apparently Leaked
Images purportedly from Bloober Team's Silent Hill 2 Remake have apparently leaked but they're so fuzzy that you might wish you'd never seen them. The images were first leaked by Twitter users the_marmolade and alej135, later corroborated on ResetEra. According to known insider Dusk Golem, the pics come from an early proof-of-concept that Bloober Team made without a budget to get a green light by Konami, which it reportedly received. Therefore, all the fuzziness that you're about to see most definitely isn't close to the final product.
In case the images above disappear by the time you get to this article, copies are saved over on ResetEra.
These images are roughly four years old. Previous reports claimed that Konami was inviting pitches to revive the Silent Hill franchise back in summer 2018, some three years after the start of the infamous Konami-Kojima feud that resulted in the cancellation of Silent Hills starring Norman Reedus. Bloober Team's yet-to-be-announced remake is reportedly one of the pitches that were greenlit.
As previously reported, there seem to be multiple Silent Hill projects in the work, but none of them have officially been announced. The aforementioned remake is rumored to be a timed PS5 exclusive. At the moment, it's unclear if it'll be a cross-gen release or not.
Konami has said that it'll announce a new game in a beloved series at the Tokyo Game Show 2022 and rumors suggest it might be Silent Hill. But all signs point towards Silent Hill fans being disappointed once again. We certainly aren't holding our breath.
In other news, here are some fun PS4 and PS5 indies out this month, and The Callisto Protocol dev has received intense backlash for bragging about his team crunching while being exhausted.